Tubers such as sweet potato, cassava are so underrated. So few takers for these ancient vegetables. But then there is aloo (potato) which came to India through Portuguese about 300 years ago. But we have always had other tubers and root vegetables. These are infact our staples providing essential nutrition in the form of carbohydrates and fibre. So I have come back with a North Karnataka special recipe sihi genasu or sweet potato sweet, translated literally!
Although sweet potatoes look hard they cook very quickly. They have so much taste in them that not much is required to make a nice dish out of it. As with North Karnataka cuisine, we always have simple dishes just like the simple people from the region. Few ingredients and sihi genasu or sweet potato sweet is ready. The syrupy consistency makes you want more.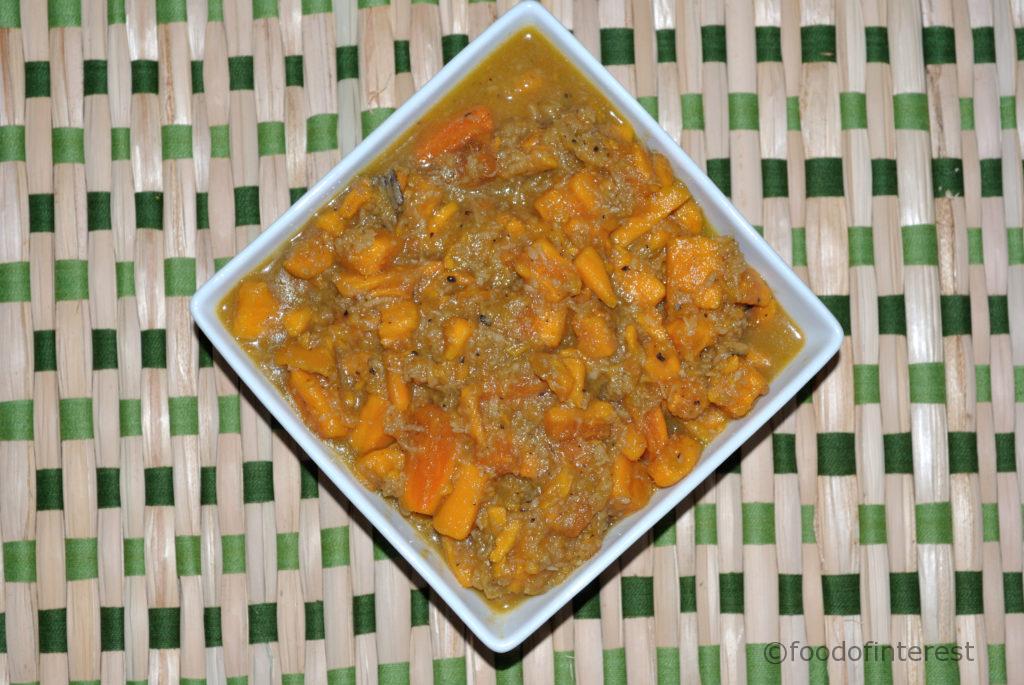 Simple flavours from elaichi/cardamom and bella/gur makes this absolutely delicious and kid friendly! This sweet does not require a lot of attention and it gets ready in no time. So why wait, buy some sweet potato and go try this sihi genasu or sweet potato sweet! More sweet potato recipes, sweet potato cutlet, sweet potato chutney etc.
Sihi Genasu | Sweet Potato Sweet | Sweet Recipes
Naturally sweet and rich in nutrients, sihi genasu or sweet potato sweet
Ingredients
400Gm or 2 medium sized sweet potato/genasu
1 Cup water
⅓ Cup packed grated coconut
⅓ Cup jaggery/bella/gur
5-6 elaichi/cardamom
2-3 Tsp ghee
Method
Scrub, wash and peel sweet potato
Dice or cube the sweet potato into bite sized pieces
Bring 1 Cup water to boil
Drop in the diced sweet potato
Cover and cook till sweet potatoes are soft
Now add grated coconut and mix well
Add grated jaggery/bella/gur and mix well till bella melts
Pound elaichi/cardamom seeds and add to cooked sweet potato
Enrich with ghee and mix well
When the liquid is absorbed and there is a nice syrup turn off flame
Serve hot, warm or at room temperature
Notes
Adjust jaggery/bella/gur as per your taste

Add water if the mixture becomes too dry, you should get a syrupy consistency along with the soft sweet potato

Use freshly grated coconut for a nice texture and flavour


Sihi Genasu Stepwise:
Scrub, wash and peel sweet potato

Dice or cube the sweet potato into bite sized pieces

Bring 1 Cup water to boil

Drop in the diced sweet potato

Cover and cook till sweet potatoes are soft

Now add grated coconut and mix well

Add grated jaggery/bella/gur and mix well till bella melts

Pound elaichi/cardamom seeds and add to cooked sweet potato

Enrich with ghee and mix well

When the liquid is absorbed and there is a nice syrup turn off flame

Serve hot, warm or at room temperature