If there is a dish popular after masala dosa then it has to be set dosa. Set dosas are called so because unlike masala dosas these are served in a set. The number is usually 3 dosas but some serve 2 or 4.
Set dosa is soft and fluffy with very light crispness on the outside. This is a very popular dish amongst Darshini visitors. This is quite filling and a plate per person is sufficient for breakfast.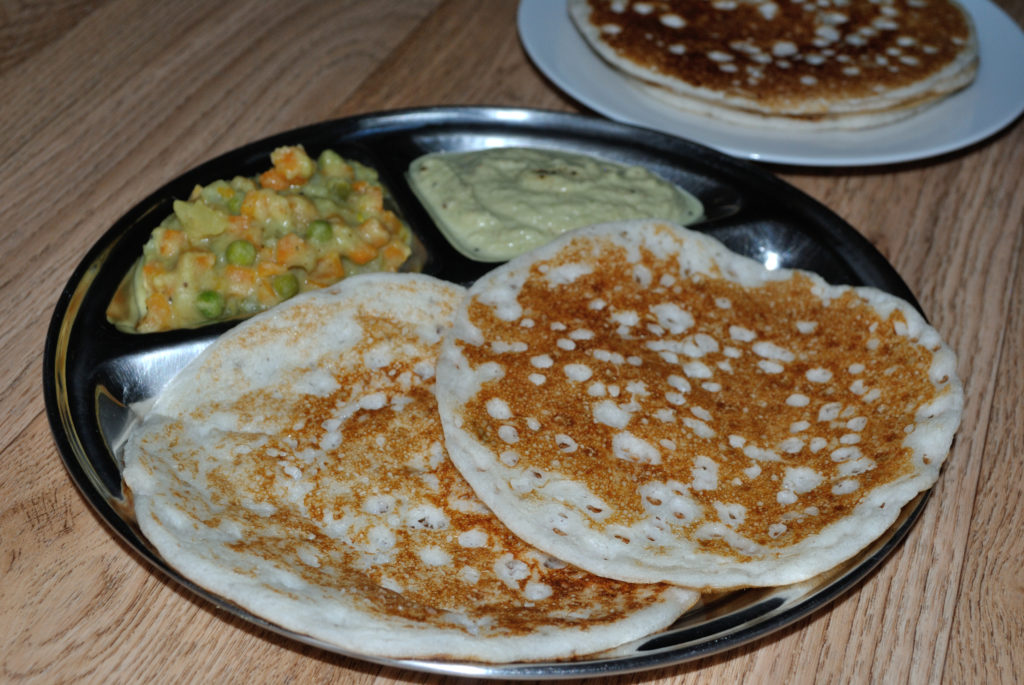 Along with coconut chutney, mixed veg saagu is the preferred side dish generally. Dosas have lesser oil compared to masala dosas and this makes them go well the saagu.
The proportion of rice:urad dal, 4:1 is very important to get the softness of these set dosas right. I also add avalakki/poha/rice flakes for extra softness and fluffiness.
More dosa recipes like masala dosa, khaali dosa, neer dosa also available on FOI. Do try paddu/gundupongala or sorekayi/lauki dosa also from FOI!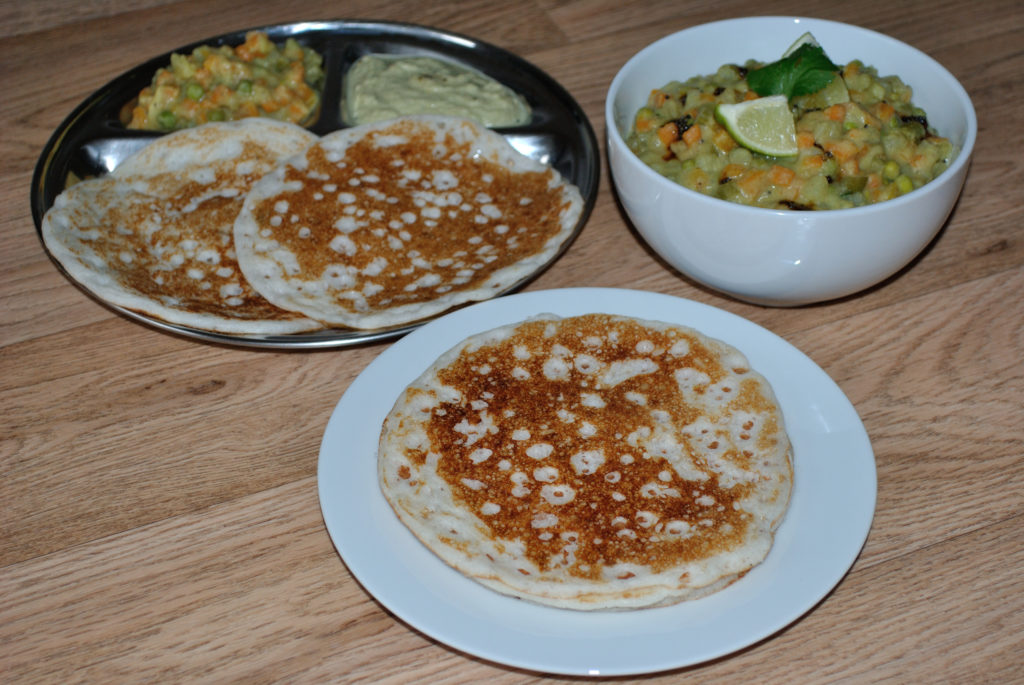 Set Dosa | How to make set dosas? | Dosa Recipes
Soft, fluffy set dosas, served with Karnataka style mixed veg saagu
Ingredients
1 Cup idli/dosa rice
¼ Cup urad dal
½ Cup avalakki/poha
¼ Tsp menthya/fenugreek/methi
Salt to taste
Oil to make dosas
Method
Measure out rice and urad dal in separate containers or bowls
Wash them 2-3 times. Add water to soak rice and dal
To the urad dal container add poha and methi seeds. Set aside to soak for 6-8 hours or overnight
Drain water from the dal + poha mixture. Grind with salt to taste. Add some water to grind into a smooth thick batter
Pour this out into a bowl
Similarly drain and grind rice with salt to taste and water into a smooth rice batter
Now pour this into the urad dal batter
Mix both batters well till it becomes an even batter
Let it ferment for 10-12 hours or overnight depending on temperature. Next day, after fermentation, the batter would have become light and airy. See the air bubbles
To make dosas, take a ladleful of batter and pour onto a well heated tawa
Lightly spread into a thick and round dosa
Add a few drops of oil on top. Cover and cook
Once the underside of the dosa turns golden, flip and roast the dosa again
Repeat with all dosas
Serve hot with chutney and veg saagu
Notes
Never make dosas on high heat, make them on medium heat they cook evenly

Cover and cook dosas, for even cooking and soft texture

Do not apply a lot of pressure while spreading dosa batter. Use even circular motion to make dosas, this way they will not stick to the skillet/tawa

Do not spread the dosa very thin

If serving more than 2 people at a time, use 2 skillets/tawas at a time

Add salt only after fermentation if the weather is hot and humid

If grinding in a grinder, after urad dal has ground a bit add rice also along with it. It will grind together into an even batter

Set dosa with stepwise pictures:
Measure out rice and urad dal in separate containers or bowls
   

Wash them 2-3 times. Add water to soak rice and dal
 

To the urad dal container add poha and methi seeds. Set aside to soak for 6-8 hours or overnight
   

Drain water from the dal + poha mixture. Grind with salt to taste. Add some water to grind into a smooth thick batter
    

Pour this out into a bowl
  

Similarly drain and grind rice with salt to taste and water into a smooth rice batter
  

Now pour this into the urad dal batter
  

Mix both batters well till it becomes an even batter
 

Let it ferment for 10-12 hours or overnight, depending on temperature. Next day, after fermentation, the batter would have become light and airy. See the air bubbles
   

To make dosas, take a ladleful of batter and pour onto a well heated tawa
   

Lightly spread into a thick and round dosa


Add a few drops of oil on top. Cover and cook
 

Once the underside of the dosa turns golden, flip and roast the dosa again
   

Repeat with all dosas


Serve hot with chutney and veg saagu