A bowl of hot noodles on a cold winter evening is food and nourishment to the body and soul. Very comforting and refreshing dish is this sesame noodles. With mild flavours of sesame oil and the crunch of toasted sesame seeds makes this the ultimate sesame noodles.
It has the perfect balance of flavours from vinegar, soya sauce and the hint of garlic. This is very very easy to make. Just throw in noodles in hot water and cook it according to package instructions. Meanwhile you can prepare the extremely flavourful sesame sauce to pour over hot noodles.

Then serve sesame noodles immediately just on its own or with some stir fry. I made broccolini/broccoli stir fry to go with sesame noodles and enjoyed it on a rainy Saturday afternoon. I have adapted this recipe from thepioneerwoman.
Also try this veg hakka noodles from foodofinterest. More sesame recipes from FOI. Enjoy the benefits of this nutty nutritious seed with these recipes!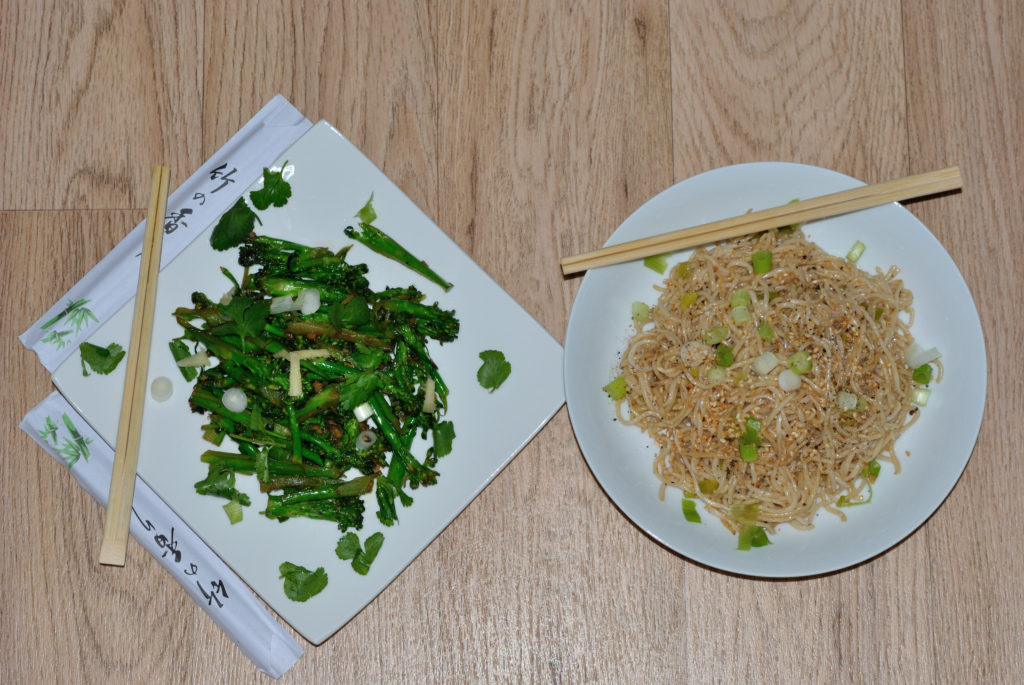 Sesame Noodles | Noodles Recipes
Hot, sour and spicy flavourful Chinese sesame noodles
Ingredients
300 Gm or 2 Cups cooked noodles
1 Tbsp soya sauce
½ Tbsp rice vinegar/regular vinegar
½ Tbsp edible sesame oil
½ Tbsp chilli oil (or regular olive oil)
1 clove grated garlic
½ Tsp freshly pound black pepper powder
½ Tsp sugar
½ Tbsp toasted sesame seeds
1 or 2 sliced spring onions
Method
Cook noodles as per package instructions. Toss noodles in a little oil
In a small mixing bowl, pour in soya sauce and vinegar
Next pour in both oils
Whisk till oil mixes well with sauces. Now add grated garlic and whisk again
Pour this mixture over hot noodles
Toss noodles till all the oil an sauce mixture gets coated with the noodles
Add black pepper powder and toss again
Sprinkle sliced spring onions
Toss in the toasted sesame seeds
Sprinkle sugar and salt and adjust seasoning
Serve immediately with stir fry of your choice. Do not forget to sprinkle more spring onions and toasted sesame seeds on top before serving
Notes
Use low sodium soya sauce

Add seasoning as per your liking

Edible sesame oil is available in all grocery stores

Sesame Noodles Stepwise:
Cook noodles as per package instructions. Toss noodles in a little oil


In a small mixing bowl, pour in soya sauce and vinegar
 

Next pour in both oils
 

Whisk till oil mixes well with sauces. Now add grated garlic and whisk again
 

Pour this mixture over hot noodles


Toss noodles till all the oil an sauce mixture gets coated with the noodles


Add black pepper powder and toss again


Sprinkle sliced spring onions


Toss in the toasted sesame seeds


Sprinkle sugar and salt and adjust seasoning


Serve immediately with stir fry of your choice. Do not forget to sprinkle more spring onions and toasted sesame seeds on top before serving