I am sure everybody agrees that fresh homemade masalas and powders cannot be replaced! Basic powders like saarina pudi/rasam powder and sambar powder are essential to a South Indian cook. They come in so handy. The aroma of homemade sambar powder is the measure of how good your sambar/huLi turns out to be.
Generally all ingredients are dry roasted individually and slowly in heated heavy pans/kadais. But here I have given a simple and easy method all done at once. Moreover it is for a small quantity measure making it simple to handle masala ingredients. This will also ensure your sambar powder is fresh.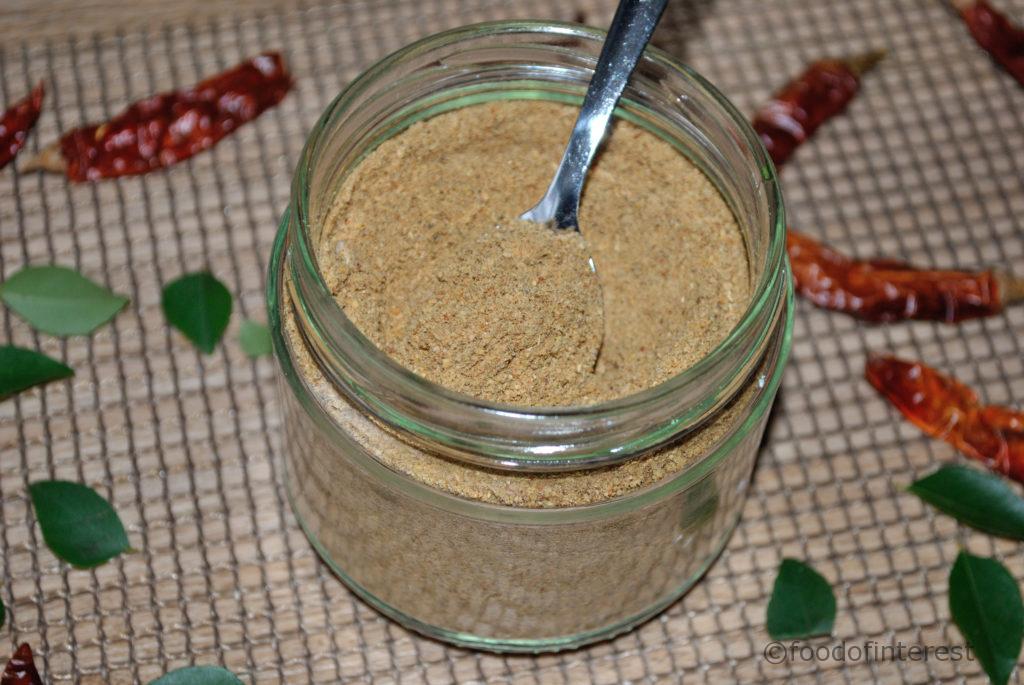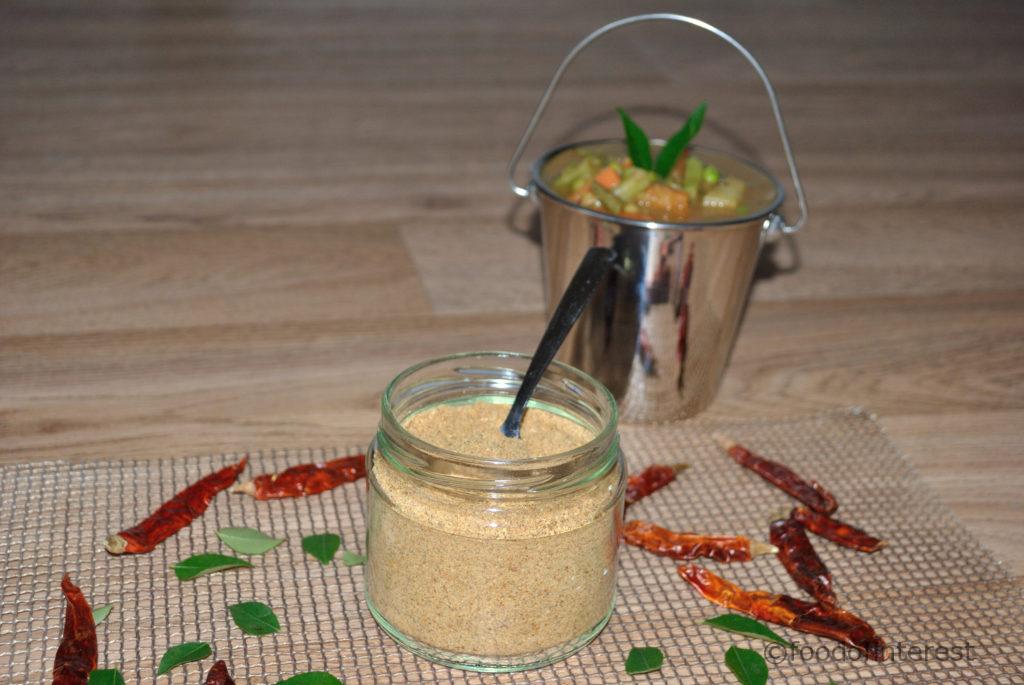 However this recipe can be easily doubled, just adjust chillies quantities for the spice! Fresh, simple and homemade who does not like that. So why not ditch that store bought sambar powder and try making this sambar powder right at home. Trust me it only takes a few minutes.
The stress free way to make sambar powder is to gather all ingredients first. While your kadai is heating on slow heat, do the gathering part. Next the trick is to slowly roast all ingredients and not rush through the process. It is very essential as the dals can get burnt quickly. I will let you in on a secret, generally I am very careful when roasting ingredients. Especially so if I am shooting recipes. This time even I burnt the dals and had to do all over again. Well it can happen!
Try other homemade stuff like rasam powder, chutney pudi etc from FOI!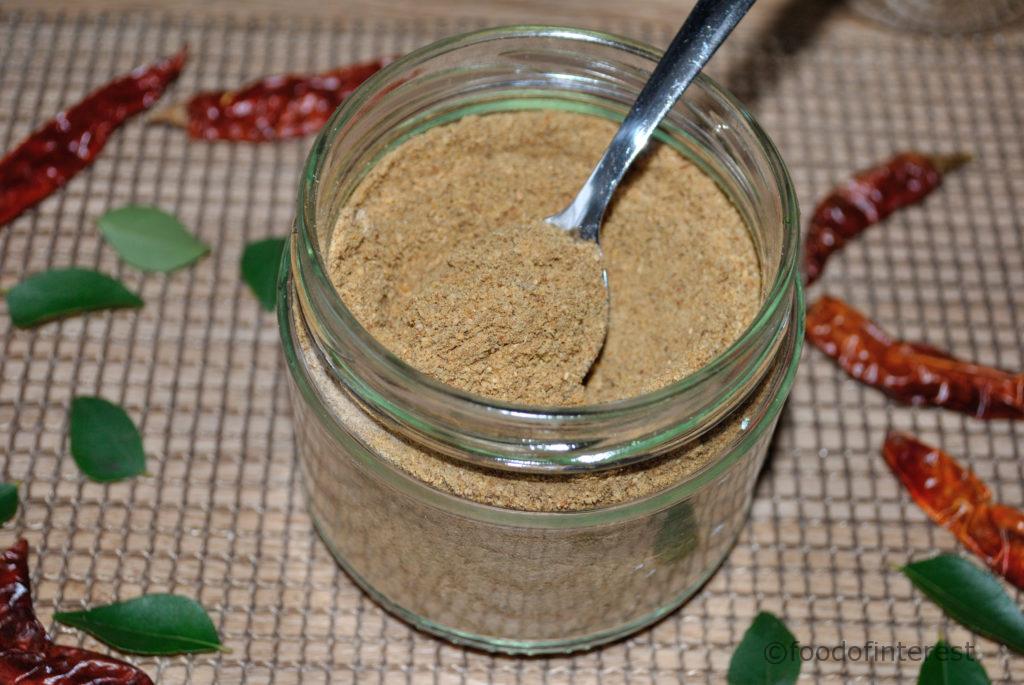 Sambar Powder | Sambar Pudi | Homemade HuLi Pudi
Aromatic, fresh, authentic Mysore style homemade sambar powder
Ingredients
½ Cup (100gm) haveeja/dhania/coriander seeds
¼ Cup kadalebele /chana dal
¼ Cup uddinabele/urad dal
½ Tbsp menthya/methi
½ Tbsp black pepper/kali mirch/menasu
4-5 small pieces dalchini/cinnamon/chakke
½ Tbsp jeera/jeerige/cumin seeds
1 Tbsp gasa gase/poppy seeds/khus khus
1 big pinch hing/asafoetida
Method
To a pan kept on low heat, add dhania
Drop in red chillies
Add methi, kali mirch, khus khus, start roasting
Next add dalchini and jeera and hing/asafoetida
Keep roasting till they turn aromatic, keep aside
In another pan, add urad and chana dal
Start roasting till light golden
Mix it with other spices we roasted earlier. Let it cool completely
Dry grind into lightly coarse sambar powder. Makes about 100 gm~
Notes
It is essential to roast the dals separately to prevent burnt dals

Once ground, this sambar powder can be stored in an airtight container for 2-3 months

Adjust red chillies as per taste and variety. Here I have used regular red chilli and not byadagi variety
Sambar Powder Stepwise:
To a pan kept on low heat, add dhania

Drop in red chillies

Add methi, kali mirch, khus khus, start roasting

Next add dalchini and jeera and hing/asafoetida

Keep roasting till they turn aromatic, keep aside

In another pan, add urad and chana dal 

Start roasting till light golden

Mix it with other spices we roasted earlier. Let it cool completely

Dry grind into lightly coarse sambar powder. Makes about 100 gm~