My go to dish for breakfast or sometimes for dinner is akki roti and especially sabsige soppu akki roti. Coming from Karnataka, I have a soft corner for akki roti. At home, this is the most sought after dish, if we cannot think of anything, then we go for akki roti. This Karnataka style sabsige soppu akki roti or dill leaves akki roti is the best of its kind!
The main things for a good sabsige soppu akki roti, is good rice flour, lots of grated coconut, well grown dill leaves chopped finely. Optionally, you can add a bunch of chopped onions to give it a sweet taste and crunchy texture. Remember to let the rice flour rest by adding a little boiling water to it. This will make rice flour nice and doughy and pliable.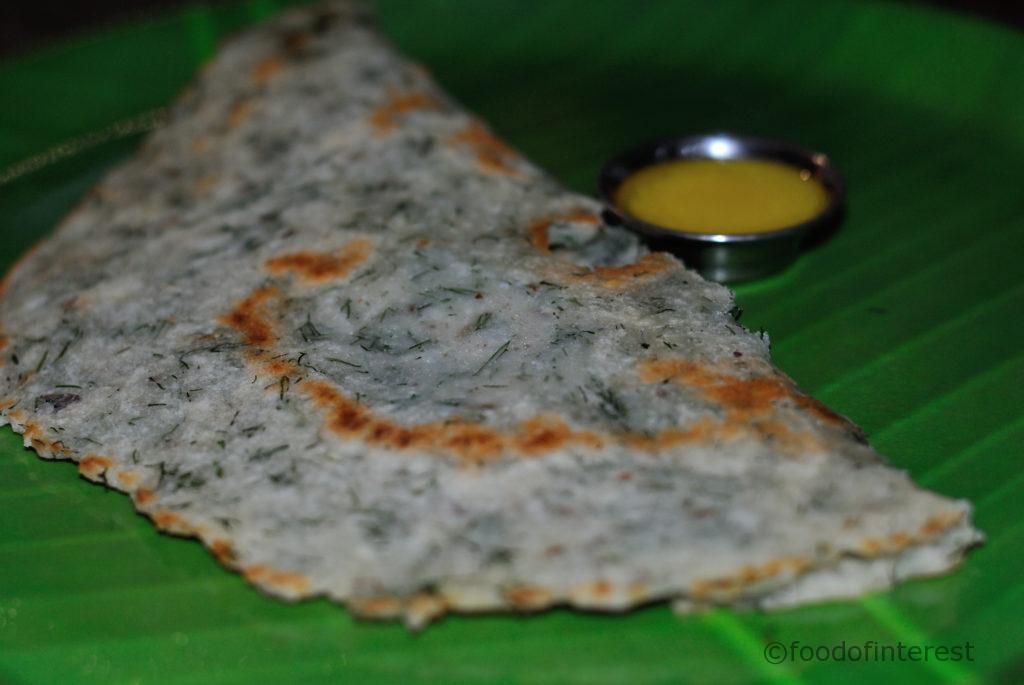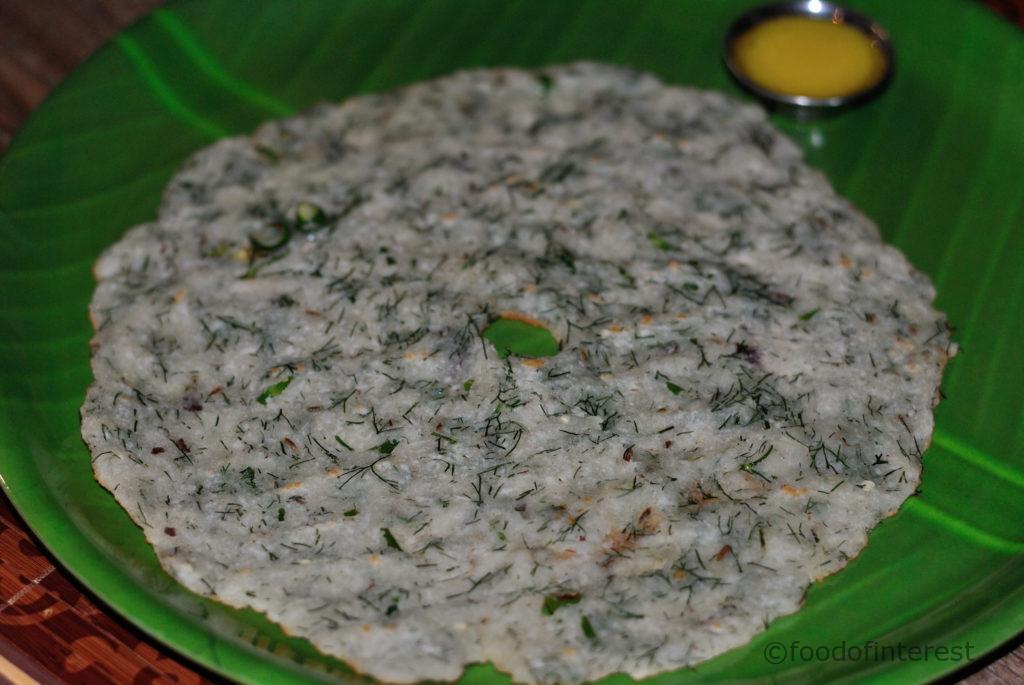 Most of the time you can get away with serving akki roti with ghee and chilli pickle and/or chutney pudi. But you can also choose from a range of side dishes that go well with idli or dosa. Adjust green chillies according to your taste as per usual or skip them if kids are eating. Make these with care and they will turn soft yet crisp. More sabsige soppu/dill leaves recipes, sabsige soppu kadubu, sabsige soppu paratha, yogurt dill sandwich. Try,
Carrot Akki Roti
Steamed Akki Roti
Baalekayi Akki Roti
Makki di Roti
Thalipeeth
Ragi Roti etc.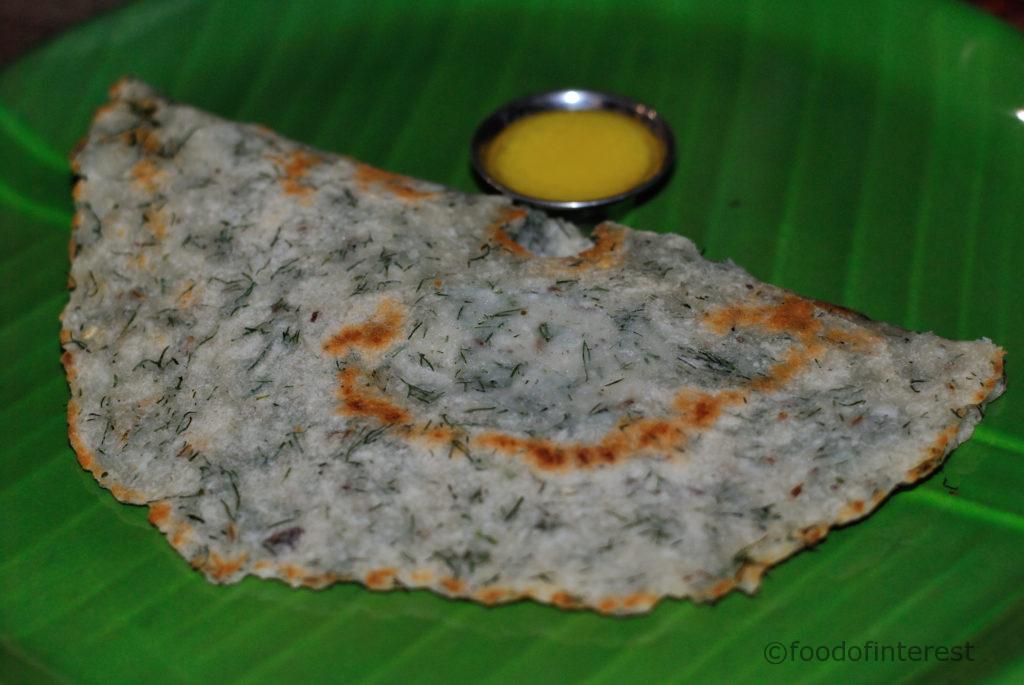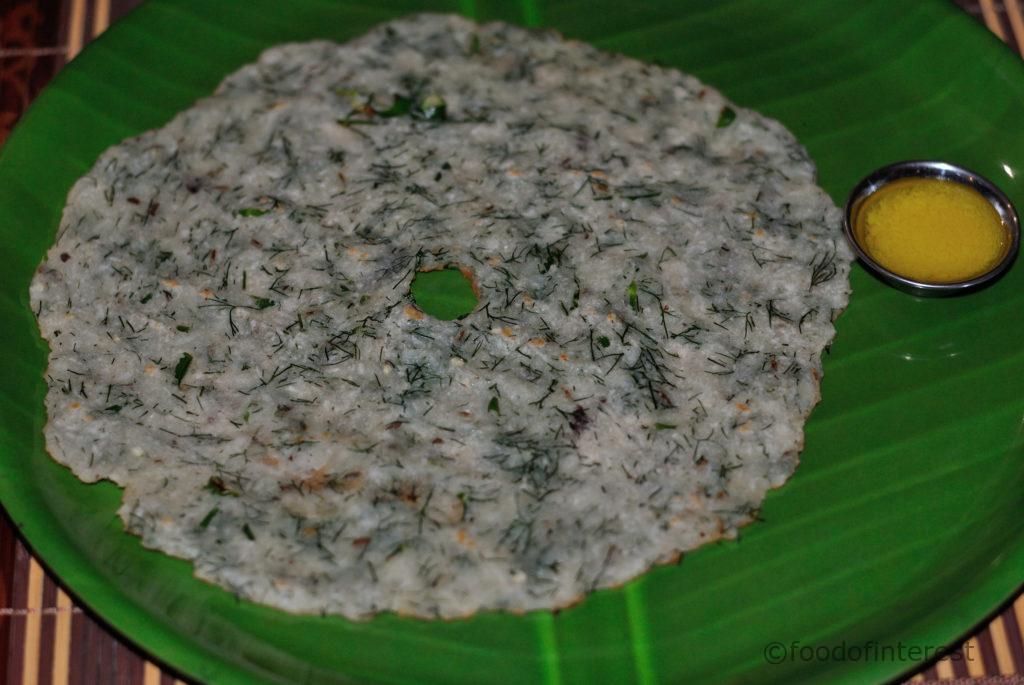 Sabsige Soppu Akki Roti | Akki Roti | Breakfast Recipes
Karnataka special, sabsige soppu akki roti, the perfect, nutritious breakfast
Ingredients
1½ Cups akki hittu/rice flour/chawal ka atta
½ Cup grated coconut
1 Cup chopped sabsige soppu/dill leaves
1 Cup finely chopped onions (optional)
1-2 green chilli
Few curry leaves
½ Tsp jeera
1 pinch hing
Salt to taste
½ Tsp sugar
½ Cup boiling water
Oil to make rotis
Method
In a bowl, add the rice flour/chawal
Sprinkle hing and jeera
Season with salt and sugar
Make a well in the centre and pour ½ Cup boiling water
Cover and let it rest for 15 minutes or so
Clean, wash and finely chop the dill leaves
Once the rice flour has rested for 15 minutes, add grated coconut, chopped chillies and curry leaves
Next add finely chopped dill leaves, also add finely chopped onions if you are adding at this stage, I have not added here
Mix well and make a dough, add little water if required
Apply oil and set aside for further 5 minutes
On a cool tawa, add oil, take a ball of the dough
Start patting with the tips of your fingers (oil your hand)
Pat into a thin roti
Bring the tawa to heat, drizzle with oil, cover and cook
When the roti is cooked and golden on the underside, flip
Cook for a few more seconds
Serve hot with chutney and ghee
Notes
You can also pat the rotis on a holige haale or butter paper or plantain leaf

Ensure the dill leaves are fresh and green

Adding finely chopped onions for extra crunch and sweetness

Skip hing to keep the rotis gluten free

Sabsige Soppu Akki Roti Stepwise:
In a bowl, add the rice flour/chawal

Sprinkle hing and jeera

Season with salt and sugar

Make a well in the centre and pour 1/2 Cup boiling water

Cover and let it rest for 15 minutes or so

Clean, wash and finely chop the dill leaves

Once the rice flour has rested for 15 minutes, add grated coconut, chopped chillies and curry leaves

Next add finely chopped dill leaves, also add finely chopped onions if you are adding at this stage, I have not added here

Mix well and make a dough, add little water if required

Apply oil and set aside for further 5 minutes

On a cool tawa, add oil, take a ball of the dough

Start patting with the tips of your fingers (oil your hand)

Pat into a thin roti

Bring the tawa to heat, drizzle with oil, cover and cook

When the roti is cooked and golden on the underside, flip

Cook for a few more seconds

Serve hot with chutney and ghee