Rava Idli, claimed to have been invented by MTR (Mavalli Tiffin Room) during World of War II is a savoury breakfast dish popular in South India especially Karnataka. It is made of coarse cream of wheat or semolina, a bunch of chopped coriander, golden fried cashews, raisins & dals.
Rava Idli makes a light yet filling breakfast and very good for digestion since it uses curd/yogurt. Yogurt is added along with a pinch each of baking powder, soda which make the idlis light and fluffy. Serve it with chutney or aloo masala or sambar
Try more breakfast recipes from FOI, idli recipes, dosa recipes and more. More idli recipes such as idli with idli rava, mini idli, kotte kadubu, corn idli, akki tari masala idli etc.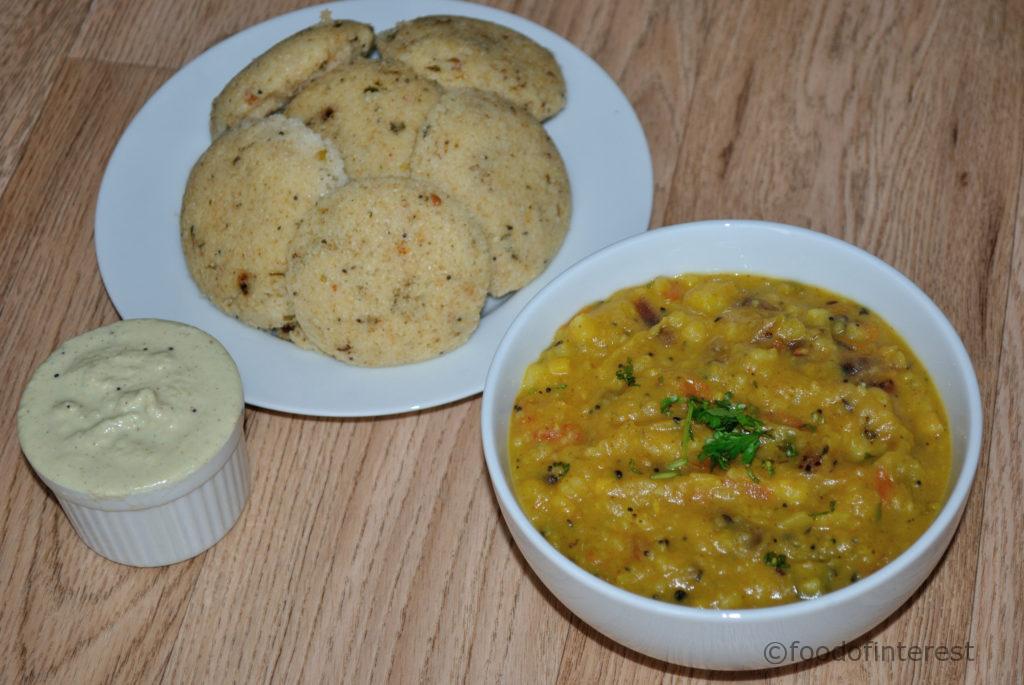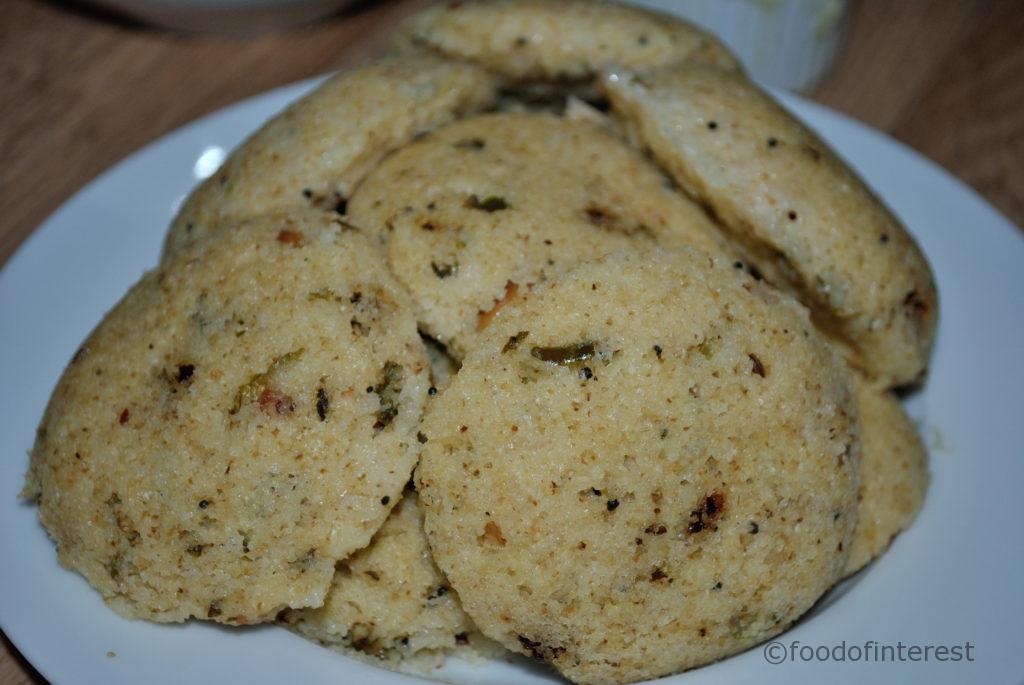 Rava Idli
Steamed semolina idlis, ideal for breakfast
Ingredients
1 cup lightly roasted rava
1½ cups yogurt/curd
¼ cup chopped coriander
Salt To Taste
¼ tsp baking powder
1 generous pinch baking soda


For Tempering:
2 Tsp oil (sunflower/ vegetable/groundnut oil)
1 Tsp mustard seeds
½ tsp cumin seeds/jeera
1-2 green chillies finely chopped
1 sprig finely chopped curry leaves
¼ Cup finely chopped coriander
2 Tbsp chopped cashews
2 Tbsp raisins
½ Tbsp ghee
Method
Heat ghee, golden fry cashews and raisins. Keep aside
Heat oil. Add mustard, cumin and let them splutter
Add urad dal, gram dal along with curry leaves and chopped green chillies. Let them turn golden
Add chopped coriander. Mix the tempering well
Mix in the roasted rava. Add fried cashews and raisins. Mix everything well
Once this mixture cools down, add salt, baking powder and baking soda and more chopped coriander
Mix yogurt. Make idlis by steaming in idli maker for 12-14 mins
Serve them hot with ghee, chutney and/or aloo saagu
Notes
Yogurt/Curd should be sweet and not sour
Make sure coriander is fresh, do not waste the stalks chop them finely and add to the idli or you can reserve it for coriander chutney

Rava Idli Stepwise:
Keep all ingredients under tempering ready


 


Heat ghee, golden fry cashews. Add raisins. Keep aside
 

Heat oil. Add mustard, cumin and let them splutter


Add urad dal, gram dal along with curry leaves and chopped green chillies. Let them turn golden
 

Add chopped coriander. Mix the tempering well


Mix in the roasted rava. Add fried cashews and raisins. Mix everything well
 

Once this mixture cools down, add salt, baking powder and baking soda and more chopped coriander
  


Mix yogurt. Lighty oil the idli plates. Make idlis by steaming in idli maker for 12-14 mins
  

Serve them hot with ghee, chutney and/or aloo saagu