Ragi or finger millet is such an underrated grain. In Southern parts of Karnataka, Mandya, Mysore and to certain extent Bangalore ragi is grown and used extensively. It is so light on the stomach and gives your strength. It's farmer's food, gives them the essential nutrients and keeps them full while they are working away in the field. Hittu or ragi mudde (ragi ball) is a very famous dish made in Karnataka. Ragi roti is another one, thin and mildly spiced rotis made from ragi.
Ragi roti is generally eaten with chutney pudi or chutney, a few onion slices and some yogurt. What a combination, simple dish for a simple living! Grated coconut added to the ragi roti makes them soft and retains good moisture. Sometimes I find making roti is simpler than making chapathi because you don't need to roll the rotis with a belan (lattanige/rolling pin).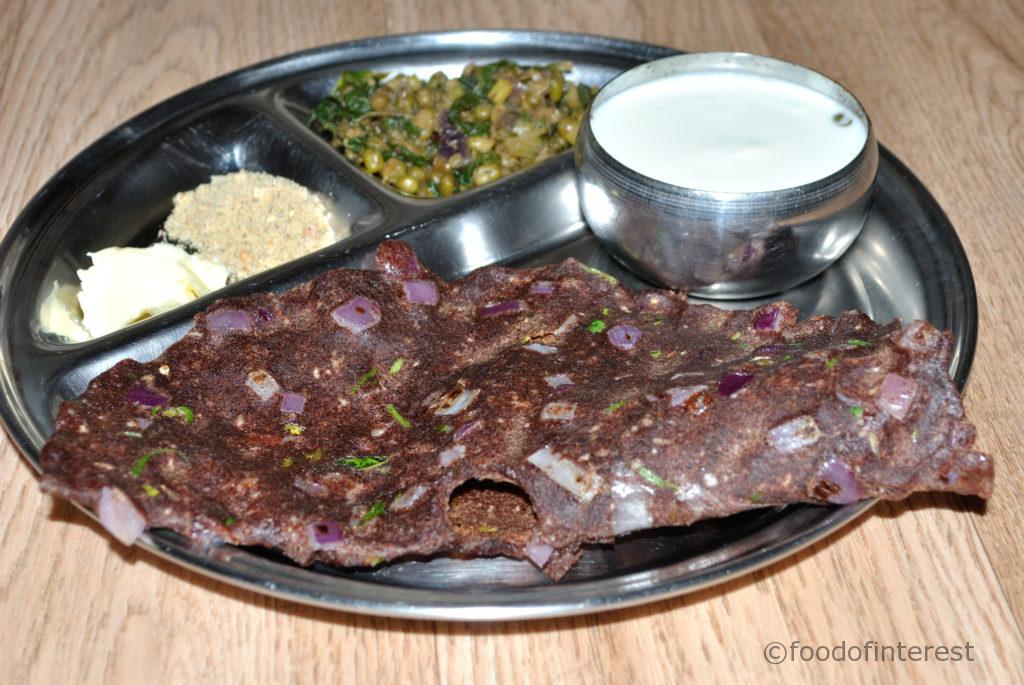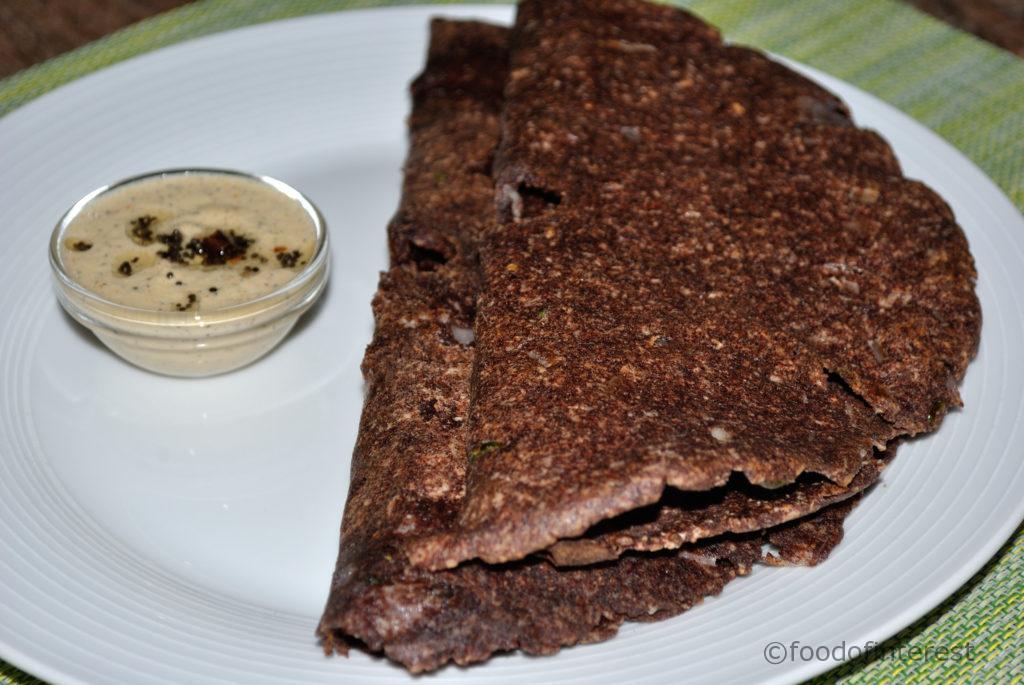 Ensure to use fresh ragi flour to make ragi roti. You will get nice sweet tasting ragi rotis and is easy to press them. Ragi roti can be served with badanekayi rasapalya, hesarukaalu usli and shenga chutney pudi. Maybe you can add a dollop of butter on the side for extra flavour and just because it tastes so good 🙂 Try more roti recipes from FOI, thalipeeth, steamed akki roti, carrot akki roti, rava roti, baalekayi roti. Try more ragi recipes, ragi dosa with batter etc.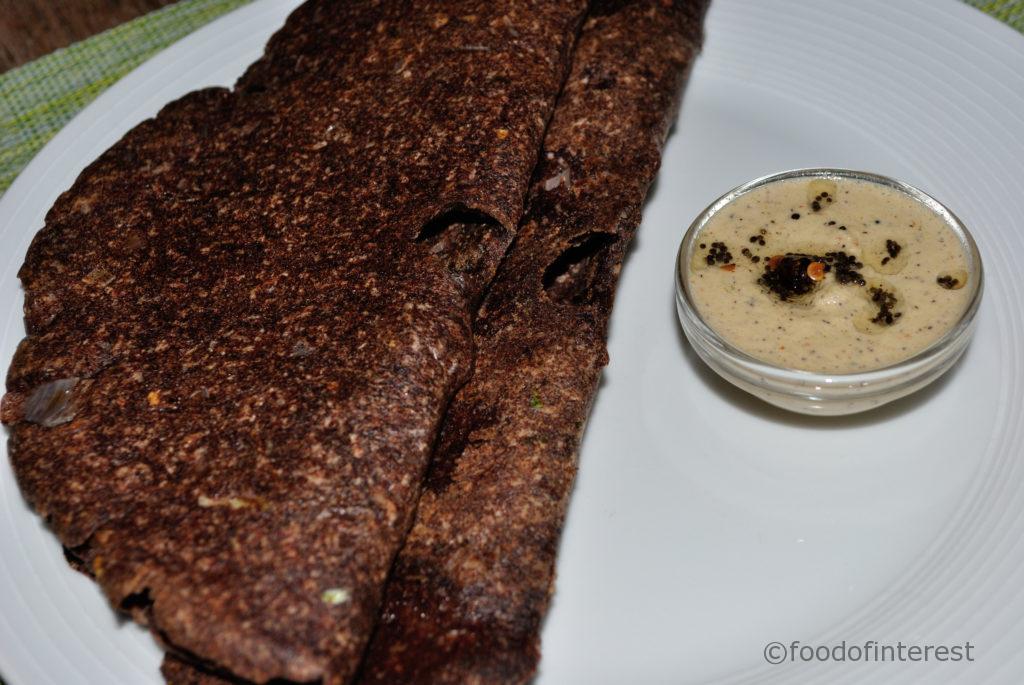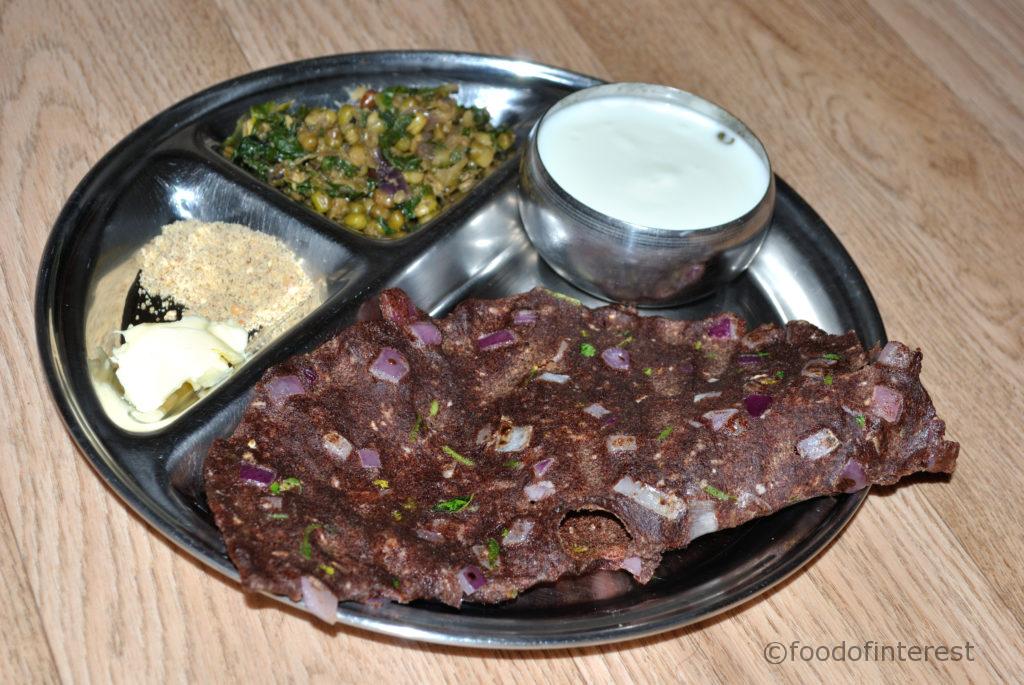 Ragi Roti | Karnataka Style Ragi Rotti | Roti Recipes
Soft and crispy, healthy ragi roti, a super delicious roti
Ingredients
1 Cup ragi hittu/ragi flour
Salt to taste (1/2 Tsp~)
½ Tsp sugar
1 Tsp jeera
2 finely chopped green chillies
1 Cup water~
½ Cup packed grated coconut
½ Cup finely chopped onions (optional)
Finely chopped coriander
Oil to make rotis
Method
In a bowl, take ragi flour
To that add salt and sugar and season well
Tip in the jeera and chopped green chillies
Mix well and make a well in centre
Pour about ¼ Cup boiling water
With the help of a spoon or spatula, spread the ragi flour from sides of the bowl on top of the boiling water, do NOT touch by hand, set aside for 15 minutes
Next add grated coconut
Finely chopped onions can go in next along with chopped coriander
Mix slowly with a spoon or spatula, the mixture looks crumbly
Now start kneading the dough, add little water
Add some more water and knead
When it comes together, apply oil and set aside for 15 minutes
To make roti, use the direct pan method or use my holige haale or plantain leaf method from this recipe
Take a big orange sized portion of the dough
Place it on the tawa, start pressing with the tips of finger
Dough starts spreading into a thin roti
Press thin roti and make a hole in the centre
Drizzle some oil on the sides and in the centre, cover and cook on medium flame
Once it looks cooked, slowly flip and cook on other side
Drizzle little more oil
When roasted and cooked on other side, ragi roti is ready
Serve hot with shenga chutney pudi or chutney and ghee or yogurt
Notes
Adding grated coconut makes the rotis soft, so do not skip

Adding onions is optional but adds a delcious crunch

Boiling water added to the dough makes it soft and viable to knead, it creates a steamed environment and softens the flour before adding other ingredients

Ragi Roti Stepwise:
In a bowl, take ragi flour

To that add salt and sugar and season well

Tip in the jeera and chopped green chillies

Mix well and make a well in centre

Pour about 1/4 Cup boiling water

With the help of a spoon or spatula, spread the ragi flour from sides of the bowl on top of the boiling water, do NOT touch by hand, set aside for 15 minutes

Next add grated coconut

Finely chopped onions can go in next along with chopped coriander

Mix slowly with a spoon or spatula, the mixture looks crumbly

Now start kneading the dough, add little water

Add some more water and knead

When it comes together, apply oil and set aside for 15 minutes

To make roti, use the direct pan method or use my holige haale or plantain leaf method from this recipe

Take a big orange sized portion of the dough

Place it on the tawa, start pressing with the tips of finger

Dough starts spreading into a thin roti

Press thin roti and make a hole in the centre

Drizzle some oil on the sides and in the centre, cover and cook on medium flame

Once it looks cooked, slowly flip and cook on other side

Drizzle little more oil

When roasted and cooked on other side, ragi roti is ready

Serve hot with shenga chutney pudi or chutney and ghee or yogurt