I have photoshot many chutney recipes and they always get hidden away and somehow get neglected. But as I have mentioned in my previous chutney posts, these are very essential condiments in a meal. Chutneys cleanse you palate and let's face it, without chutney, no dosa or idli would taste good (yes including chutney pudi/powder). So here it is, pudina coconut chutney or pudina kayi chutney.
All you need is a handful of fresh pudina leaves/mint to make this pudina coconut chutney really flavourful. I love the flavours of this chutney as it leaves a refreshing flavour and cleanses you palate. Just a few ingredients from the store cupboard and you have a tasty chutney to serve with idli or dosa.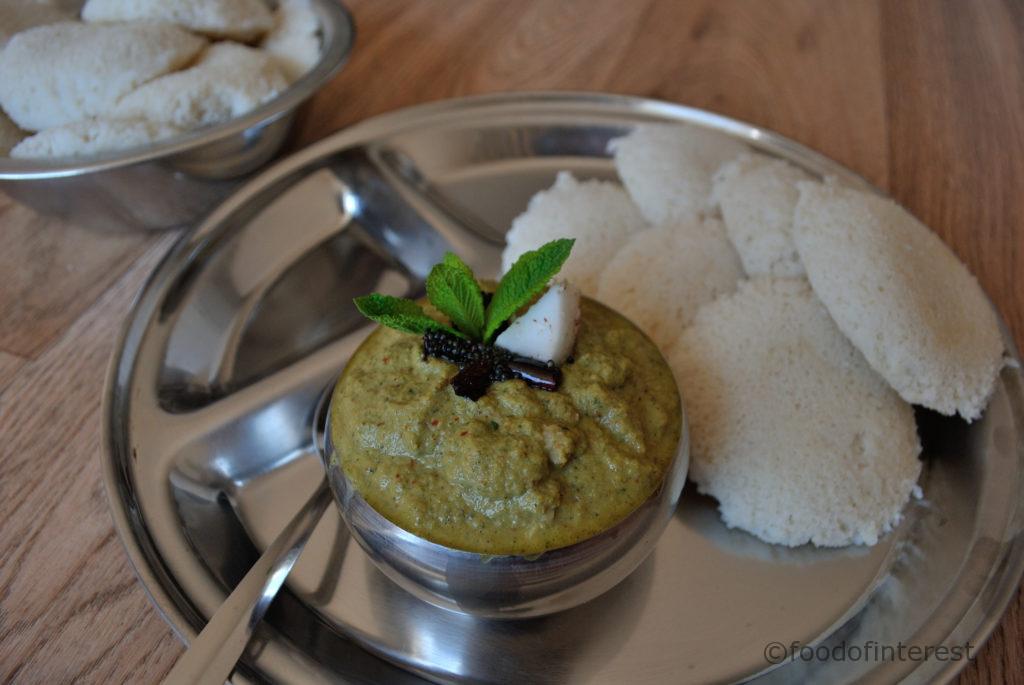 I love eating idli with this pudina coconut chutney. Easy to make, idlis turn into something special with this chutney! Remember to use freshly grated coconut to get a good chutney. Adjust chillies as per you taste as per usual 'chutney' rules. When kids are eating add only a small piece of chilli or skip it. Try more chutney recipes from FOI, seemebadanekayi chutney, methi stems chutney, heerekayi sippe chutney, coconut chutney, curd chutney etc!
More pudina recipes like pudina dal shorbha, pudina dhania paratha, pudina raitha, pudina pulao!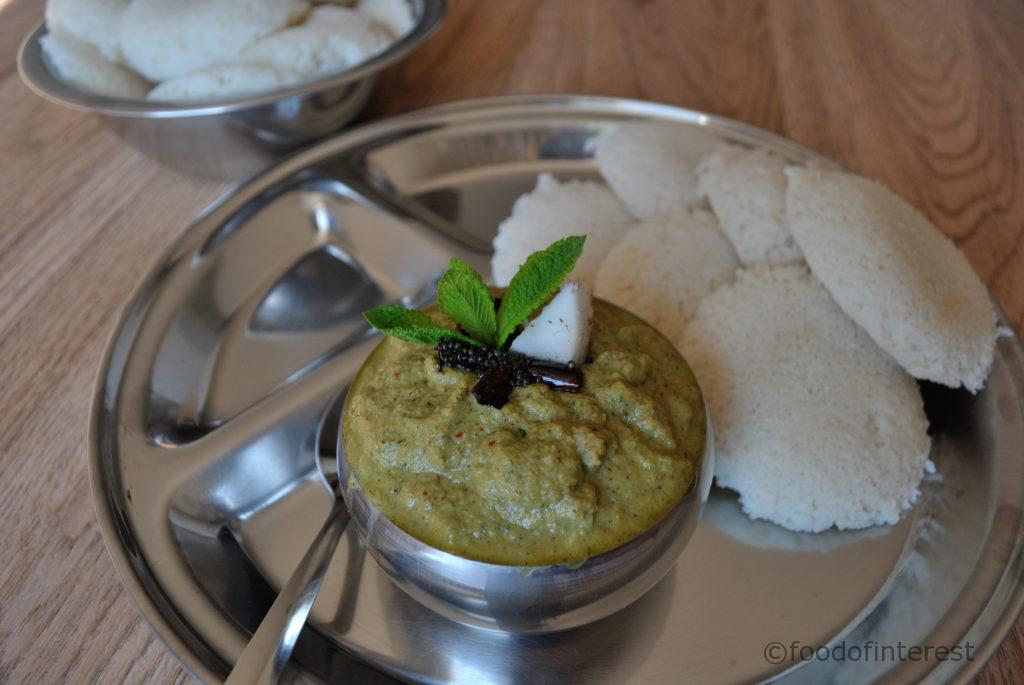 Pudina Coconut Chutney | Mint Chutney | Chutney Recipes
Flavourful pudina coconut chutney, perfect side dish with idli or dosa
Ingredients
1 Cup packed pudina leaves/mint
2-3 red chillies
½ Cup packed grated coconut
Salt to taste
1 Tsp jaggery/bella/gur
2-3 sprigs coriander
¼ Cup puthani/fried gram/huri gadale
1 Tsp tamarind paste
1 Tsp oil
¼ Tsp mustard
1 pinch hing
Method
Add ½ Tsp oil and roast red chillies
Wash, squeeze and add the pudina leaves/mint into the pan and saute
Next add grated coconut and saute
Allow this mixture to cool
Add salt to taste
Next add jaggery/bella/gur, chopped coriander and tamarind paste
Add fried gram/huri gadale/puthani
Pour little water and grind into a chutney to the thickness you prefer
Make tadka with oil and mustard, and pour over chutney
Serve with any dosa or idli you like
Notes
Ensure pudina leaves/mint are fresh

You can also use green chillies instead of red chillies or a combination of both

Grind the chutney dry i.e. pulse the ingredients and then add water to make chutney while grinding

Pudina Coconut Chutney Stepwise:
Add 1/2 Tsp oil and roast red chillies

Wash, squeeze and add the pudina leaves/mint into the pan and saute

Next add grated coconut and saute

Allow this mixture to cool

Add salt to taste

Next add jaggery/bella/gur, chopped coriander and tamarind paste

Add fried gram/huri gadale/puthani

Pour little water and grind into a chutney to the thickness you prefer

Make tadka with oil and mustard, and pour over chutney

Serve with any dosa or idli you like