Kesari is a very commonly made sweet all across India. It is like a halwa but has a league of its own. Kesari or kesari bhaat or sheera is made with rava as the base. It can then be laced with different flavours like kesar, elaichi etc. The liquid added can be either milk or water, if making it with milk, check out my haal kesari recipe. Here I have made a pineapple kesari!
Kesari can be enriched with extra flavours by adding a fruit or fruits into the mix. Pineapple, apple, mango, banana can go into making kesari. Pineapple kesari is one of the most famous ones amongst the lot! It is rich as it is made with pure desi ghee and loaded with cashews and raisins.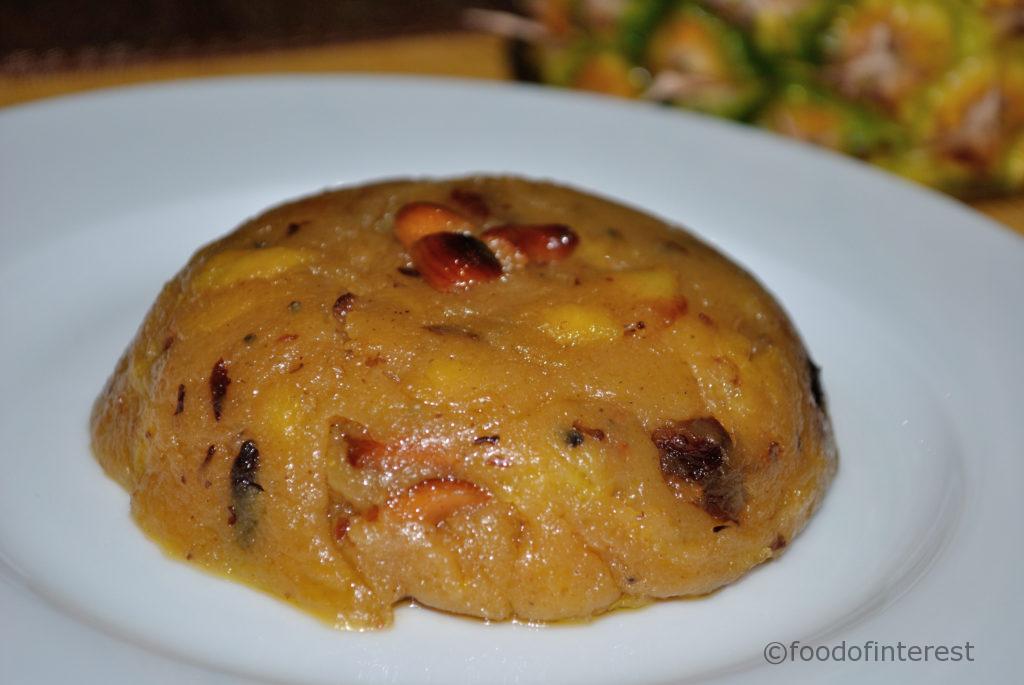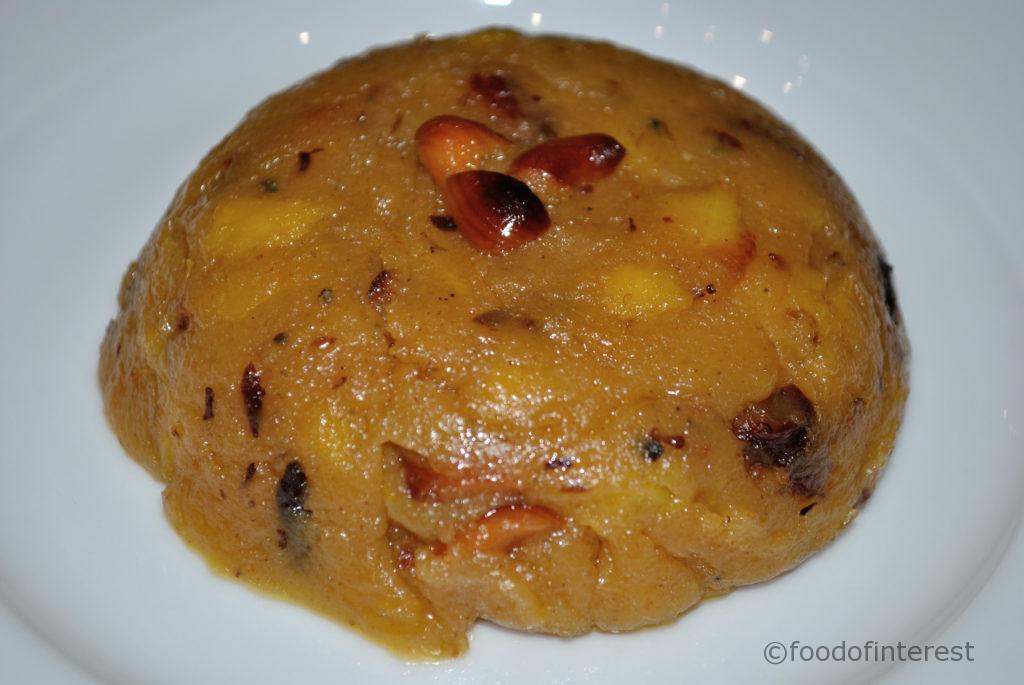 Do not hold back on the ghee, that is the main ingredient of a kesari. Good kesaris have a decent amount of ghee in them or it will turn into a gooey mess (which I am sure you do not want!). Try more kesaris from FOI, haal kesari, mango kesari etc. Try more pineapple recipes like, pineapple gojju. For other sweets like seviyaan kheer, kaju katli, pista rolls, doodh peda, Dharwad peda check out FOI sweet archives!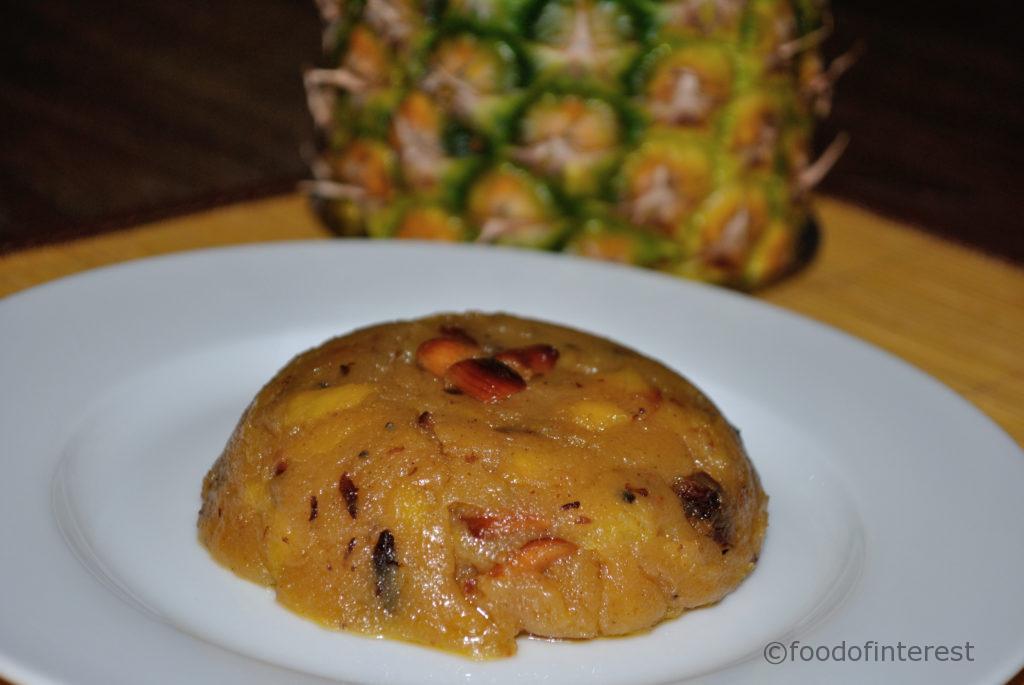 Pineapple Kesari | Pineapple Sheera | Kesari Recipes
Bright yellow and fragrant, super special and a favourite sheera, pineapple kesari
Ingredients
½ Cup fine rava/chiroti rava/chiroti
½ Cup finely chopped pineapple
1 Cup water
½ Cup sugar
5-6 powdered elaichi
5½ Tbsp ghee
8-10 finely chopped cashews
3 Tbsp raisins
2 laung/cloves
1 Tbsp hot milk
Few saffron strands/kesar
Method
In a pan melt ½ Tbsp ghee, add chopped cashews and start frying
When the cashews turn lightly golden, drop in the raisins, allow them to plump up a bit
Throw in the cloves/laung and fry for a few seconds
Add the rava and start frying
Pour 2 Tbsp ghee and fry
Let the rava turn aromatic
Meanwhile when the rava is frying, add saffron strands/kesar in hot milk
Finely chop up the pineapple
Add chopped pineapple to the rava mixture
In another pan, boil water with a few pineapple pieces for extra flavour
Slowly pour the water into the rava
Gradually mix and ensure there are no lumps
Add 1 more Tbsp ghee mix well
Once the water is all absorbed, add sugar and mix well
When the sugar melts, add the last 2 Tbsp ghee
Lastly pour saffron infused milk and mix well
Keep frying on low flame till the liquid is absorbed and the sheera has a glossy texture
Add the powdered elaichi and mix very well
Pineapple kesari is now ready to be served
Notes
Ensure the pineapple is sweet and not sour, also the pineapple should be tender

Skip the nuts and raisins if you want it plain

Do not reduce the ghee added, the kesari or sheera gets the texture because of the ghee!

Pineapple Kesari Stepwise:
In a pan melt 1/2 Tbsp ghee, add chopped cashews and start frying

When the cashews turn lightly golden, drop in the raisins, allow them to plump up a bit

Throw in the cloves/laung and fry for a few seconds

Add the rava and start frying

Pour 2 Tbsp ghee and fry

Let the rava turn aromatic

Meanwhile when the rava is frying, add saffron strands/kesar in hot milk

Finely chop up the pineapple

Add chopped pineapple to the rava mixture

In another pan, boil water with a few pineapple pieces for extra flavour

Slowly pour the water into the rava

Gradually mix and ensure there are no lumps

Add 1 more Tbsp ghee mix well

Once the water is all absorbed, add sugar and mix well

When the sugar melts, add the last 2 Tbsp ghee 

Lastly pour saffron infused milk and mix well

Keep frying on low flame till the liquid is absorbed and the sheera has a glossy texture

Add the powdered elaichi and mix very well

Pineapple kesari is now ready to be served