Who does not like pizza, but having pizza outside is generally not healthy. How about we make whole wheat pizza with our choice of toppings. So this time we are back with a fun to eat pizza, peppy paneer pizza. I generally use my whole wheat pizza dough and pizza sauce recipes.
Peppy paneer pizza has some mild bell peppers or capsicum. We have also thrown in some soft paneer making it a very desi pizza. Generally I'm not a big fan of fusion food, I do make some exceptions though.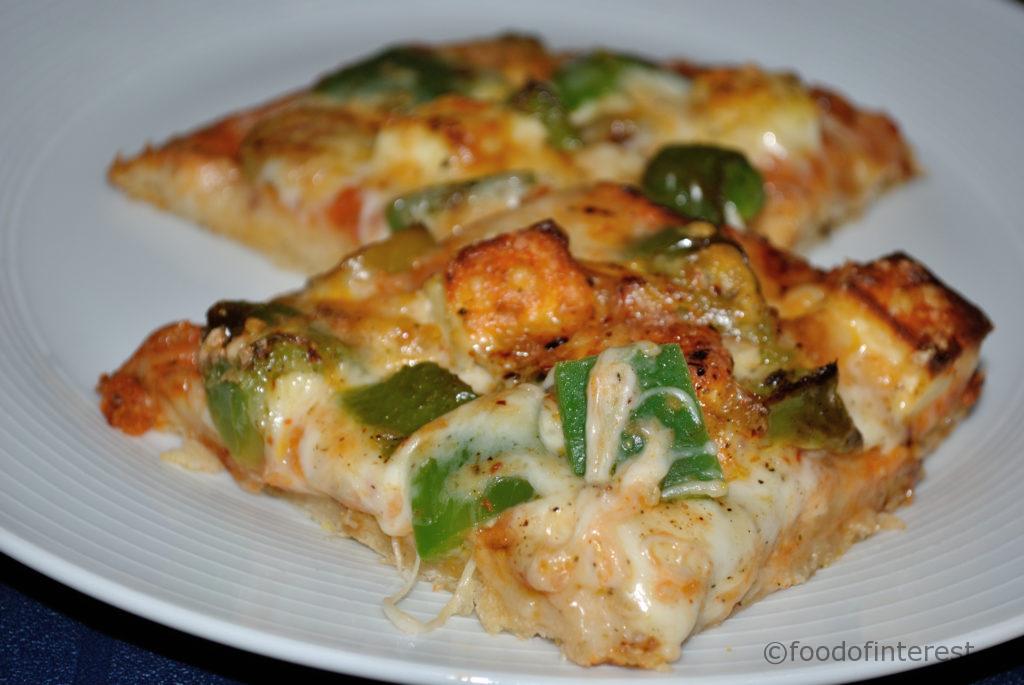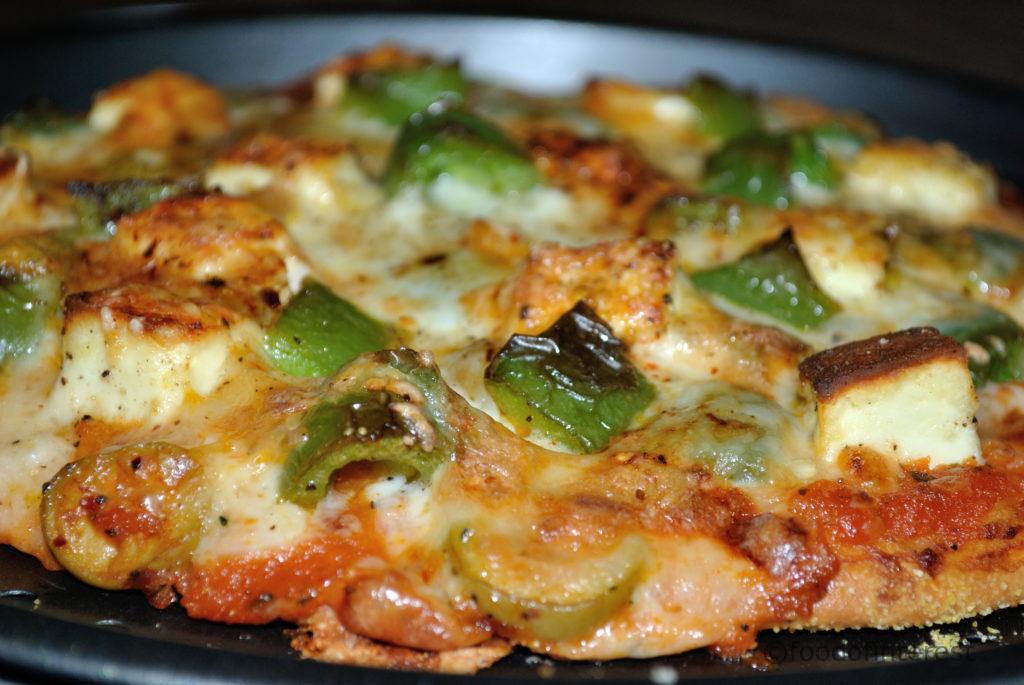 You can obviously add more spice by using proper spicy chillies. Anything that suits you, for children try to be minimal with the spice. They do always like cheese and paneer. Try more pizza recipes from FOI, tomato basil pizza, fig and goat's cheese pizza. Try more paneer recipes from FOI, paneer tikka, methi malai paneer.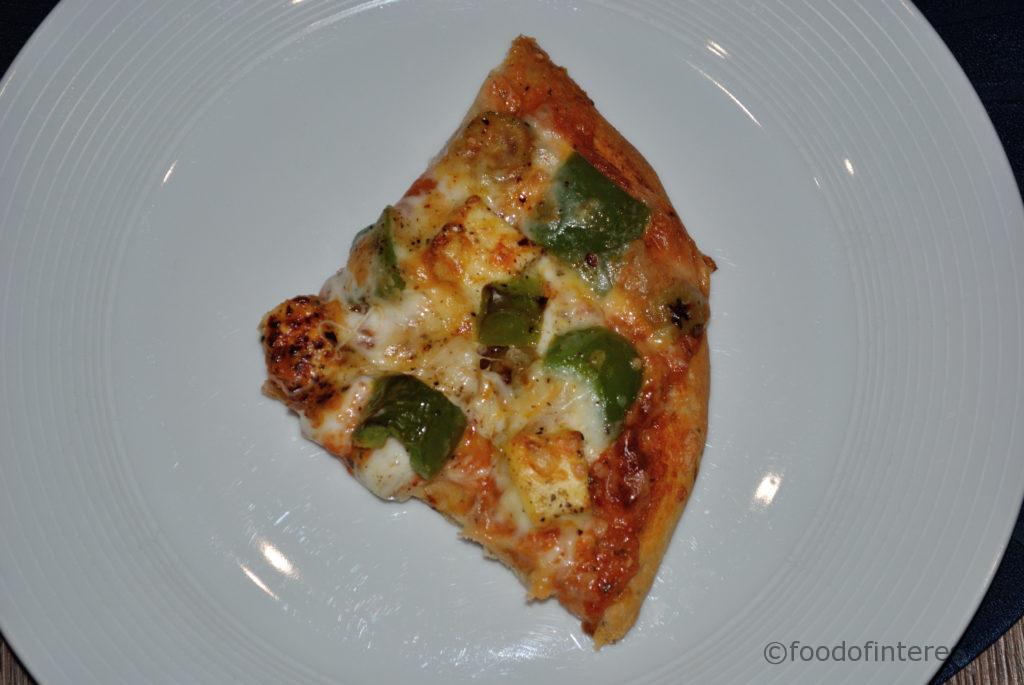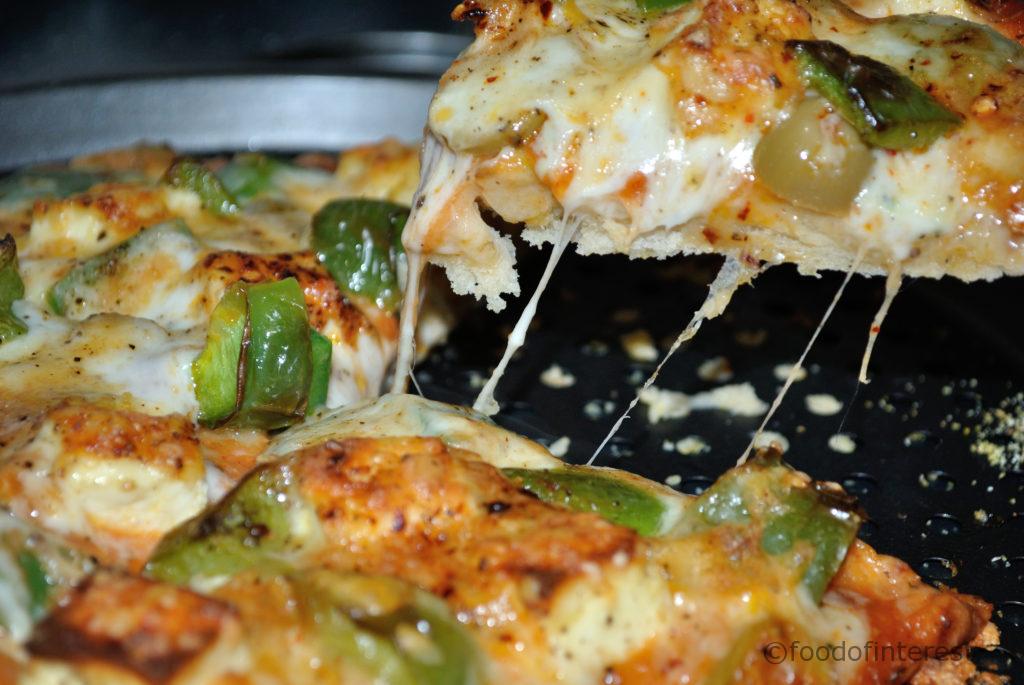 Peppy Paneer Pizza | Paneer Capsicum Pizza | Pizza Recipes
Super delicious and always fun to eat, peppy paneer pizza
Ingredients
1 recipe whole wheat pizza dough
1 recipe pizza sauce
¼ Cup sliced green olives
2 Tbsp extra virgin olive oil
Black pepper to season
100 Gm cubed paneer
1 Cup diced green capsicum/ bell pepper
1 Cup grated fresh mozzarella or pizza cheese
2-3 Tbsp semolina or cornmeal
Method
Get you pizza dough ready, punch the risen dough, lightly knead, divide into 2 bases or depending how may you are making
Dice paneer and capsicum, slice olives and keep other ingredients ready
In a bowl, take the paneer cubes and drizzle some olive oil
Season with black pepper and salt to taste
Repeat same procedure with capsicum, drizzle olive oil and season with black pepper
On a pizza tray or your baking tray, lightly sprinkle some semolina and cornmeal
Start spreading one portion of pizza dough with your fingers
Spread to thickness you like
Poke with a fork all over to prevent puffing up
Now spread a blob of pizza sauce as much as you like all over leaving about a centimetre on the circumference
Spread grated mozzarella all over
Now place diced green capsicum as per your wish
Place paneer cubes marinated in oil in between the capsicum
Next place a few olives and spread more cheese all over
Place a few more capsicum and give a good seasoning of black pepper
Preheat oven to 200 Deg C for 10 mins, pizza is now ready to be baked
Bake at 200 Deg C for 10-12 mins or till done and cheese is melted and crust is nice and golden
Notes
Roll or spread dough as per your likeness for thickness, adjust cooking time of course

Use any kind of capsicum you like

Use any amount of toppings you like, there is no measurement

Sprinkle some red chilli flakes if you like

Peppy Paneer Pizza Stepwise:
Get you pizza dough ready, punch the risen dough, lightly knead, divide into 2 bases or depending how many you are making

Dice paneer and capsicum, slice olives and keep other ingredients ready

In a bowl, take the paneer cubes and drizzle some olive oil

Season with black pepper and salt to taste

Repeat same procedure with capsicum, drizzle olive oil and season with black pepper

On a pizza tray or your baking tray, lightly sprinkle some semolina and cornmeal

Start spreading one portion of pizza dough with your fingers

Spread to thickness you like

Poke with a fork all over to prevent puffing up

Now spread a blob of pizza sauce as much as you like all over leaving about a centimetre on the circumference

Spread grated mozzarella all over

Now place diced green capsicum as per your wish

Place paneer cubes marinated in oil in between the capsicum

Next place a few olives and spread more cheese all over

Place a few more capsicum and give a good seasoning of black pepper

Preheat oven to 200 Deg C for 10 mins, pizza is now ready to be baked

Bake at 200 Deg C for 10-12 mins or till done and cheese is melted and crust is nice and golden