Making starters/appetizers for parties or for gatherings is always a challenge. We can easily make gravies for rotis and any kind of rice dishes but starters uh huh! Always difficult to choose and prepare. We have to carefully assemble them and also make them look pretty. But how about a foolproof recipe for making paneer tikka.
You can make these in advance and leave them in the marinade. And get some help in skewering them and you are all set. Tasty and delicious paneer tikka can then be roasted off in the oven in bulk. The paneer tikka leftovers make a super delicious pulao as well.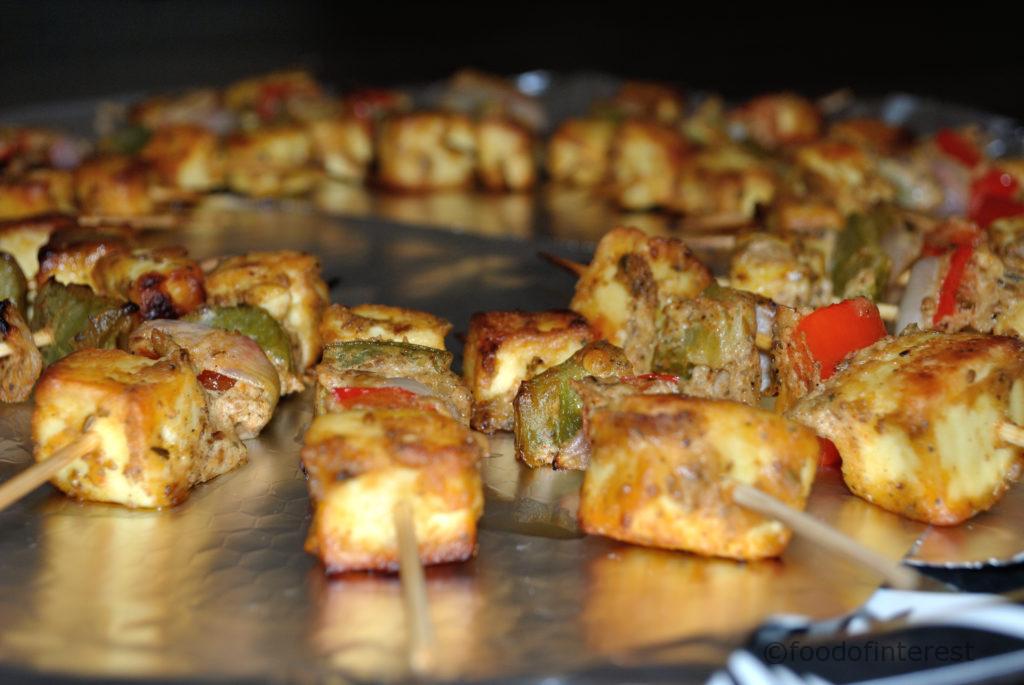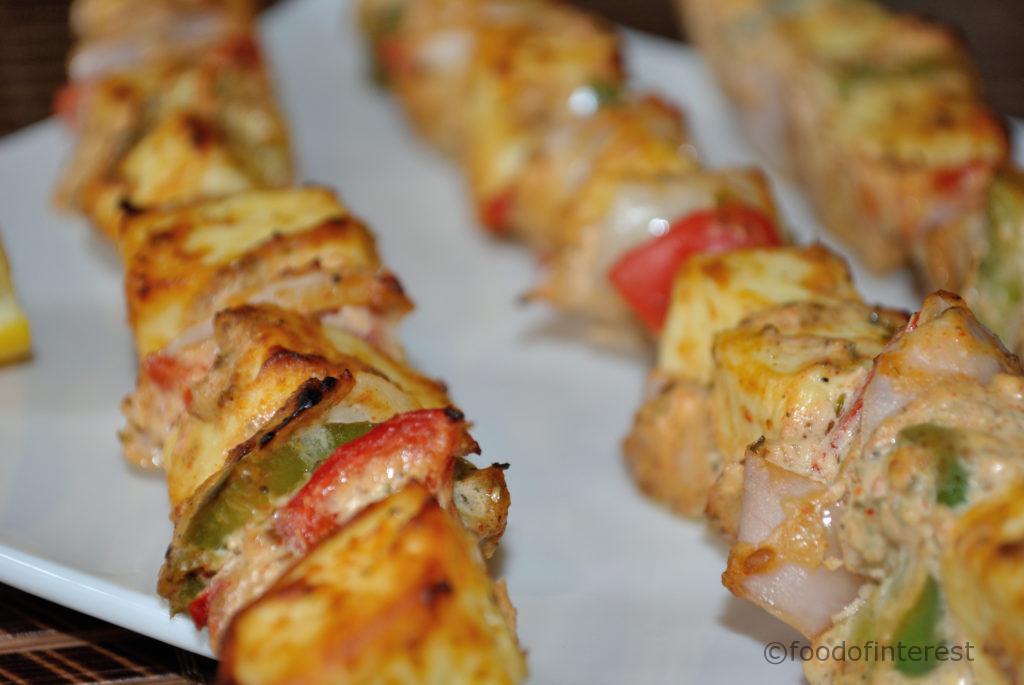 I recently made a big batch on small individual skewers for a garden party and everybody loved them. Just some mint chutney to go with them, delicious! The paneer tikka marinade consists of hung curd, and some aromatic and fresh spice powders. Big dices of vegetables and paneer are then left marinated in it. It tastes better as it sits, the flavours develop and taste amazing.
Try more starter/appetizer recipes from FOI. Also try lauki ke kofte in tamatar gravy, a great gravy after the paneer tikka for starters.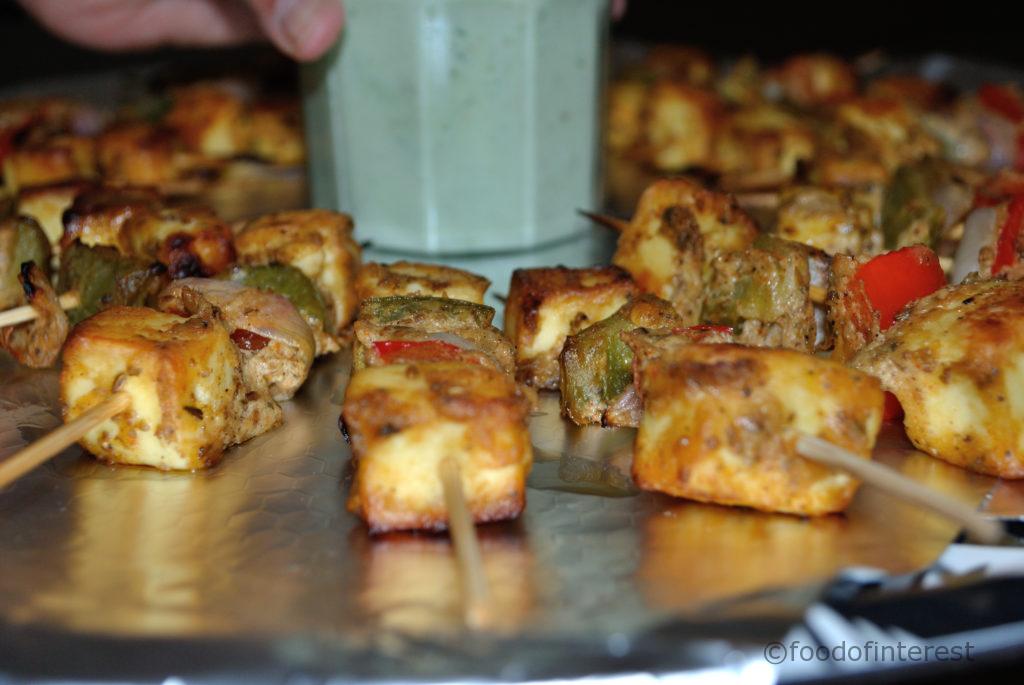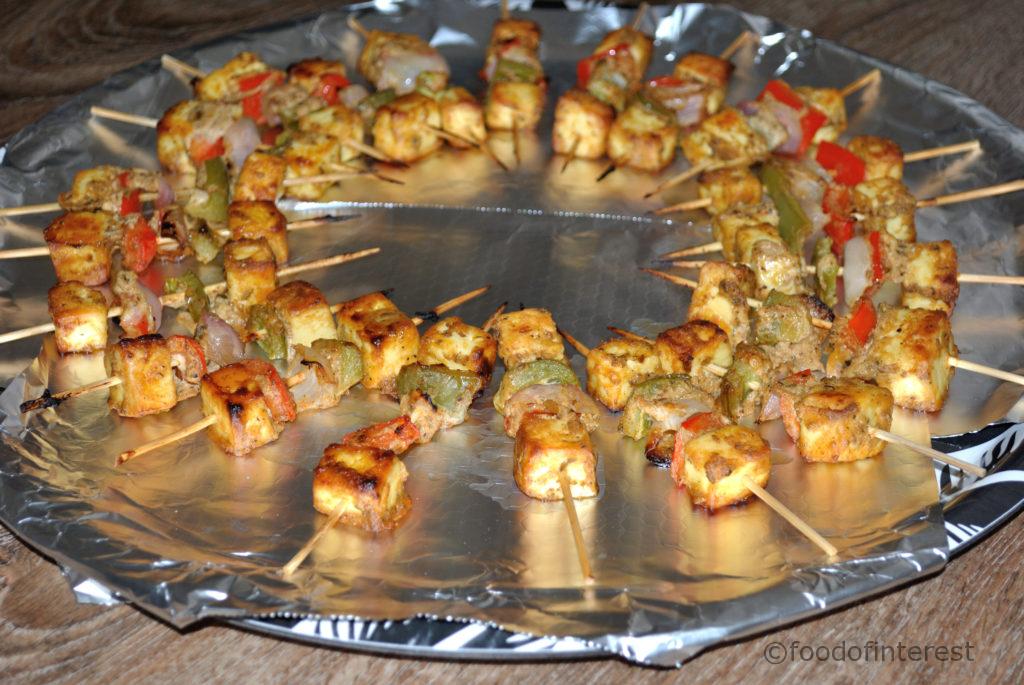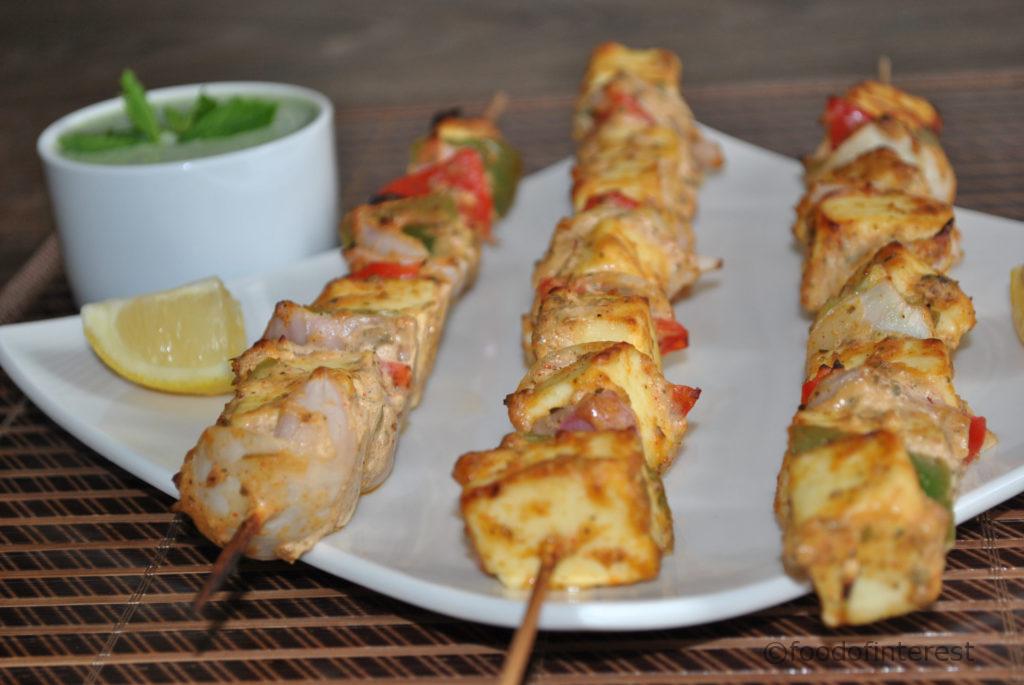 Paneer Tikka | Paneer Tikka In Oven | Starter Recipes
Yummy, delicious and a favourite starter, paneer tikka
Recipe type:
Starter/Appetizer
Ingredients
For the marinade:
150 gm hung curd (strained yogurt)
½ Tbsp dhania
1 Tsp jeera
1 Tsp saunf
½ Tsp garam masala
½ Tsp kashmiri red chilli powder
1 Tsp kasuri methi rubbed
1 Tsp chaat masala
¼ Tsp black pepper powder
1 Tsp amchur powder
1 Tbsp ginger, garlic and green chilli paste
2 Tbsp olive oil
1 Tbsp lemon juice
Salt to taste

For Tikka Skewers:
1 big onion
200 Gm paneer
1 red capsicum
1 green capsicum
Method
In a pan dry roast, jeera, dhania, and saunf till fragrant
Pound this into a coarse powder in a mortar-pestle, keep aside
In a large mixing bowl, take hung curd
Whisk into an even and smooth yogurt mixture
Add roasted and pounded masala powder
Next add garam masala, chaat masala, amchur powder, red chilli powder, kasuri methi powder and black pepper powder
Whisk everything well till well combined and even
Tip in ginger, garlic and green chilli paste and mix well
Pour olive oil and mix well
Squeeze lemon juice into the mixture
Season with salt, keep aside, marinade is now ready
Now dice the vegetables, onions, bell pepper
Add these into the marinade
Next add cubed paneer
Gently mix the ingredients
Cover with cling wrap and refrigerate for atleast 4 hours. You can keep it overnight too, for the flavours to develop and deepen
Pre-heat oven to 200 Deg C. Line the grill pan of your oven with foil or baking sheet
Soak long/short skewer sticks on water for a few minutes
Skewer the paneer and veg one by one, alternatively
Baste with olive oil, place skewers on lined grill
Roast at 200 Deg C for 10-12 minutes or till golden and cooked. Flip over and cook for further 2-3 minutes
Serve with mint chutney
Notes
These can be roasted on stove top also, turn as you roast them on medium flame till golden and roasted

You can also use store-bought strained Greek yogurt

Fresh homemade paneer tastes best

If you don't have skewer sticks, spread on a baking tray and roast

Adjust masalas as per your taste

Paneer Tikka Stepwise:
In a pan dry roast, jeera, dhania, and saunf till fragrant
 
Pound this into a coarse powder in a mortar-pestle, keep aside

In a large mixing bowl, take hung curd

Whisk into an even and smooth yogurt mixture

Add roasted and pounded masala powder

Next add garam masala, chaat masala, amchur powder, red chilli powder, kasuri methi powder and black pepper powder

Whisk everything well till well combined and even

Tip in ginger, garlic and green chilli paste and mix well

Pour olive oil and mix well

Squeeze lemon juice into the mixture 

Season with salt, keep aside, marinade is now ready

Now dice the vegetables, onions, bell pepper

Add these into the marinade

Next add cubed paneer

Gently mix the ingredients

Cover with cling wrap and refrigerate for atleast 4 hours. You can keep it overnight too, for the flavours to develop and deepen

Pre-heat oven to 200 Deg C. Line the grill pan of your oven with foil or baking sheet

Soak long/short skewer sticks on water for a few minutes

Skewer the paneer and veg one by one, alternatively

Baste with olive oil, place skewers on lined grill

Roast at 200 Deg C for 10-12 minutes or till golden and cooked. Flip over and cook for further 2-3 minutes

Serve with mint chutney