Paneer butter masala or PBM is one of the most loved paneer dishes. There was a time when we used to always order paneer butter masala by default. What's not to like, soft golden paneer cubes in a buttery creamy tomato based gravy. Loads of butter and some of cream to finish off the gravy, now how can that taste bad!
Paneer butter masala can be served with roti, phulka, naan or kulcha. I served it with a simple dal tadka, peas pulao, pudina raitha and some phulka. It's the perfect combination. Cashews make the gravy rich and extra creamy. Do not feel daunted while making paneer butter masala. Get all the ingredients ready and make the gravy easily.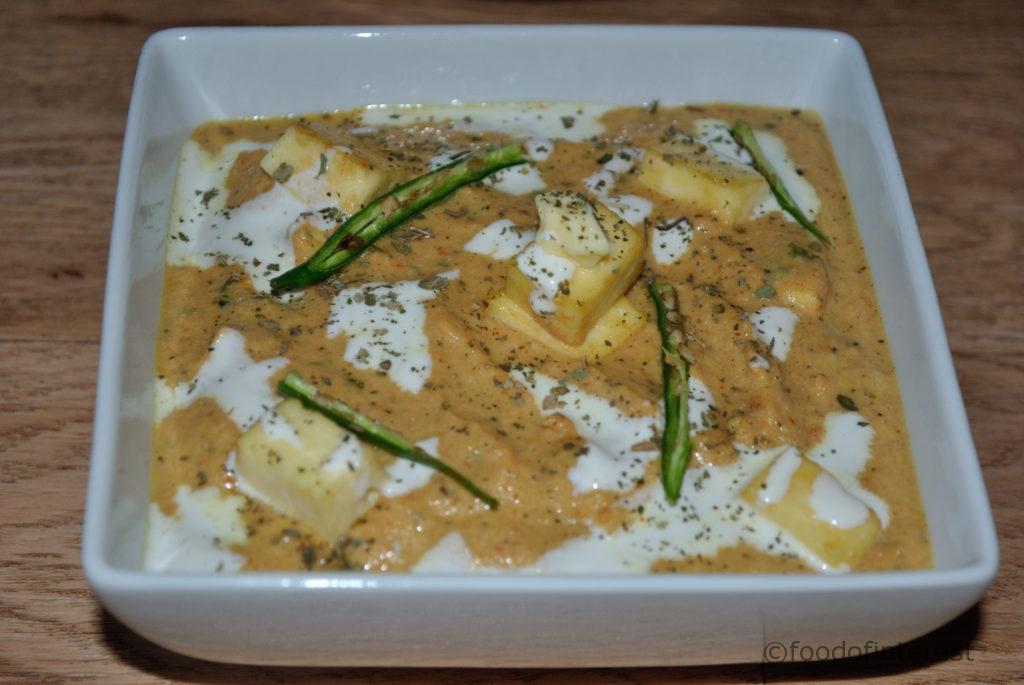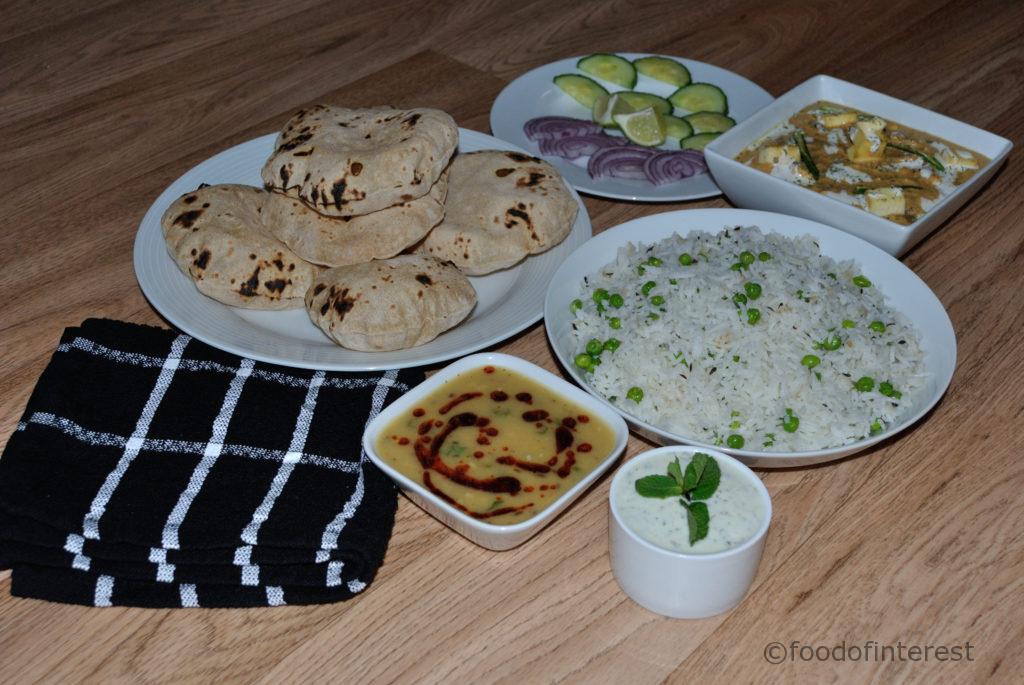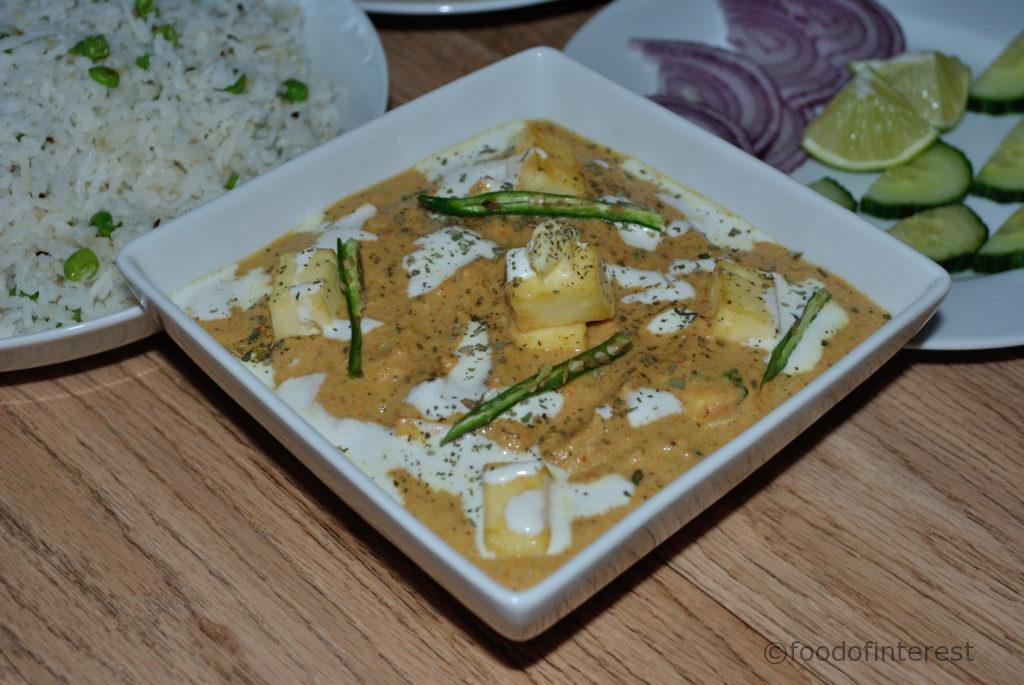 Just make sure you have fresh and soft paneer before making paneer butter masala. Kids absolutely love this dish and it is a treat. Make it once in a while and it is always a hit! Try more paneer based dishes from FOI, methi malai paneer, tamatar kaju paneer, palak paneer, paneer tikka, aloo paneer tikka rolls etc. Try more gravies from FOI.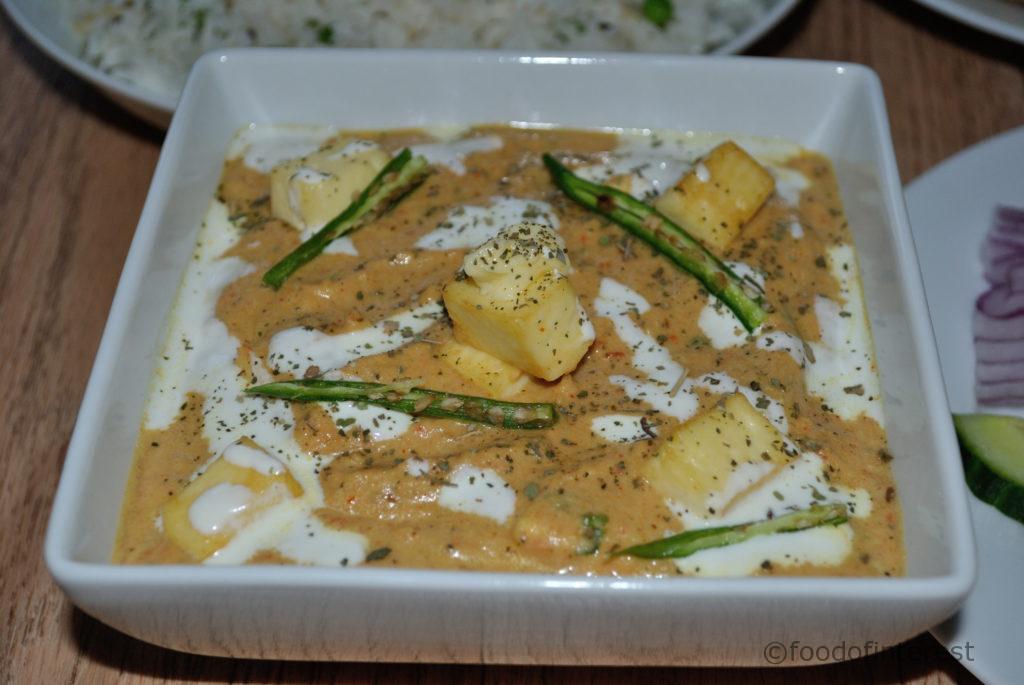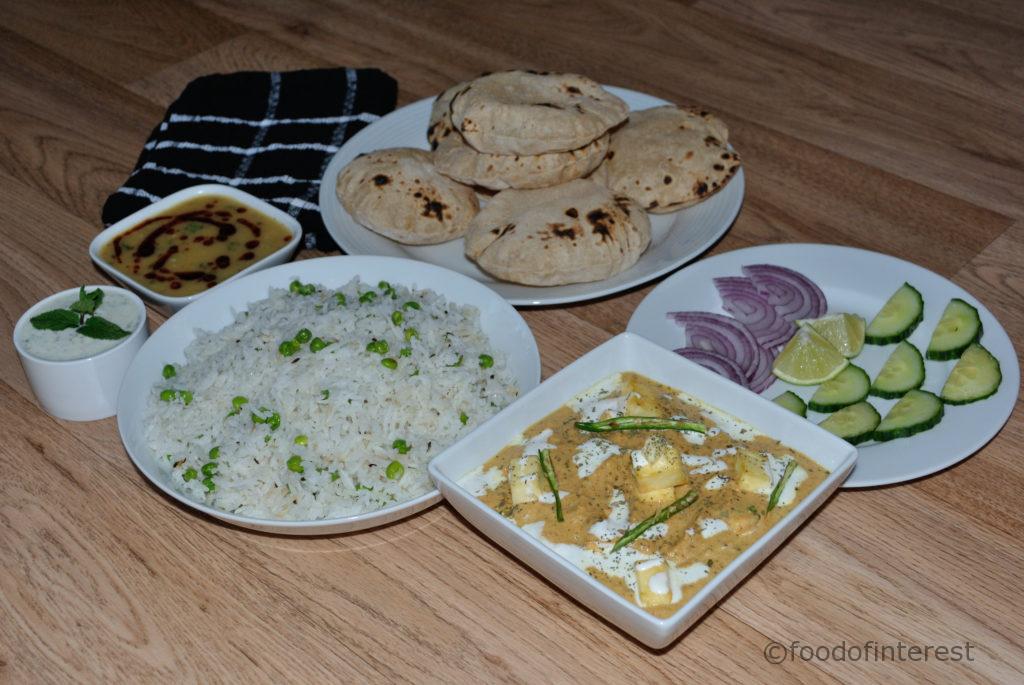 Paneer Butter Masala | Paneer Recipes | Gravy Recipes
Soft paneer in a velvety smooth butter and cream based masala, ever famous paneer butter masala
Ingredients
8-10 cashews
2-3 roughly chopped tomatoes
1 sliced medium onion
2-3 cloves of garlic
1 chopped green chilli
½" chopped ginger
4-5 black pepper-corn
1 clove/laung
½ Tbsp cooking-oil
200 Gm paneer cubes
1 Tbsp butter + 1 Tsp cooking-oil
¼ Tsp red chilli powder
¼ Tsp garam masala
½ Tsp coriander/dhania-powder
¼ Tsp turmeric
Salt to taste
2 Tbsp fresh cream + extra for garnish
1 Tsp kasuri methi
Method
Soak cashews in warm water for 15-20 minutes
Drain water from soaked cashews
Put them into a mixer jar and grind into a paste
Puree chopped tomatoes into a paste and keep aside
To make onion masala, heat cooking-oil in a pan and add jeera
Add whole black pepper-corns and saute for a minute
Next, add sliced onions, saute and stir
Add chopped green chilli, ginger and garlic and fry
Once onions become soft, turn off the flame and let it cool
Put the onion mixture in a mixer jar and grind into a paste with little water
To start making the gravy, heat butter + oil in a pan
Add the onion paste and fry
After a minute or two, add the tomato-puree and mix well
All the masalas can go in next : red chilli powder, dhania-powder and garam masala
Mix well
Pour in the cashew-paste and saute
Add the cream and let the gravy and mix well
Sprinkle salt as per taste
Crush kasuri methi and add it to gravy
While the gravy is simmering, roast the paneer cubes in little ghee/butter till they turn slightly golden
Drop the paneer cubes into the gravy and mix well
Finally, garnish with a little extra cream and serve immediately with rotis or phulkas
Notes
Do not fry paneer cubes for long time as they will become hard and chewy

you can also sprinkle a little garam masala towards the end for some extra spice

Adjust the thickness of the gravy by adding little water if it becomes too thick


Paneer Butter Masala Stepwise:
Soak cashews in warm water for 15-20 minutes

Drain water from soaked cashews

Put them into a mixer jar and grind into a paste

Puree chopped tomatoes into a paste and keep aside

To make onion masala, heat cooking-oil in a pan and add jeera

Add whole black pepper-corns and saute for a minute

Next, add sliced onions, saute and stir

Add chopped green chilli, ginger and garlic and fry

Once onions become soft, turn off the flame and let it cool

Put the onion mixture in a mixer jar and grind into a paste with little water

To start making the gravy, heat butter + oil in a pan

Add the onion paste and fry

After a minute or two, add the tomato-puree and mix well

All the masalas can go in next : red chilli powder, dhania-powder and garam masala

Mix well

Pour in the cashew-paste and saute

Add the cream and let the gravy and mix well

Sprinkle salt as per taste

Crush kasuri methi and add it to gravy

While the gravy is simmering, roast the paneer cubes in little ghee/butter till they turn slightly golden

Drop the paneer cubes into the gravy and mix well

Finally, garnish with a little extra cream and serve immediately with rotis or phulkas