Spinach or palak is a super vegetable/greens. It is loaded with nutrients and fibre and especially good for children. Because eating spinach is somewhat clichéd, children get into the habit of not consuming this wonder vegetable/greens. But add palak into soft palak paratha, they will come back for more.
Try and incorporate vegetable/greens into the dish itself so that it cannot be separated out. It makes wonderful soft parathas and is a great dish for lunch box, picnics or travel.
Palak paratha is quite simple to make although it does require a bit of preparation. But it is worth the effort as it does not require any side dish but you can make do with some yogurt on the side. Throw in some pickle if serving to adults.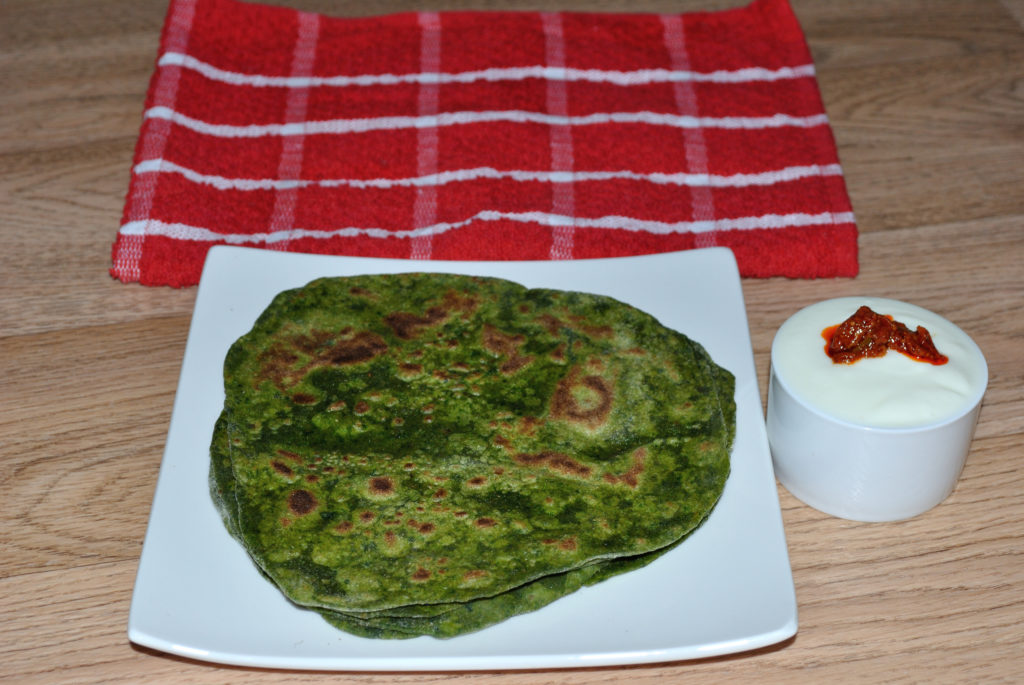 Kneading palak paratha dough ahead of time means you simply have to roll out the parathas. Then it is just a matter of adding some yogurt in lunch box and packing away the soft parathas!
I have added palak by blanching them and then grinding into a paste. You can also saute palak in little oil and then grind.
Do try these other parathas from FOI, tomato paratha, carrot paratha, methi thepla, aloo paratha. All roti/paratha/bread recipes can be found here.
For palak recipes try palak pakoda, palak raitha or this delicious spinach soup.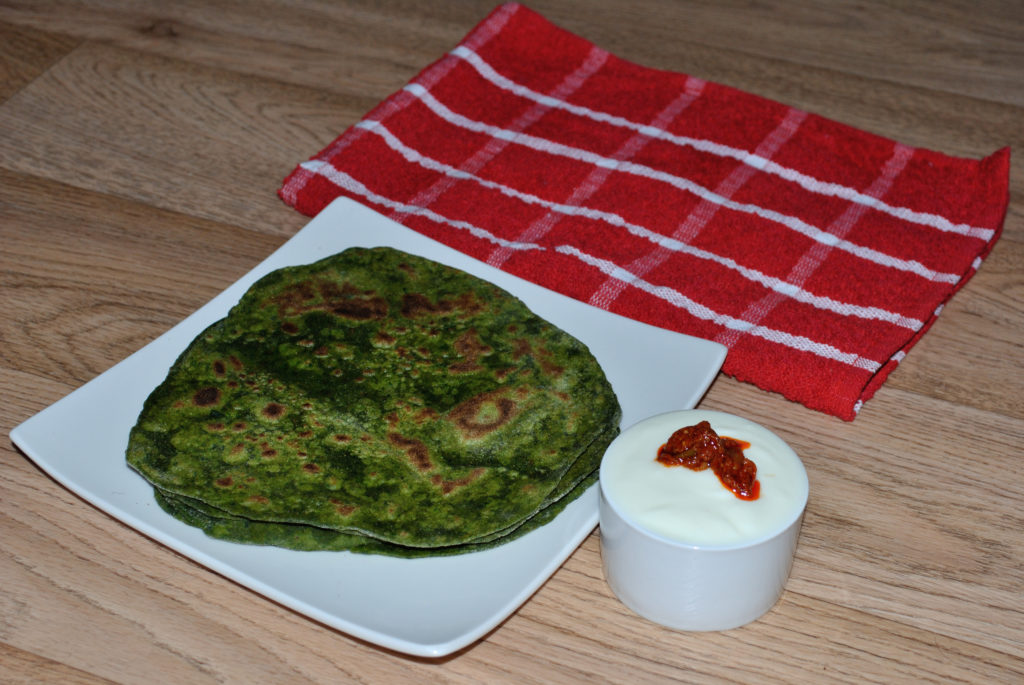 Palak Paratha | How to make palak paratha? | Paratha Recipes
Soft, green, tasty, delicious and kid friendly palak paratha
Ingredients
2 Cups or 200-250 Gm palak/spinach
2 Cups whole wheat flour/atta
½ Tsp powdered black pepper
¼ Tsp crushed carom seeds/om kaalu/ajwain or ½ Tsp crushed jeera
Salt to taste
½ Tsp sugar
2 Tsp oil
1 Tbsp yogurt
Water to knead into a dough
Method
Blanch spinach leaves in hot water for a minute
Drain wilted spinach leaves from the hot water and run it under cold water to stop further cooking
Grind spinach leaves into a purée and keep aside
Take whole wheat flour in a bowl
Sprinkle salt, crushed black pepper and jeera or ajwain
Add a Tsp of oil and rub all the ingredients together
Now add the spinach purée into whole wheat flour mixture
Spoon in a little yogurt
Start mixing all the ingredients together
The dough starts coming together
Just add a few drops of water to finish the dough
Finally knead with a teaspoon of oil into a soft dough . Cover and set it aside
To make parathas, pinch small balls off the dough
Dust the working surface with flour, roll out a ball of dough into a small circle
Add a few drops of oil. Fold a circle into a half and again to form a triangle
Roll out into a paratha roughly keeping the triangle shape
To roast the paratha, put it on a heated tawa or pan or skillet
Apply oil on both sides and roast till golden. Repeat for remaining parathas.
Serve them immediately or pack for lunch box
Notes
Optionally chopped/grated garlic can be added while kneading dough

Apply ghee before serving

Add crushed jeera if you want

Resting dough for sometime makes softer parathas

Dough can be made previous day and rested in refrigerator

Palak Paratha Stepwise:
Blanch spinach leaves in hot water for a minute

Drain wilted spinach leaves from the hot water and run it under cold water to stop further cooking

Grind spinach leaves into a purée and keep aside

Take whole wheat flour in a bowl

Sprinkle salt, crushed black pepper and jeera or ajwain

Add a Tsp of oil and rub all the ingredients together

Now add the spinach purée into whole wheat flour mixture

Spoon in a little yogurt

Start mixing all the ingredients together

The dough starts coming together

Just add a few drops of water to finish the dough

Finally knead with a teaspoon of oil into a soft dough . Cover and set it aside

To make parathas, pinch small balls off the dough

Dust the working surface with flour, roll out a ball of dough into a small circle

Add a few drops of oil. Fold a circle into a half and again to form a triangle

Roll out into a paratha roughly keeping the triangle shape

To roast the paratha, put it on a heated tawa or pan or skillet

Apply oil on both sides and roast till golden. Repeat for remaining parathas

Serve them immediately or pack for lunch box