Upma or uppittu, how should I start describing this delicious, healthy dish. Most households in India make this super tasty breakfast. After idli and paratha, upma is the most commonly made dish, it is indeed an everyday dish. However upma is disliked by many, if you do not get the consistency right, it will lump up or become dry and boring. Try this mixed vegetable upma and follow the steps, you will always make upma the way it should be made. 
Mixed vegetable upma can be made with a variety of vegetables, like cabbage, beans, carrot and peas. Generally I add carrot, beans and peas the best combo. Upma needs to have the rava roasted well along with getting the right amount of oil/ghee and water to make the upma. Only then mixed vegetable upma for that matter any kind of upma will taste good.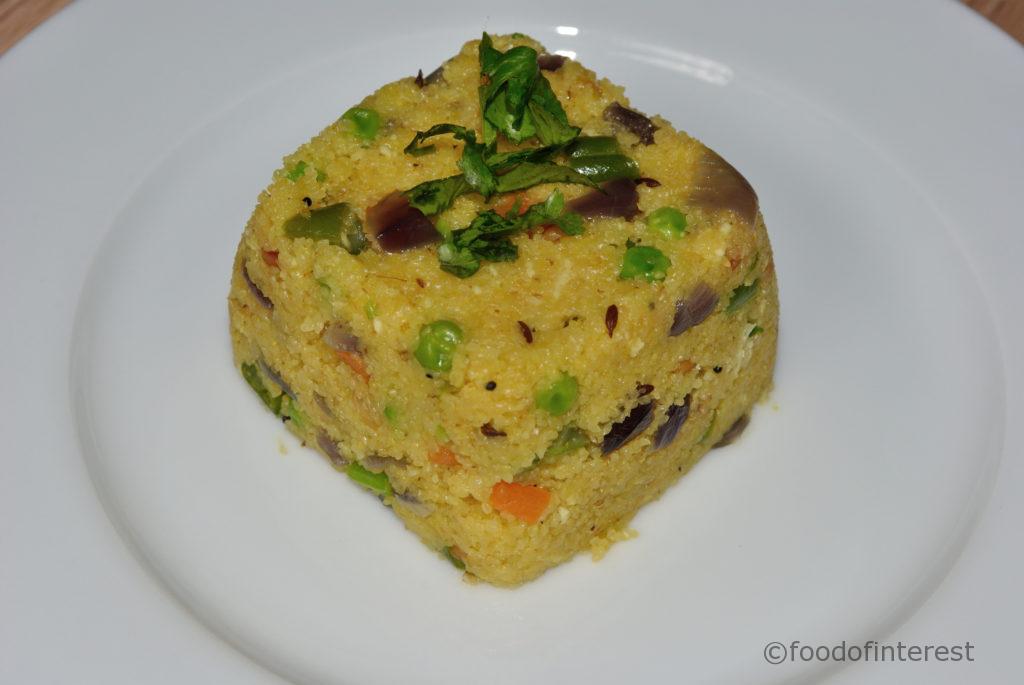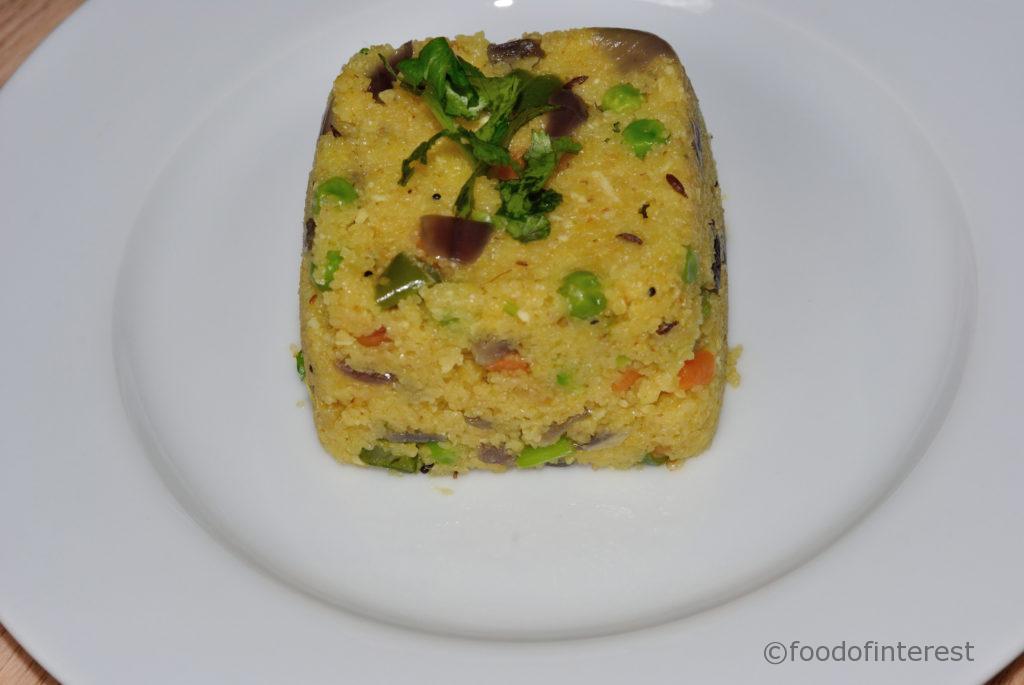 Many people describe upma as the porridge of the 'East'. I somehow cannot agree with that, why not describe porridge as the 'Upma' of the 'West'. Upma is hundreds of years old and why describe every dish in a Western way. Make it, eat it and taste it yourself, the best dish in the world!
I always feel lazy to shoot upma recipe although I make this weekly once sometimes twice. I will try to add more bachelor dishes and easy dishes for everyone to make. Mixed vegetable upma is the best comfort food in the world! Try more breakfast dishes from FOI, masala dosa, idli, rava idli, benne paddu, gojjavalakki etc.
The best combo there is, chow chow bhaat, served along with kesari bhaat, best breakfast ever.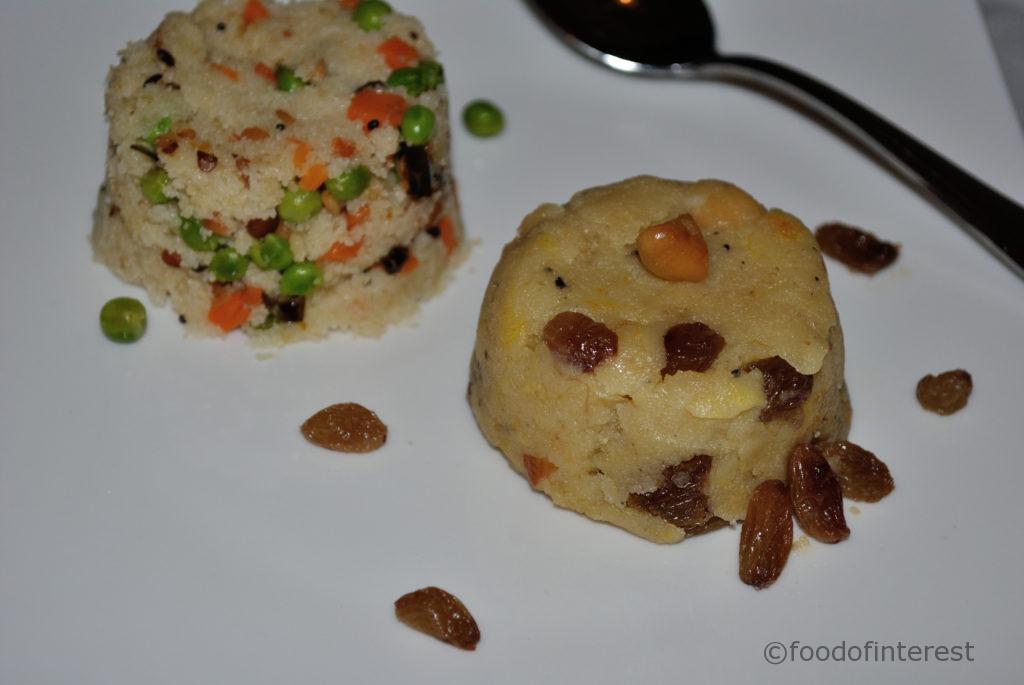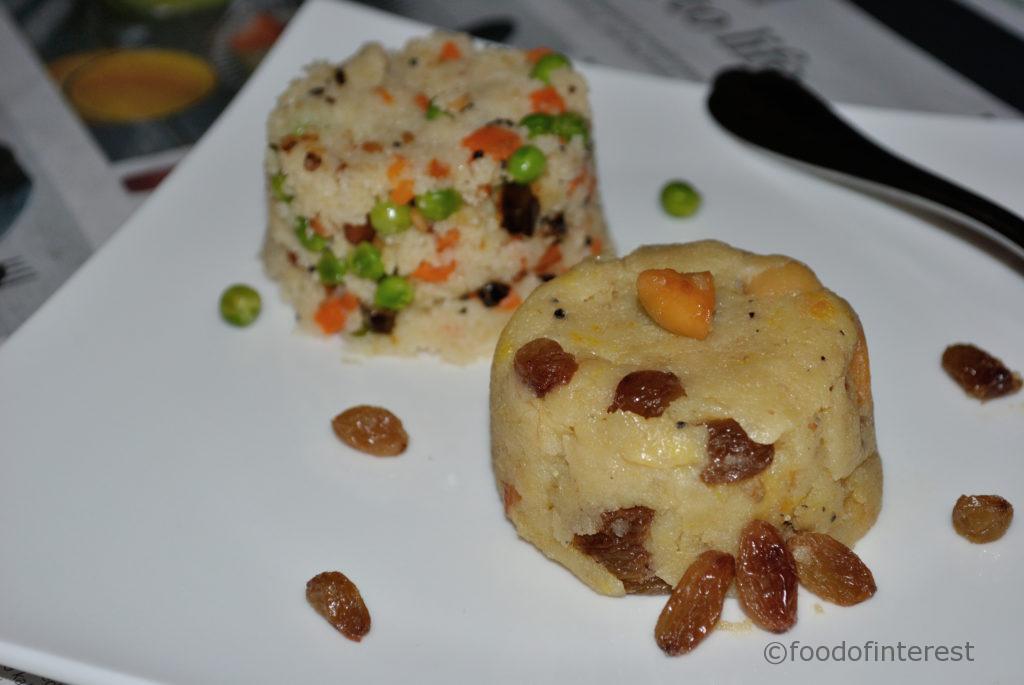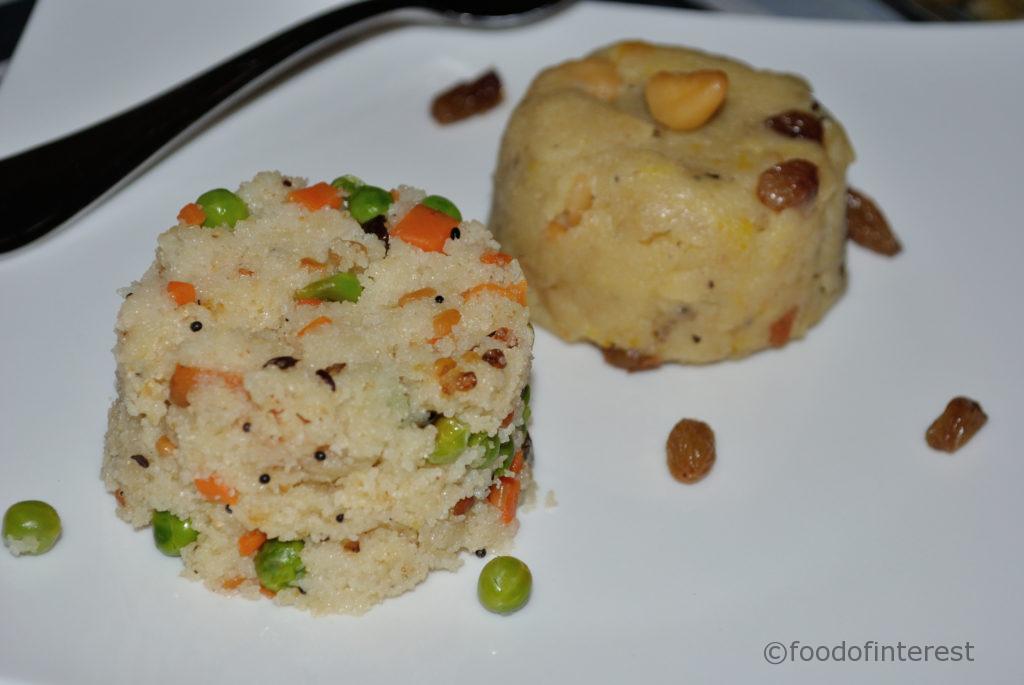 Mixed Vegetable Upma | Mixed Veg Uppittu | Breakfast Recipes
Most common yet best breakfast ever, mixed vegetable upma
Ingredients
1 Cup dry roasted upma rava/upma sooji
2 Tbsp oil
½ Tsp jeera
½ Tsp mustard
1 pinch hing
8-10 curry leaves
2 green chillies
1 Tsp urad dal
1 Tsp chana dal
½" ginger
1 chopped small onion
1 chopped carrot
5-6 chopped green beans
⅓ Cup fresh/frozen green peas
½ Tsp turmeric
Salt to taste
¼ Cup grated coconut
2½ Cups boiled water
1 Tbsp desi ghee
Method
In a pan, heat oil and add jeera and mustard
Once they splutter, add urad dal, chana dal, chopped green chillies and curry leaves and fry
Allow dals to turn golden and green chillies to get fried up and add a pinch of hing
Next add chopped ginger and saute
Add chopped onions and fry till translucent and softened
Mixed vegetables can go in next, carrot, beans and green peas, saute well till they soften
Add dry roasted rava/sooji along with turmeric
Mix the rava with the mixture
Add salt to taste and add the grated coconut
Turn off heat, pour just boiled water slowly into the rava mixture
Allow water to get absorbed
Add ghee on top and cover and cook for further 3-4 minutes
Let it sit for 5 more minutes
Serve hot with ghee on top or some curd/yogurt on the side
Notes
Pouring water to rava mixture ensures you will never get lumps, adding rava slowly to water is a time-consuming process

For softer consistency, I add ½ Cup extra water, you can stick to 1:2 ratio for a more bloomed upma consistency

If you have unroasted rava, add little ghee (1/2 Tbsp frou about ½ Kg rava) and slowly roast it at low temperatures till fragrant and goldem. Allow it to cool and store in an air-tight container

You can skip vegetables and turmeric and make a plain upma, reduce water slightly, rest of the process remains the same

Mixed Vegetable Upma Stepwise:
In a pan, heat oil and add jeera and mustard

Once they splutter, add urad dal, chana dal, chopped green chillies and curry leaves and fry

Allow dals to turn golden and green chillies to get fried up and add a pinch of hing

Next add chopped ginger and saute

Add chopped onions and fry till translucent and softened

Mixed vegetables can go in next, carrot, beans and green peas, saute well till they soften

Add dry roasted rava/sooji along with turmeric

Mix the rava with the mixture

Add salt to taste and add the grated coconut

Turn off heat, pour just boiled water slowly into the rava mixture

Allow water to get absorbed

Add ghee on top and cover and cook for further 3-4 minutes

Let it sit for 5 more minutes

Serve hot with ghee on top or some curd/yogurt on the side