Aromatic, flavourful, coconuty mixed veg saagu Karnataka style is one of my favourite gravies. It is a very popular side dish for chapathis/rotis, pooris or dosas especially set dosas.
Veg saagu has a rich taste rendered by the coconut masala along with a background of subtle spices like laung, dalchini. The hint of tanginess from lime/lemon makes it a very well balanced gravy. The mixed vegetables are cooked to perfection. They melt in the mouth but still with a little bite. The combination is exquisite!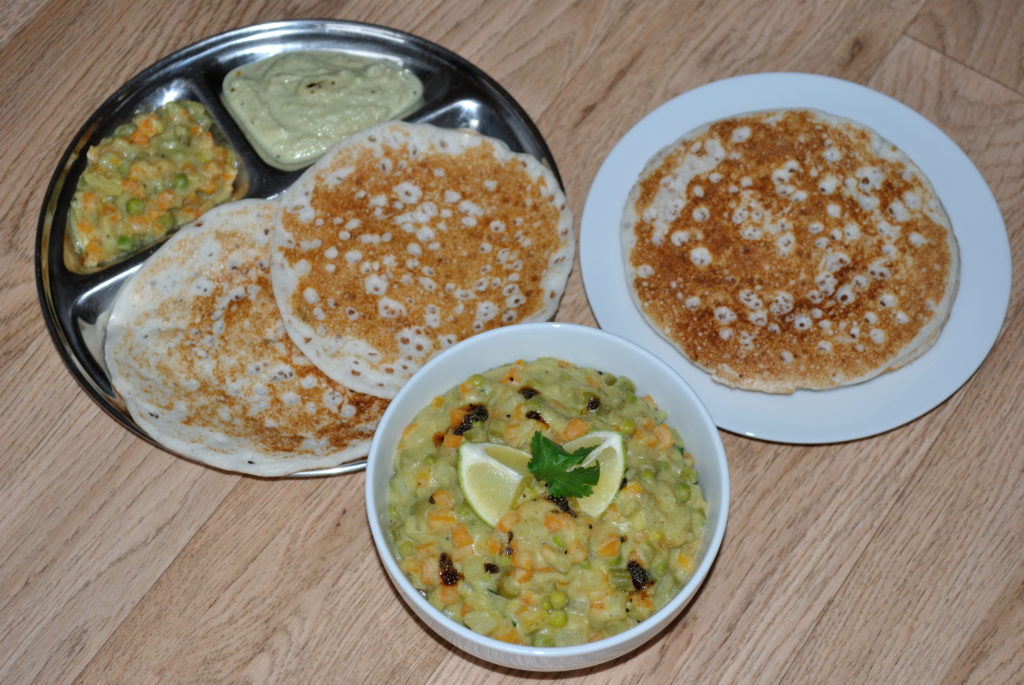 Darshinis/hotels add a lot of masala and oil to veg saagu and can be very spicy for some people. Try making this gravy at home and get the hotel like feel. Goes really well with set dosas a very popular breakfast in South India.
More mixed vegetable recipes available on FOI. I have already posted a simple seemebadanekayi saagu/chayote squash curry. Now try this mixed veg version.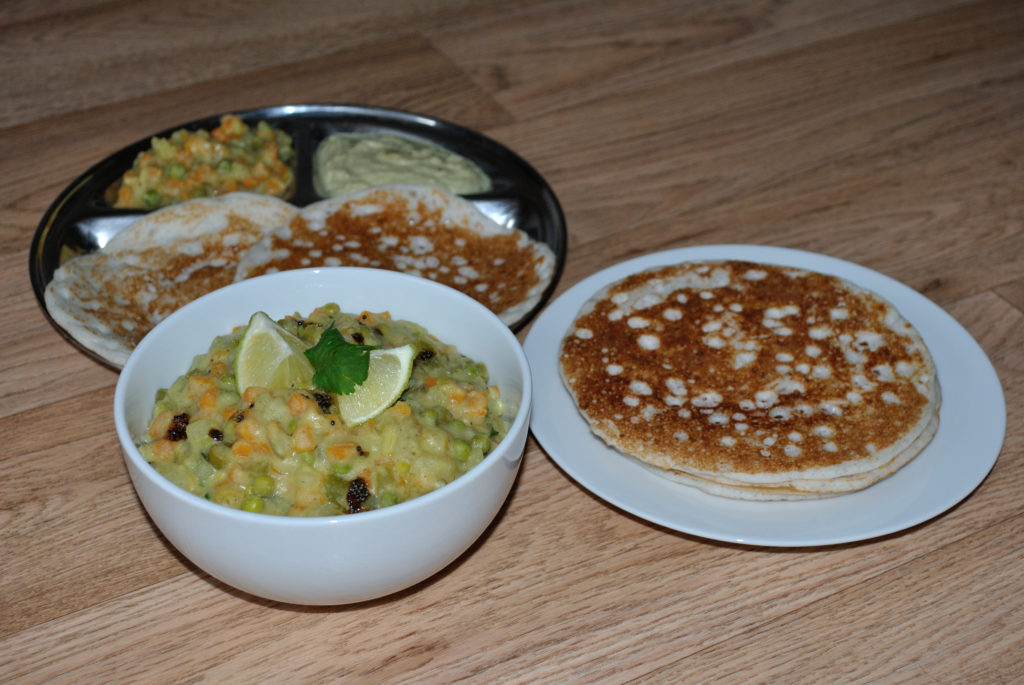 Mixed Veg Saagu | Karnataka Style Mixed Veg Saagu
Karnataka style delicious mixed veg saagu a popular side dish for set dosas
Ingredients
Vegetables:
2 medium sized or 1½ Cups small diced carrots
1 potato or 1 Cup small diced
10-12 or ½ Cup finely chopped green beans
½ Cup shelled green peas

For Masala:
½ Cup freshly grated coconut
1 piece cinnamon/dalchini
¼ Cup huri gadale/kadale pappu/roasted gram/puthani
2 slit green chillies
1 clove garlic (optional)
1" piece ginger
4-5 curry leaves
½ Tsp jeera (optional)
1 pinch hing
Chopped coriander
Juice of ½ lime

For Tadka
½ Tbsp oil
½ Tsp mustard
1 broken dry red chilli
¼ Tsp red chilli powder
Method
In a pan, add ½ Cup water and bring to a boil. Add diced carrots and potatoes
Next add chopped beans. Cover and cook the vegetables
Once they turn a bit soft tip in green peas, cover, cook till all vegetables are soft and tender
To make the saagu masala, add grated coconut to a mixer jar and add cinnamon
Add green chillies, chopped ginger and garlic
Add curry leaves and a few sprigs of coriander
Now add in the roasted gram, salt, hing, jeera and lime juice
With little water, grind this masala into a chutney like paste
Once the vegetables are tender pour in the masala paste into the pan. Mix well
Add salt to taste. Remember we had added salt while grinding masala, add salt for vegetables only
Pour in some water to adjust consistency, boil saagu till the masala gets cooked and mixes well with vegetables
Make tadka with oil, mustard, red chillies, red chilli powder
Pour tadka over saagu. Add chopped coriander
Serve hot with set dosas or chapathis
Notes
Adjust green chillies as per your taste

Fresh coconut is preferred but dry coconut/kopra can also be substituted but the change in taste will be noticeable

Other vegetables like turnip, parsnip, knol kol can also be added

Garlic can be skipped to make it a no onion no garlic recipe

Mixed Veg Saagu Stepwise:
In a pan, add 1/2 Cup water and bring to a boil. Add diced carrots and potatoes
  

Next add chopped beans. Cover and cook the vegetables


Once they turn a bit soft tip in green peas, cover, cook till all vegetables are soft and tender


To make the saagu masala, add grated coconut to a mixer jar and add cinnamon 


Add green chillies, chopped ginger and garlic
  

Add curry leaves and a few sprigs of coriander
 

Now add in the roasted gram, salt, hing, jeera and lime juice
 

With little water, grind this masala into a chutney like paste


Once the vegetables are tender, pour in the masala paste into the pan. Mix well
   

Add salt to taste. Remember we had added salt while grinding masala, add salt for vegetables only


Pour in some water to adjust consistency, boil saagu till the masala gets cooked and mixes well with vegetables
 


Make tadka with oil, mustard, red chillies, red chilli powder


Pour tadka over saagu. Add chopped coriander
  

Serve hot with set dosas or chapathis