It's always good to have a lot of gravy based recipes in your cooking repertoire. They work really well with chapathis and rotis and they just bring your full menu together. Mixed Veg gravies like saagu or this mixed veg kurma, Karnataka style are delicious gravies.
Lip smacking mixed veg kurma has an aromatic coconut based masala blend with subtle spices. It's creamy and has the goodness of all the veggies like beans, carrots and green peas. I also served the leftovers with whole wheat puris and kesar elaichi shrikhand!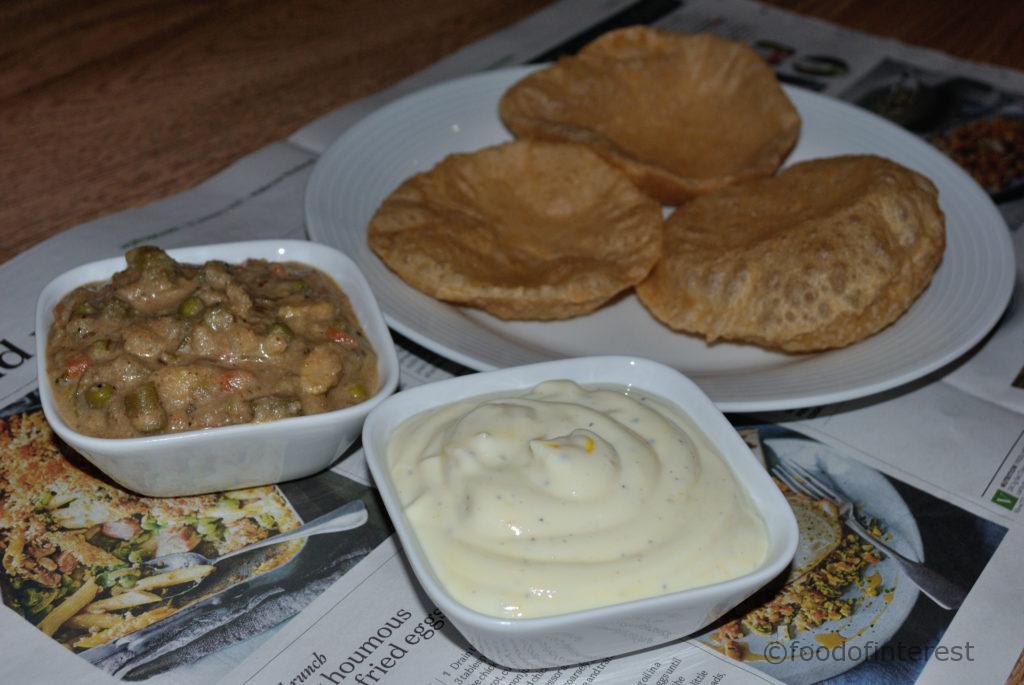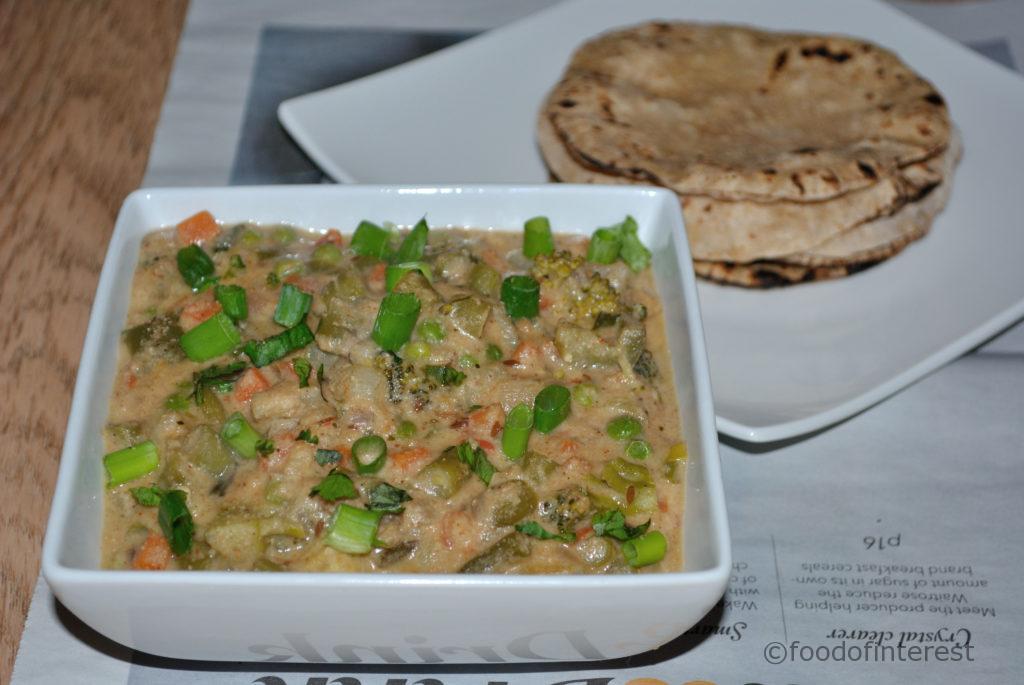 You can adjust the spices as per your taste and make the mixed veg kurma as hot and spicy as you want. Personally though I feel it should be subtle and the aroma should come through. Try more gravies from FOI, Seemebadanekayi saagu, peas kurma etc. More mixed veg recipes from FOI.
Mixed Veg Kurma | Vegetable Kurma | Gravy Recipes
A great accompaniment for rotis and chapathis, mixed veg kurma in a coconut based gravy
Ingredients
To grind to a paste:
½ Tsp sompu/fennel
2 laung, 1 elaichi
1" cinnamon
¼ Cup grated coconut
7-8 cashews
¼ Cup puthani/fried gram/hurigadale
1 Tbsp gasa gase
1 green chilli
1" ginger
1 clove garlic
½ Tsp jeera
½ Tsp kalluppu/sea salt

Mixed vegetables:
2 carrots
5-6 baby corn
7-8 beans
1 Cup broccoli or cauliflower florets (blanched in boiling water)
1 potato
½ Cup green peas
½ capcisum
1 chopped onion
2 sliced spring onions
1 chopped tomato

For masala:
1 Tbsp oil
¼ Tsp jeera
2 bay leaves
¼ Cup water
¼ Tsp red chilli powder
½ Tsp garam masala
2 Tbsp yogurt
½ Tsp kasuri methi
Chopped coriander
Method
Keep all the whole garam masala together
Soak cashews in little water
In a mixer jar, add grated coconut, 1 sliced green chilli, chopped garlic, ginger
Tip in the whole garam masala
Add sea salt and gasa-gase
Next add soaked and drained cashews, fried gram/hurigadale and jeera
Grind into a chutney, this is the ground masala, keep aside
Clean, wash and blanch broccoli/cauliflower in boiling water for a minute
In another vessel, boil water, add chopped vegetables, beans, carrot, potato and baby corn and boil till soft
In another pan, add oil, add jeera and fry bay leaf
Next add chopped onions and saute
Add spring onion whites, capsicum and saute well
Once capsicum and onions turn soft, add chopped tomato and saute till soft and mushy
Add the ground chutney masala and mix well
Fry well till raw smell disappears
Add little water to adjust consistency
Sprinkle red chilli powder and garam masala powder
Lower the flame and whisk in yogurt
Now add cooked vegetables and green peas, simmer
Sprinkle crushed kasuri methi and mix well
Lastly garnish with sliced spring onion greens and chopped coriander
Serve hot with poori/roti or chapathis
Notes
Use any kind of vegetables, knol-kol, turnip etc

Adjust spiciness as per your taste, reduce chillies if kids are eating

Omit garlic if you want
Mixed Veg Kurma Stepwise:
Keep all the whole garam masala together

Soak cashews in little water

In a mixer jar, add grated coconut, 1 sliced green chilli, chopped garlic, ginger

Tip in the whole garam masala

Add sea salt and gasa-gase

Next add soaked and drained cashews, fried gram/hurigadale and jeera

Grind into a chutney, this is the ground masala, keep aside

Clean, wash and blanch broccoli/cauliflower in boiling water for a minute

In another vessel, boil water, add chopped vegetables, beans, carrot, potato and baby corn and boil till soft
 
In another pan, add oil, add jeera and fry bay leaf

Next add chopped onions and saute

Add spring onion whites, capsicum and saute well

Once capsicum and onions turn soft, add chopped tomato and saute till soft and mushy

Add the ground chutney masala and mix well

Fry well till raw smell disappears

Add little water to adjust consistency

Sprinkle red chilli powder and garam masala powder

Lower the flame and whisk in yogurt

Now add cooked vegetables and green peas, simmer

Sprinkle crushed kasuri methi and mix well

Lastly garnish with sliced spring onion greens and chopped coriander

Serve hot with poori/roti or chapathis