As a kid when I used to go to hotels or darshinis (few & far between), I always ended up ordering masala dosa. But I used to be always fascinated by nice looking dishes like mini idlis served with tiffin sambar and chutney. Those mini idlis served with ghee and piping hot sambar is a sight!
Not to worry, making mini idlis might seem like a difficult task. I have always found that we, as home cooks get intimidated by making something mini or miniature in size. It somehow becomes a daunting task although we can rustle up big batches of meals to serve a crowd. Making these mini idlis is not that difficult after all. It is essentially idli recipe but made into mini idlis.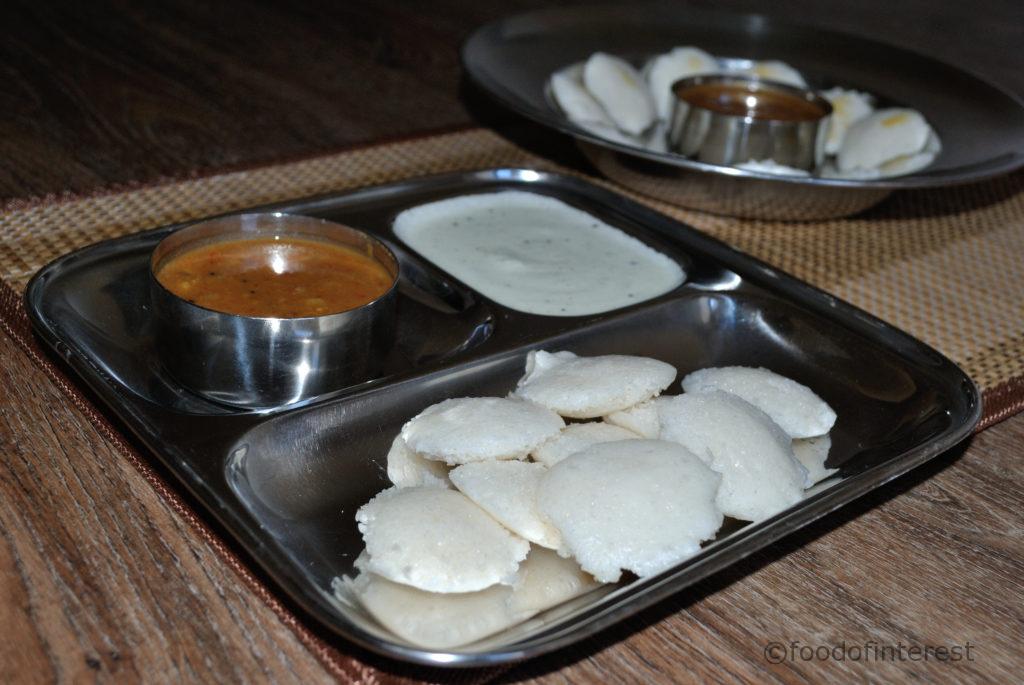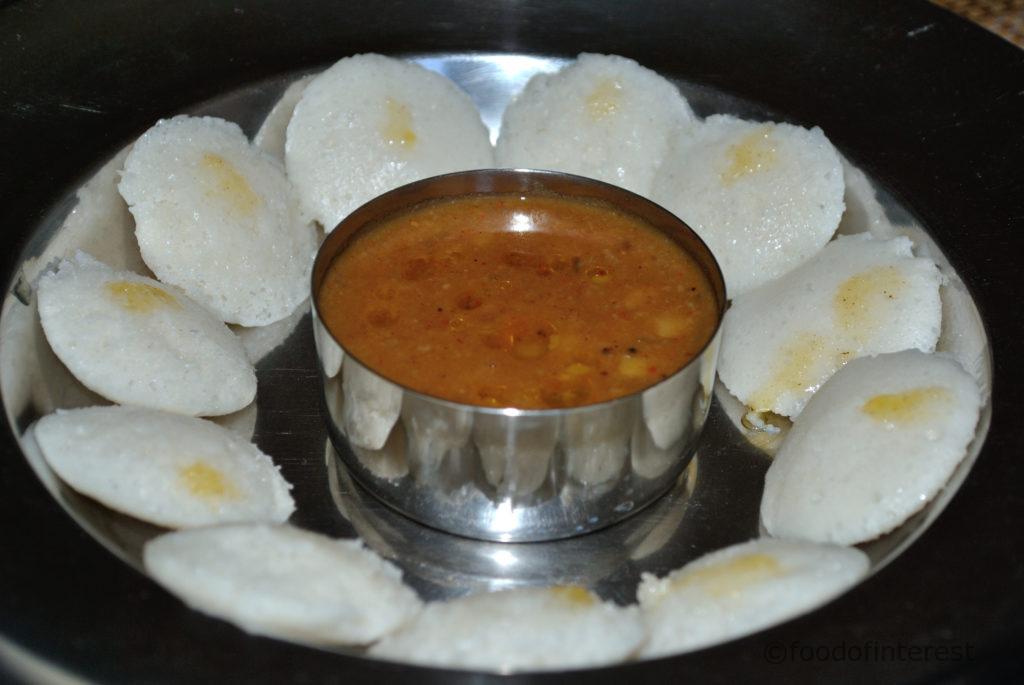 I use a slightly different urad dal:rice ratio for making idlis. For dosa I use 1:3 and I use 1:4 for idlis. I have already posted idli recipe with idli rava. Here I have used idli rice for making the batter. Slightly more work but the result is amazing, soft fluffy idlis. You can also make regular idli with same batter if you do not want to make mini idlis.
Try more idli recipes from FOI, idli with idli rava, rava idli, corn idli, kotte kadubu etc. More breakfast recipes from FOI.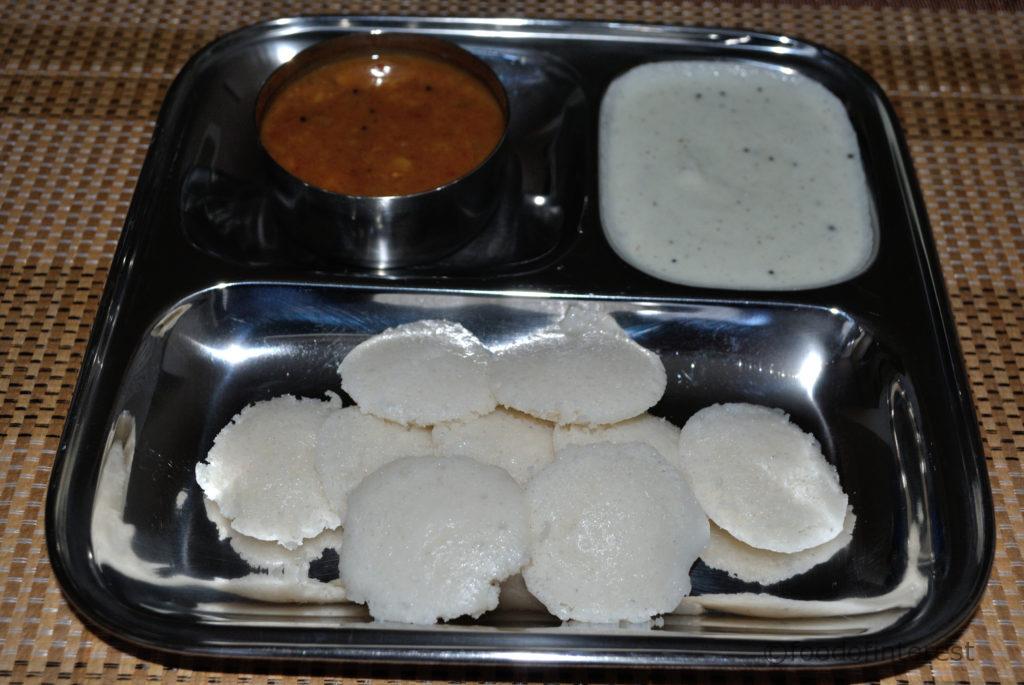 Mini Idlis | Baby Idli | Hotel Style Mini Idli | Idli Recipes
Mini and fun to eat, drizzle with ghee or dunk in sambar, super tasty mini idlis
Ingredients
1 measure/Cup urad dal
4 measures/Cup idli rice
¼ Tsp methi seeds
¼ measure/Cup handful of avalakki
Crystal sea salt or kalluppu to taste
Method
Take rice and urad dal in separate containers
Keep methi seeds and salt also ready
Pour enough water and wash both dal and rice separately
Add water to soak dal and rice
Tip in the methi seeds with urad dal
Wash and add avalakki/poha as well with rice
Let them soak for 6-8 hours
Drain water off dal and rice
Add salt to dal , grind to a thick yet pourable batter with required water
Pour this into a container
Next grind rice with water and salt as per taste
Pour this with urad dal batter
Fold the batter well and mix well
Scrape and wipe the sides of the bowl
Cover and allow it to ferment overnight or for 12-15 hours in a warm place
To make mini idli, take a mini idli container stand and oil them well
Pour batter into each idli mould
Cover and steam in idli cooker or double boiler for 12 minutes or till done
Let them cool for 4-5 minutes, scoop out the idlis and serve with tiffin sambar and chutney
Notes
You can use any measure of your choice to measure your ingredients

Methi seeds enables fermentation

Avalakki/poha makes the idlis soft and white

You can also use regular idli stand but mini idlis are fun!

Mini Idlis Stepwise:
Take rice and urad dal in separate containers

Keep methi seeds and salt also ready

Pour enough water and wash both dal and rice separately

Add water to soak dal and rice

Tip in the methi seeds with urad dal

Wash and add avalakki/poha as well with rice

Let them soak for 6-8 hours

Drain water off dal and rice

Add salt to dal , grind to a thick yet pourable batter with required water

Pour this into a container

Next grind rice with water and salt as per taste

Pour this with urad dal batter

Fold the batter well and mix well

Scrape and wipe the sides of the bowl

Cover and allow it to ferment overnight or for 12-15 hours in a warm place

To make mini idli, take a mini idli container stand and oil them well

Pour batter into each idli mould

Cover and steam in idli cooker or double boiler for 12 minutes or till done

Let them cool for 4-5 minutes, scoop out the idlis and serve with tiffin sambar and chutney