Burgers are generally processed foods and is considered junk food. Certain foods can be converted to become healthy by drawing up nice recipes. You can still enjoy all the taste and fun associated with foods bought outside. This delicious Mexican style black bean burger falls into that category.
Mexican style black bean burger is loaded with proteins and good vegetables. You can also control the amount of cheese added to these burgers. Unprocessed cheese is also healthy when consumed in moderate amounts. It is rich in calcium and is good for your teeth.
No compromise on taste, this Mexican style black bean burger is made with whole wheat buns! Infact it adds to the taste and more fibre! Black beans can be replaced with red kidney beans, borlotti beans or cannellini beans or white beans.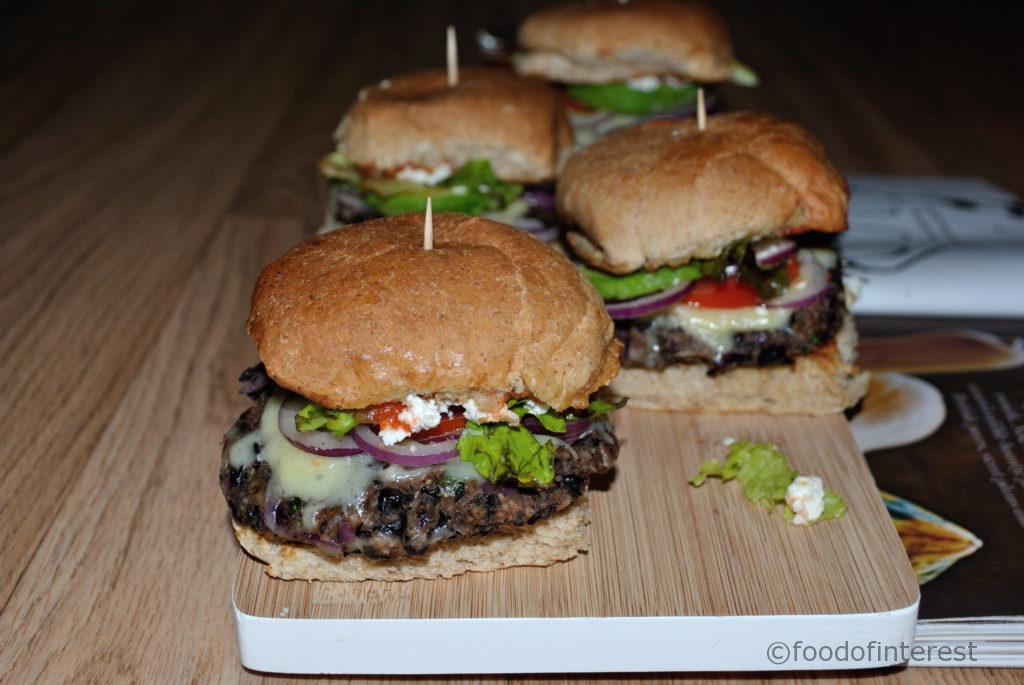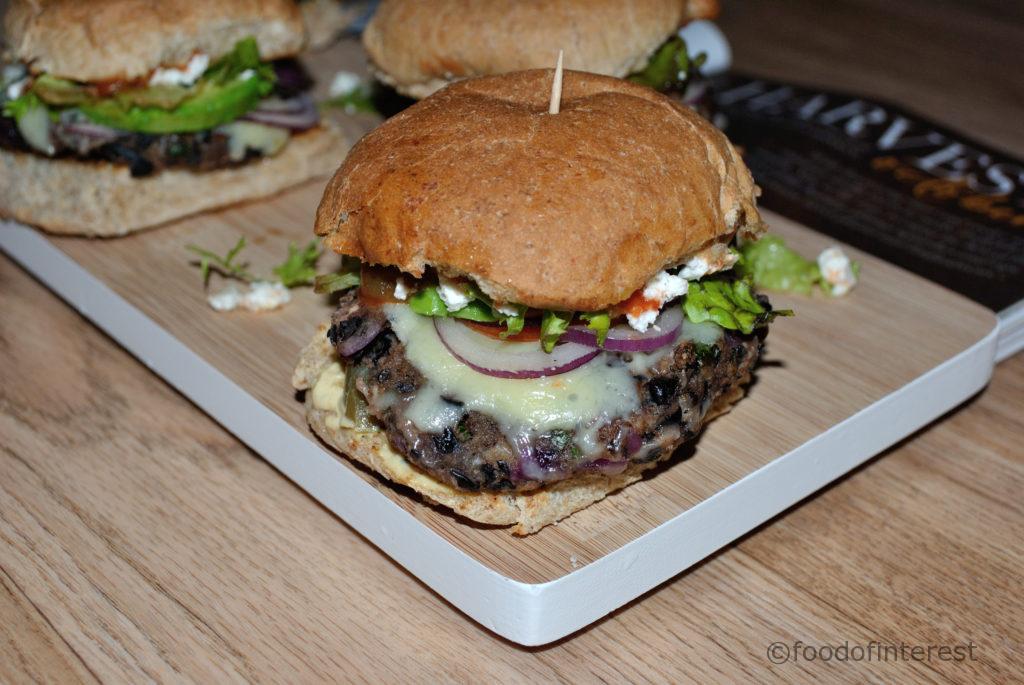 Mexican cuisine is one of my favourite cuisines and I love every bit of the unique flavours. Try these Mexican dishes from FOI, chilli non carne, jalapeno cornbread, spinach cheese muffins, spinach corn quesadillas and mixed veg enchiladas. A dollop of creamy guacamole is also nice served with these black bean burgers.
Enjoy these Mexican style black bean burgers!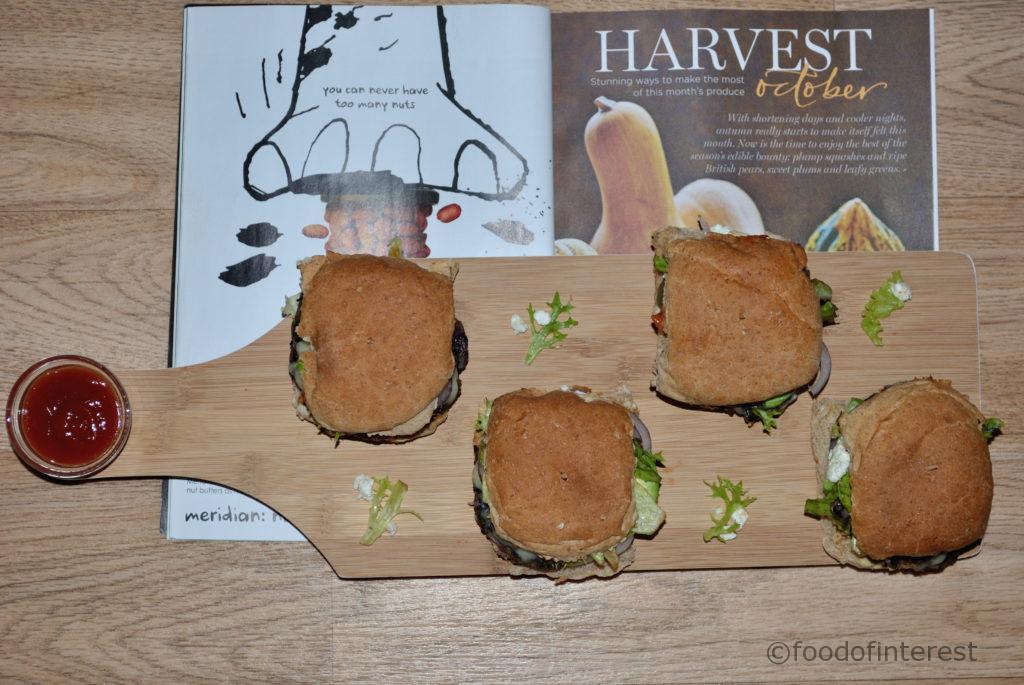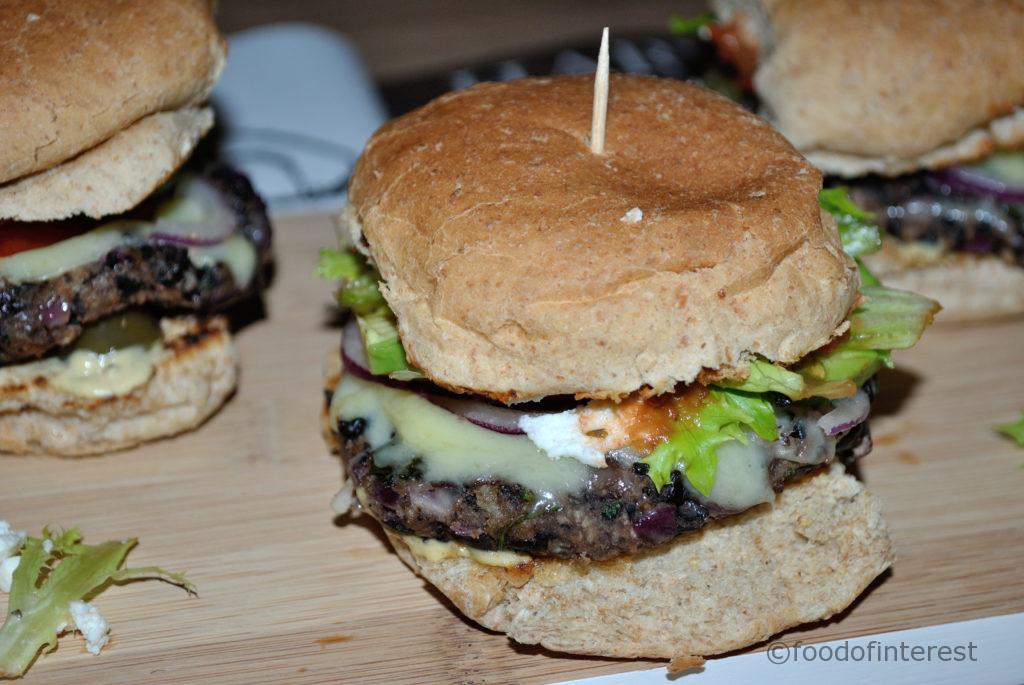 Mexican Style Black Bean Burger | Mexican Recipes
Protein filled, delicious Mexican style black bean burger, a sure crowd pleaser
Ingredients
For Black Bean Burger Patties:
¾ Cup soaked and boiled black beans
¼ Tsp cayenne pepper
½ Tsp black pepper powder
¼ Cup bread crumbs
Salt to taste
2 grated cloves of garlic
½ finely chopped onion
Chopped coriander
½ Tbsp cornflour
2-3 Tbsp milk
Olive oil to roast
1 Cup grated cheese (cheddar/processed)

Burger Sauce/Dip:
2 Tbsp cream/crème fraiche/sour cream/eggless mayonnaise
½ Tsp Dijon Mustard/Regular Mustard
A pinch of black pepper powder

Burger Fillings:
Few slices of jalapeños
1 sliced tomatoes
½ sliced onion
Few torn lettuce leaves

To Assemble Burger:
4 whole wheat buns/burger buns/baps
Little crumbled feta cheese (optional)
Ketchup or tomato salsa to smear inside buns
Method
Slice avocados, onions and tomatoes. Crumble feta/goat's cheese, tear up some lettuce and assemble all ingredients together. Get some jalapenos also on the plate.
Slice buns horizontally and keep aside
Mix cream/mayo/crème fraiche/sour cream or even hung yogurt with mustard and black pepper. Keep aside
Add boiled black beans into a bowl. Mash them lightly into a coarse textured mixture
Tip in grated garlic and chopped onions
Sprinkle chopped coriander, cayenne pepper/red chilli powder, black pepper, salt
Next add dry bread crumbs and corn flour
Slowly mix everything together
Lastly to finish the burger patty mixture, pour in little milk and bring it all together
To make patties, divide the patty mixture into 4 parts equally
Pat them up into rough round patties
Sear them slowly, shallow fry them with a few drops of oil on a pan, skillet
Once they turn golden, flip
When they are roasting on other side, add grated cheddar cheese
Cover and cook till other side roasts and cheese melts
Toast buns with little butter till lightly golden
Now to start assembling burgers, add a dollop of burger dip and spread on the buns/baps
Place a few slices of jalapenos
Next place cheesy burger patties
A slice of tomato goes on top of burger patty
Few onion slices and avocado slices go on top
Torn lettuce leaves go on top and with a little crumbled feta
On the burger lid bun, spread ketchup
Place the burger lid over the filled up base
Pierce a skewer/toothpick in the centre
Super tasty black bean burgers are ready
Notes
Use any kind of bean you want. Red kidney beans, borlotti beans or cannellini beans or white beans can be used

Jalapeños can be skipped if you want

Slices of cheese may also be used

Seasoning patties to taste is very important as all the taste in burgers lies there

Mexican Style Black Bean Burger Stepwise:
Slice avocados, onions and tomatoes. Crumble feta/goat's cheese, tear up some lettuce and assemble all ingredients together. Get some jalapenos also on the plate

Slice buns horizontally and keep aside

Mix cream/mayo/crème fraiche/sour cream or even hung yogurt with mustard and black pepper. Keep aside

Add boiled black beans into a bowl. Mash them lightly into a coarse textured mixture

Tip in grated garlic and chopped onions

Sprinkle chopped coriander, cayenne pepper/red chilli powder, black pepper, salt

Next add dry bread crumbs and corn flour

Slowly mix everything together

Lastly to finish the burger patty mixture, pour in little milk and bring it all together

To make patties, divide the patty mixture into 4 parts equally

Pat them up into rough round patties

Sear them slowly, shallow fry them with a few drops of oil on a pan, skillet

Once they turn golden, flip

When they are roasting on other side, add grated cheddar cheese

Cover and cook till other side roasts and cheese melts

Toast buns with little butter till lightly golden

Now to start assembling burgers, add a dollop of burger dip and spread on the buns/baps

Place a few slices of jalapenos

Next place cheesy burger patties

A slice of tomato goes on top of burger patty

Few onion slices and avocado slices go on top

Torn lettuce leaves go on top and with a little crumbled feta

On the burger lid bun, spread ketchup

Place the burger lid over the filled up base

Pierce a skewer/toothpick in the centre

Super tasty black bean burgers are ready