Dosa/Dose is a very popular dish from South India eaten for breakfast. But these days, dosa has become an universal dish. It is famous all over the world and not just in India. They are thin and crepe like, made from rice and urad dal(black gram dal) batter.  See my dosa batter recipe to make dosas. This is a crowd puller dish and is one of the most prepared dishes in weddings and other parties along with bisi bele bhaat. You will definitely see a crowd around a dosa counter wherever it is, in parties, in dosa camps, in hotels, in street dosa vans which sell "99", "100" and many more varieties of dosas. With the same batter you can make different variety of dosas. Masala dosa has potato (aloo) masala palya filling with red chutney (kempu chutney) smeared just before adding the masala. Red chutney is substituted with green mint/pudina chutney sometimes. Serve dosa with coconut chutney or any other chutneys or side dishes you like.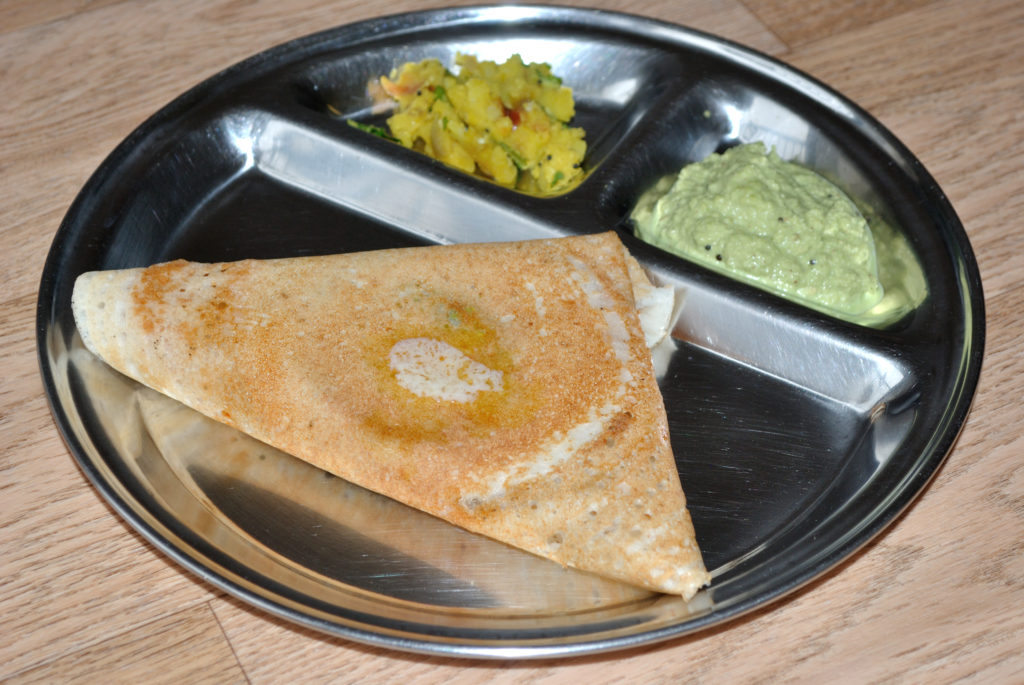 Some variations of dosas:
Ghee masala dosa – Add some ghee on top when dosa is almost cooked
Benne masale/Butter masala dosa – Add a blob of butter on prepared dosa just before serving
Cheese masala dosa – Add grated cheese along with potato masala, before folding prepared dosa and cook for a few more seconds till cheese melts
Open dosa – Open masala dosa is made with some extra ingredients, recipe coming up
Mixed veg dosa uttapam – Mixed vegtables topped on prepared thick dosa, recipe coming soon with photos
Plain dosa/Triangle dosa – Dosa prepared without aloo masala and folded in the shape of a pyramid or flat triangle with chutney to serve on the side
Paneer Masala Dosa – Add grated paneer along with aloo masala and make paneer masala dosa
Other variations include, Paper masala dosa, Chinese masala dosa, Corn masala dosa, curry masala dosa etc, the list is endless. Savour homemade hotel style masala dosas at home. Try other dosa recipes on FOI.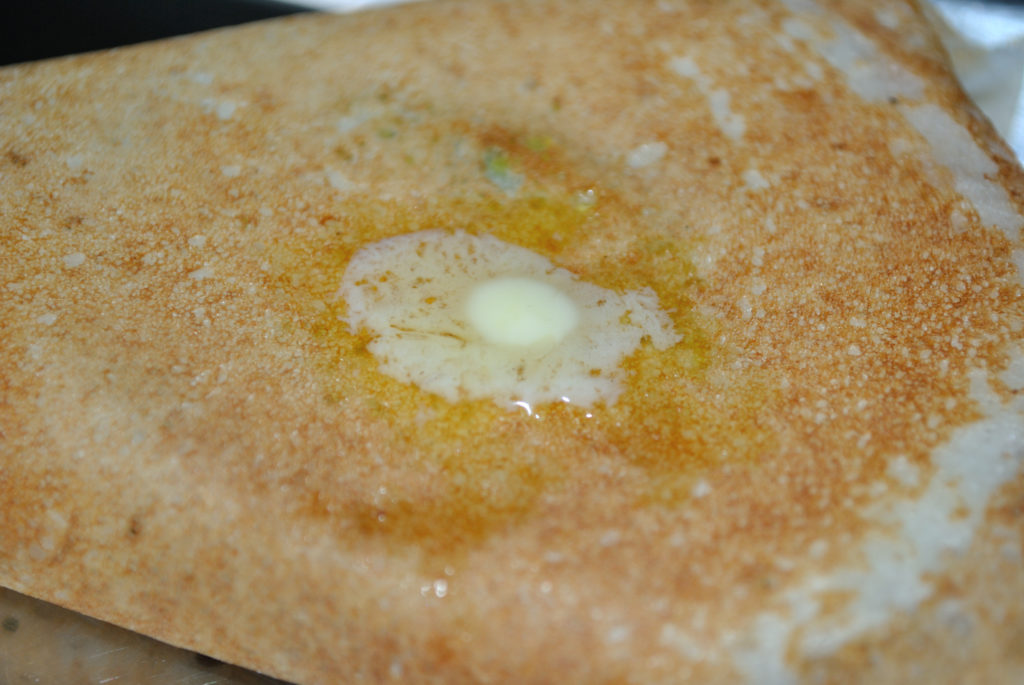 Masala Dosa | Masale Dose | How to make masala dosa?
Most loved breakfast ever, soft yet crisp masala dosas
Ingredients
1 recipe dosa batter
Oil to make dosas

For Potato/Aloo Masala:
2 large or 4 medium scrubbed, washed, boiled and peeled potatoes
1 finely chopped onion
1 Tbsp oil
½ Tsp urad dal
½ Tsp jeera
½ Tsp mustard
A pinch of hing/asafoetida
1" piece chopped ginger
2 finely chopped green chillies
½ Tsp turmeric
Salt to taste
1 Tsp lemon juice (optional)
1 Tbsp grated fresh coconut
2 sprigs finely chopped coriander

For Red Chutney/Kempu Chutney
1 diced onion
1-2 (soaked in water for 10 minutes) dry red chillies
1 Tsp tamarind paste/thick pulp
1 Tsp sugar
Salt to taste
1 clove garlic (optional)
1 pinch hing
1 Tsp oil
Water to grind

To Serve:
Method
To make aloo masala, heat oil, make tadka with jeera, mustard, urad dal, hing, green chillies, ginger
Add finely chopped onions and saute, add turmeric, salt, and ¼ Cup water. Mix well
Add boiled, peeled, diced potatoes and mix well. Mash potatoes a bit
Finish with grated coconut, lemon juice, chopped coriander. Keep aside, this is the potato/aloo masala
To make red chutney, heat oil in a pan, add diced onions and chopped garlic, saute till they turn transparent
In a mixer jar, add sauteed onions, garlic, add soaked and drained dry red chillies. Add rest of ingredients, tamarind, sugar, salt, hing. Grind into a thick chutney with little water. Keep aside, this is the red chutney
To make dosas, heat a skillet/pan on medium heat. When it is hot and not very hot, pour a ladleful of dosa batter in the centre
With outward circular motion, spread dosa with light hands till it is thin and try to keep it circular. Bubbles appear on top of dosa which is a good sign of fermented dosa batter and heated skillet/tawa
Add some oil on top. Cover and cook for a few seconds
Open the lid, smear a small spoonful of red chutney prepared earlier evenly all over the dosa
Place a big spoonful of aloo masala in the centre
By now dosa would have cooked, fold over either into semi-circle or into a triangle or tubular form
Serve hot with some aloo masala, green coconut chutney on the side or tiffin sambar
Notes
Never make dosas on high heat, make them on medium heat, they cook evenly

Cover and cook dosas, underside will turn out crisp with top side soft and cooked

Do not apply a lot of pressure while spreading dosa batter. Use even circular motion to make dosas, this way they will not stick to the skillet/tawa

Do not spread the dosa batter very thin or very thick. If it is very thin they will become hard and crispy. Thick dosas do not cook on top side for masala to be added immediately

If serving more than 2 people at a time, use 2 skillets/tawas at a time

Try out different variations mentioned above for added fun and taste

Omit paneer, cheese, butter to keep dosas vegan

If dosas are sticking to the skillet/tawa, then tawa is not hot or not seasoned properly. Heat slowly on medium heat, sprinkle water and your should hear a sizzle to check if tawa is heated properly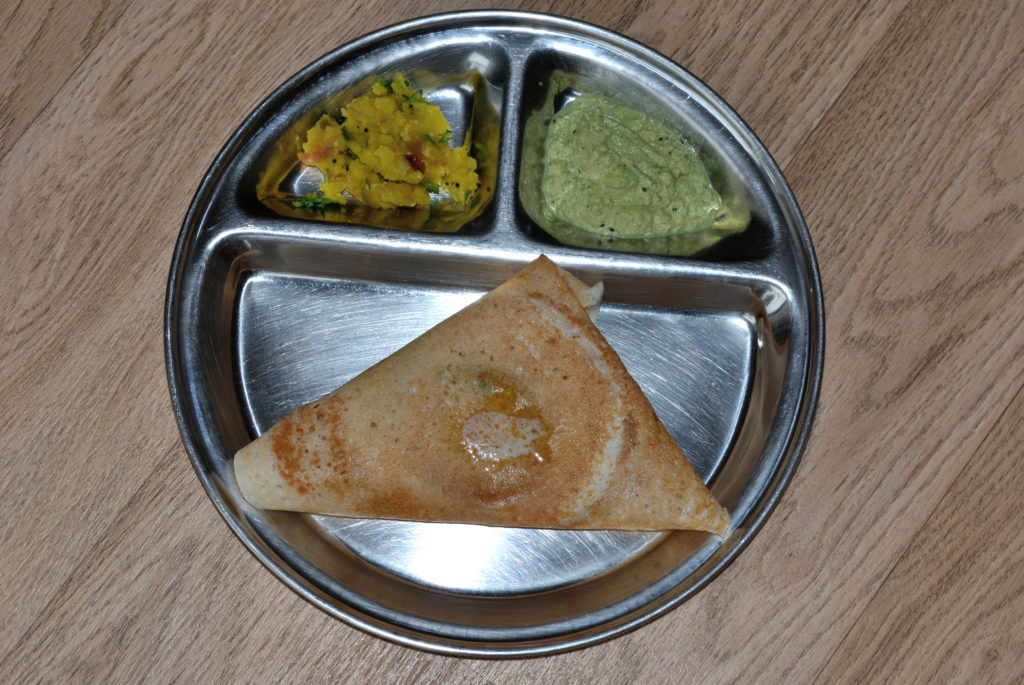 Stepwise:
To make aloo masala, heat oil, make tadka with jeera, mustard, urad dal, hing, green chillies, ginger


Add finely chopped onions and saute, add turmeric, salt, and 1/4 Cup water. Mix well


Add boiled, peeled, diced potatoes and mix well mashing potatoes a bit


Finish with grated coconut, lemon juice, chopped coriander. Keep aside, this is the potato/aloo masala
 

To make red chutney, heat oil in a pan, add diced onions and chopped garlic, saute till they turn transparent
 

In a mixer jar, add sauteed onions, garlic, add soaked and drained dry red chillies. Add rest of ingredients, tamarind, sugar, salt, hing. Grind into a thick chutney with little water. Keep aside, this is the red chutney
 

To make dosas, heat a skillet/pan on medium heat. When it is hot and not very hot, pour a ladleful of dosa batter in the centre
 

With outward circular motion, spread dosa with light hands till it is thin and try to keep it circular. Bubbles appear on top of dosa which is a good sign of fermented dosa batter and heated skillet/tawa
 

Add some oil on top. Cover and cook for a few seconds


Open the lid, smear a small spoonful of red chutney prepared earlier evenly all over the dosa


Place a big spoonful of aloo masala in the centre


By now dosa would have cooked, fold over either into semi-circle or into a triangle or tubular form
  

Serve hot with some aloo masala, green coconut chutney on the side or tiffin sambar