A refreshing salad which involves mangoes, sounds mouth-watering. Anything involving mangoes sounds mouth-watering. The 'king of fruits', a truly unique fruit loved by most. Mangoes can be incorporated into so many dishes from sweets, beverages, savoury dishes and many more. This mango avocado salad is a refreshing salad with all the summer flavours and colours.
A simple and quick dressing for this mango avocado salad takes it to the next level. It makes you crave more for this salad. I have also added some toasted pecans and dried cranberries to this salad. You can add walnuts, raisins or even dried cherries, whatever you have on hand.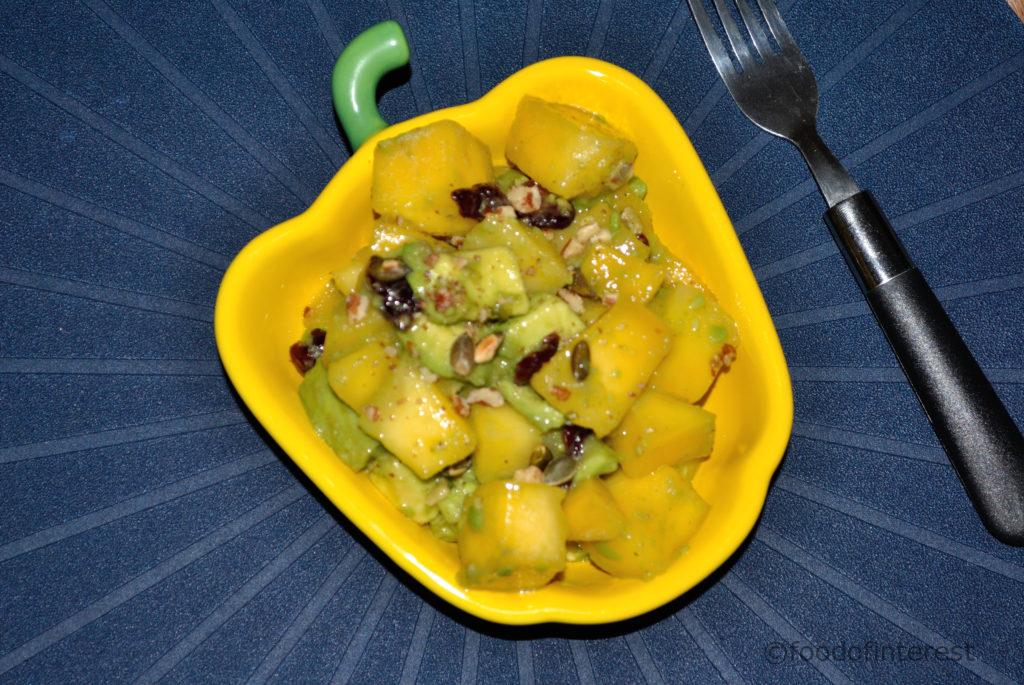 Mango avocado salad can be made ahead of time. Get the salad ready and put it in the fridge. Just mix the dressing into the salad right at the end to prevent the salad from releasing a lot of water. It goes without saying even the dressing can be made ahead of time and left chilling in the fridge. In fact the flavours deepen as the dressing sits.
Try more salads from FOI: watermelon salad, Panzanella etc. More mango recipes, mango kesari, mango milkshake, mango mastani, mango shrikhand, mango saasme etc.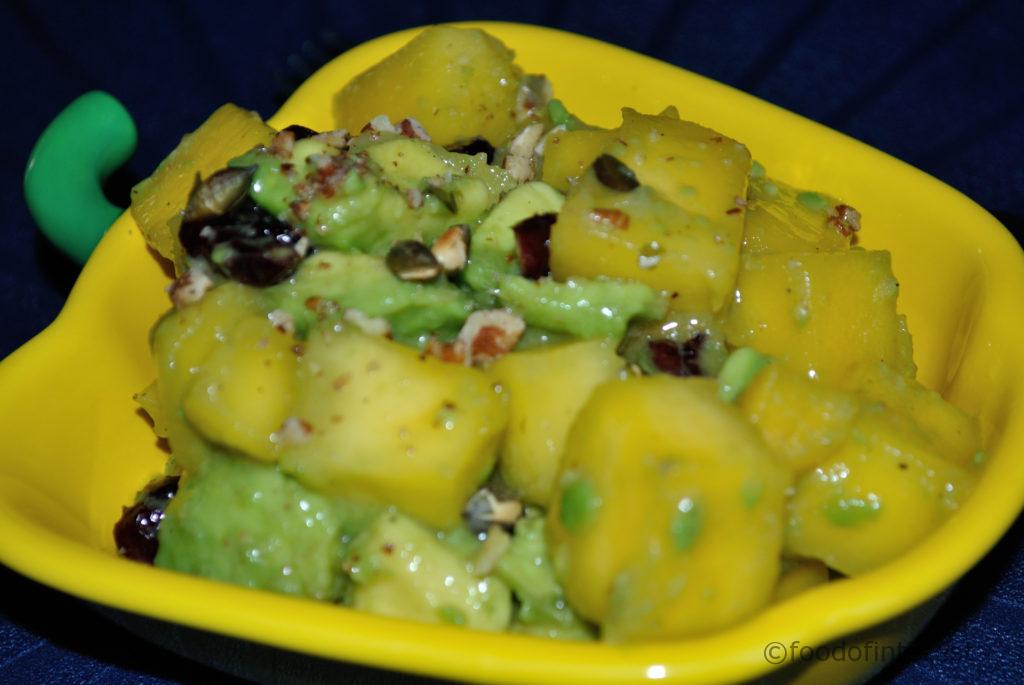 Mango Avocado Salad | Salad Recipes | Mango Recipes
A delicious salad for the summer, with yellow and green, mango avocado salad
Recipe type:
Starter/Appetizer
Ingredients
1 diced sweet mango
1 diced avocado
Salt to taste
Black pepper to taste
½ Tbsp dried cranberries
A few pumpkin seeds
3-4 pecans

For Dressing:
1 Tbsp extra virgin olive oil
1 Tsp balsamic vinegar
A pinch of salt
½ Tsp honey
Method
Dice ripe mango and avocado and into a bowl
Sprinkle salt and black pepper to taste
Throw in a few dried cranberries or raisins
Toast a few pumpkin seeds and pecans
Lightly pound/chop the pecans
To make the dressing, in a small bowl add olive oil
Add balsamic vinegar and honey
Add a pinch of salt and whisk will till well combined
Pour dressing over salad
Sprinkle chopped pecans and toasted pumpkin seeds
Serve chilled or at room temperature
Notes
If you don't have balsamic vinegar add regualr white vinegar but only a few drops

Add any kind of nuts and raisins you like

This salad can be refrigerated and dressing can be mixed just before serving

Mango Avocado Salad Stepwise:
Dice ripe mango and avocado and into a bowl

Sprinkle salt and black pepper to taste

Throw in a few dried cranberries or raisins

Toast a few pumpkin seeds and pecans

Lightly pound/chop the pecans

To make the dressing, in a small bowl add olive oil

Add balsamic vinegar and honey

Add a pinch of salt and whisk will till well combined

Pour dressing over salad

Sprinkle chopped pecans and toasted pumpkin seeds

Serve chilled or at room temperature