A glass of majjige or chaas is what one needs in sweltering heat. It is like a lifeline to the parched throat. The coolness of watery majjige is very good for the gut and has a cooling effect on your body. Very simple to make, all it takes is a little set plain curd/yogurt and little salt. You can add chopped coriander and a little tadka for some extra flavour.
Majjige also aids in digestion and is made throughout India and called by different names. It is usually given as an after meal drink or served for festivals like Ram Navami. Curd/yogurt is beaten/churned till it turns even and then lot of water is added so it becomes watery. This is then chilled till it is served or you can serve majjige by adding ice cubes in them.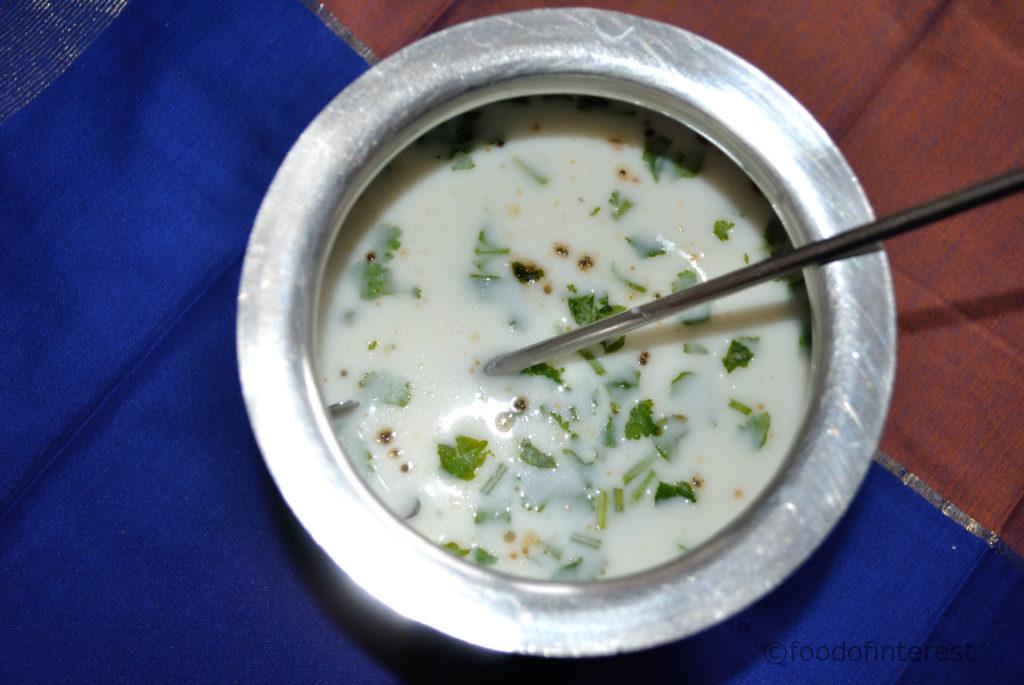 Always ensure to have fresh yogurt, not sour and free from cream or the curd skin on top. Then you will get nice majjige that you can gulp down and trust me you cannot stop with 1 small glass. Try more Ram Navami recipes from FOI like kosambri, bellada panaka, madike kaalu usli etc.
Majjige | Chaas Recipe | Summer Recipes
Cool and refreshing, Ram Navami special homemade majjige or chaas
Recipe type:
Beverage/Drink
Ingredients
1 Cup yogurt/curd
Salt to taste
¼ Tsp roasted jeera powder
1½ Cups water
¼" ginger
¼ piece green chilli
Chopped coriander
½ tsp oil
¼ Tsp mustard
A small pinch of hing
Method
In a vessel take the curd/yogurt
Sprinkle salt as per your taste
Add roasted jeera powder
In a mortar, add little ginger and green chilli
Pound into a coarse paste with the pestle and this paste into the yogurt mixture
Now take a handheld churner and start churning the mixture with circular motion
Pour enough water to adjust to a watery consistency
Add chopped coriander
Make tadka with oil, mustard and hing and pour over majjige
Serve chilled
Notes
You can use an electric churner or make the majjige in a mixie

Make sure the yogurt/curd is not sour

Adjust salt as per your taste, you can skip it entirely if you prefer
Majjige Stepwise:
In a vessel take the curd/yogurt

Sprinkle salt as per your taste

Add roasted jeera powder

In a mortar, add little ginger and green chilli

Pound into a coarse paste with the pestle and this paste into the yogurt mixture

Now take a handheld churner and start churning the mixture with circular motion

Pour enough water to adjust to a watery consistency

Add chopped coriander

Make tadka with oil, mustard and hing and pour over majjige

Serve chilled