Most liked and savoured lunch box item. Kids and adults alike absolutely cherish this, nimbehannina chitranna a.k.a lemon rice.
Made with simple ingredients, lemon rice is one of those dishes that you will never get bored of. Freshly cooked rice mixed with a flavourful tadka of mustard, groundnuts, fragrant curry leaves. A generous pinch of turmeric imparts a beautiful yellow hue. Grated coconut and a big squeeze of lemon juice to finish off the tasty lemon rice.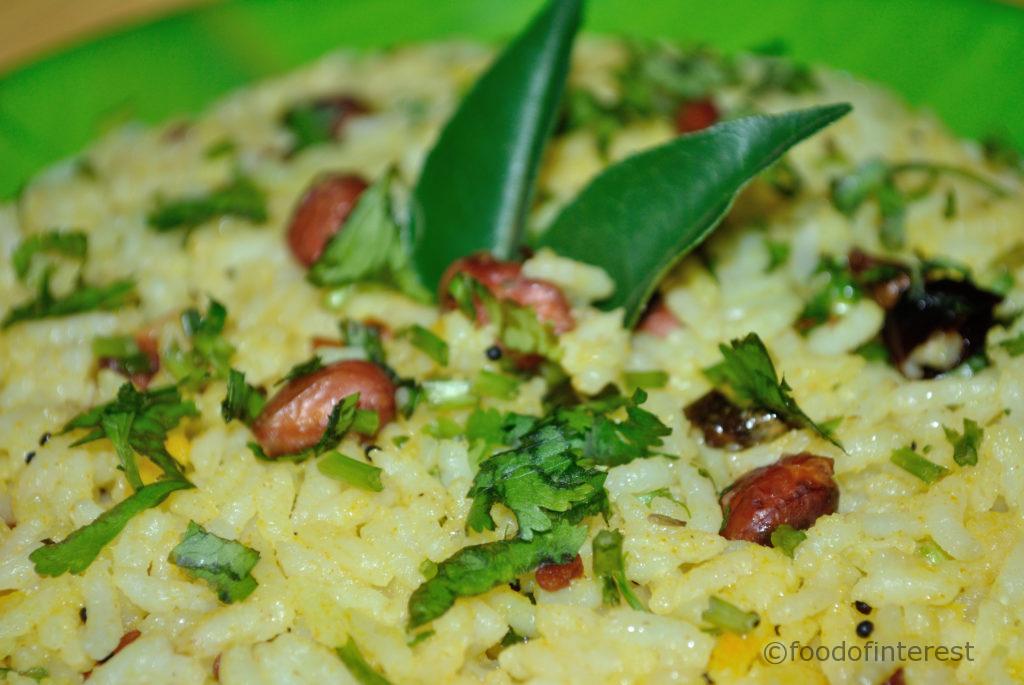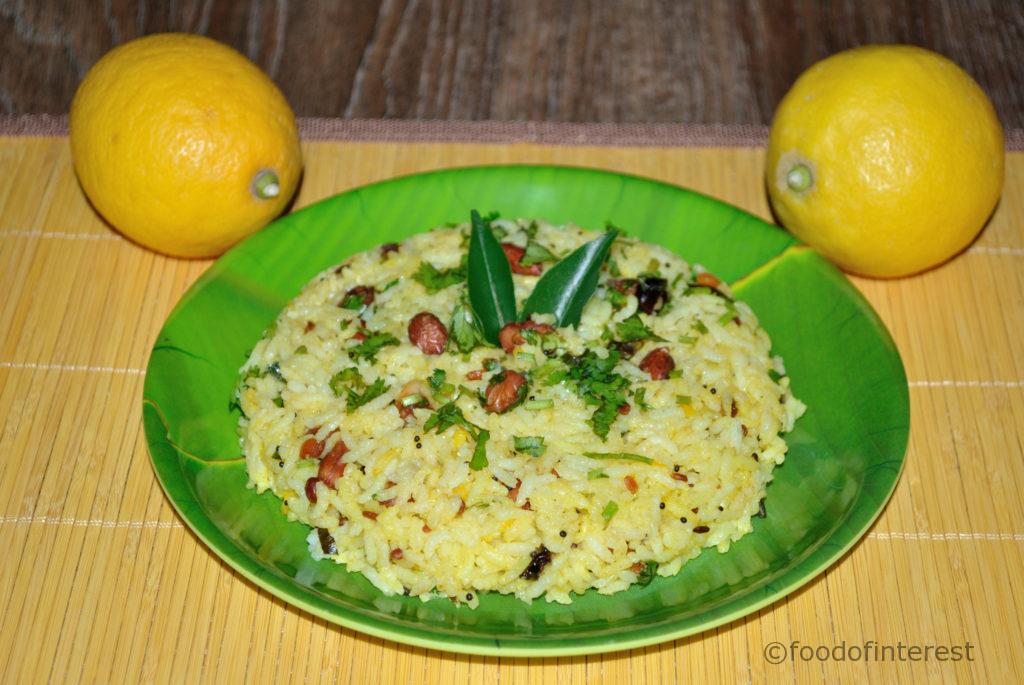 Phew! I did not know I would describe lemon rice in such a colourful way. And why not, lemon rice is a humble dish yet deserves due credit. It fills up the hungry stomach of so many people, keeps the tummy happy!
Lemon rice tastes best with some fresh yogurt/curd and a piece of lime pickle to taste. Try tengu anna (coconut rice), tomato bhaat, gorikayi bhaat, puliyogare and more bhaat recipes from FOI. More lunch box recipes. So here's the most easy bachelor's dish, lemon rice!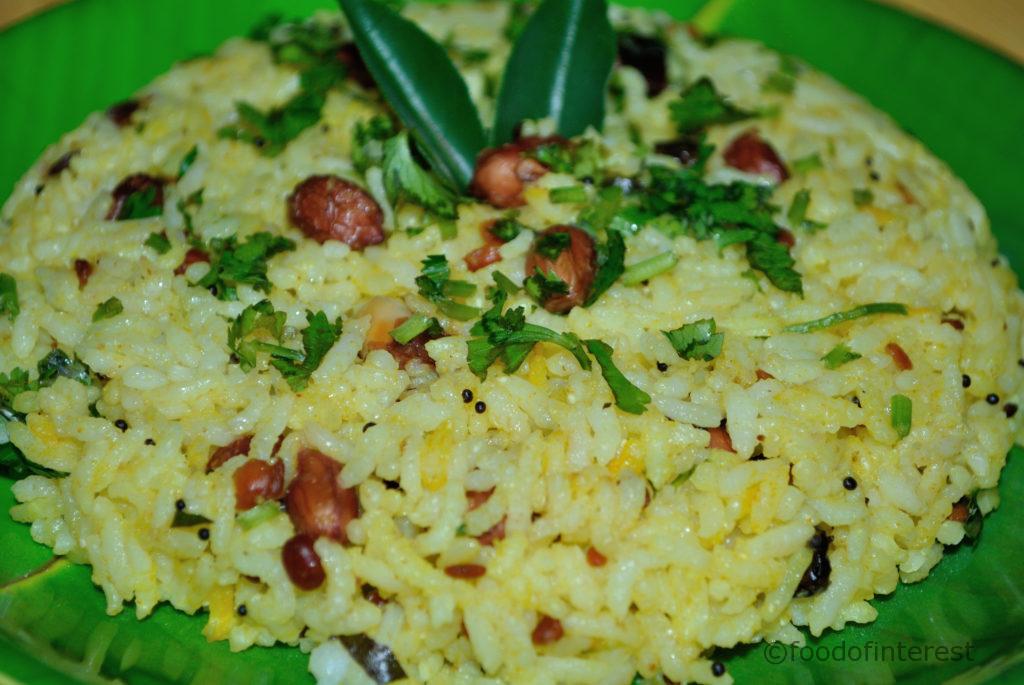 Lemon Rice | Nimbehannina Chitranna | Bhaat Recipes
Lemon Rice, a common dish, ever popular dish from South India
Ingredients
2½ Cups cooked rice
1 Tbsp coconut oil
¾ Tsp mustard/saasuve
A pinch of hing
½ Tsp jeera
1 Tsp urad dal
1 Tsp chana dal
2 chopped green chillies
Few chopped curry leaves
½ Tsp turmeric
¼ Cup groundnuts
2 Tbsp lemon juice
Salt to taste
½ Tsp sugar
Method
In a plate, keep all tadka ingredients ready, chopped green chilli, chopped curry leaves, urad and chana dal
Break a dry red chilli and also keep it with the tadka ingredients
Heat a pan, add coconut oil
Add mustard seeds, jeera and let them splutter
Next add hing and sauté for few seconds
Throw in all the tadka ingredients and start sautéing
Once they turn golden and crisp, add groundnuts
Fry till groundnuts turn crisp
In a separate plate or pan, keep the cooked, fluffed up rice to cool
Add turmeric, salt and sugar
Squeeze lemon juice and keep aside
Add the cooked rice into the tadka and mix well
Combine tadka with rice and ensure there are no lumps
Pour lemon juice and garnish with chopped coriander leaves
Serve with raitha or curd
Notes
Adjust lemon juice as per your taste, you can add a little more if you prefer it more sour

Do not fry the ingredients on high flame, the vaggarne/tadka is the main element of this easy dish

Make the tadka and rice ahead of time, mix when required

Double/triple the recipe as per your requirement, adjust oil and salt to taste accordingly

Lemon Rice Stepwise:
In a plate, keep all tadka ingredients ready, chopped green chilli, chopped curry leaves, urad and chana dal

Break a dry red chilli and also keep it with the tadka ingredients

Heat a pan, add coconut oil

Add mustard seeds, jeera and let them splutter

Next add hing and sauté for few seconds

Throw in all the tadka ingredients and start sautéing

Once they turn golden and crisp, add groundnuts

Fry till groundnuts turn crisp

In a separate plate or pan, keep the cooked, fluffed up rice to cool

Add turmeric, salt and sugar

Squeeze lemon juice and keep aside

Add the cooked rice into the tadka and mix well

Combine tadka with rice and ensure there are no lumps

Pour lemon juice and garnish with chopped coriander leaves

Serve with raitha or curd