Kofta dishes are one of those dishes which are a whole meal on their own. They are like starters but the gravy in which they float in, is a tasty side dish for rotis or rice.  Lauki ke kofta is delicious crisp on the outside and soft and flavourful on the inside.
Kofta are very similar to cutlets/dumplings. These are added to an aromatic gravy. The kofte absorb the flavours from the gravy and become moist and soft. This gravy tastes best with rotis/phulkas. If you are among those who do not like lauki then this flavourful rich gravy will surely transform you 🙂
If you like, you can also deep fry the kofte in hot oil till they turn golden. Make sure to coat them well before frying. Try more gravy type of dishes from FOI.
Lauki ke kofta in tamatar gravy
Crisp on the outside, soft delicious lauki ke kofte in a rich tamatar gravy
Ingredients
For Kofta:
1 medium sized potato
¼ Cup besan/kadale hittu/gram flour
300 Gm lauki/bottlegourd/sorekayi
1 chopped green chilli
1 grated clove of garlic
¼ Tsp baking powder
Salt to taste
¼ Tsp red chilli powder
½ Tsp amchur powder
¼ tsp garam masala powder
Oil to roast kofta

For Gravy:
1 sliced big onion
1 diced tomatoes
1 chopped green chilli
3-4 cloves of garlic
½" chopped ginger
1" broken cinnamon piece/dalchini
2 cloves/laung
2 Tbsp oil
¼ Tsp red chilli powder
½ Tsp turmeric/haldi
¼ Tsp amchur powder
½ Tsp garam masala powder
½ Tsp dhania powder
Salt to taste
1 Tsp kasuri methi
½ Tbsp butter
Chopped coriander for garnishing
Method
Dry roast besan in a pan till it turns fragrant. It should not change colour
Boil the potato till soft. Peel the potato, add into a bowl. Using a masher or fork mash them completely
Peel and grate lauki. Squeeze out most of the water from the grated lauki. (Do NOT discard this water, this is needed to adjust consistency of gravy later on)
To the mashed potatoes, add chopped green chilli, grated garlic and salt, baking powder
Add red chilli powder, amchur powder, garam masala
Now add in the grated lauki which is squeezed off its water
Combine all ingredients with your hands lightly
Tip in the roasted besan and mix well
Ensure all kofta ingredients are combined and can be shaped
To make koftas heat 1-2 Tbsp oil in a pan. Take a small ball pinched off from the kofta mixture
Roll into a round and lightly flatten it. Make the rest of the koftas in the same way
Shallow fry them on the pan till golden and crisp on the outside. Keep them warm on a paper towel
Next to make gravy, add chopped onion, green chilli, ginger and garlic into a mixer grinder
Add diced tomatoes. Grind into a smooth paste with some water
Let's now make the gravy. Heat oil and add dalchini and laung
Pour in the ground tomato mixture and saute
When oil starts to separate out, add red chilli powder, haldi, garam masala and amchur powder. Mix well
Add dhania powder and mix well till gravy combines with all masalas
Next pour the squeezed out water from the grated lauki we saved earlier. Add some more water if necessary to adjust consistency
Add salt and kasuri methi. Mix well
Add butter and mix. Garnish with chopped coriander
Gently put the warm kofta pieces into the gravy. Let them soak up a bit of the gravy. Turn off heat
Serve hot with phulkas/rotis
Notes
Add chaat masala instead of amchur powder if you want

Kofte can also be roasted in oven at 180 DegC for 8-10 minutes. Sear them till golden on the pan before placing into the oven

Besan gives a nice flavour and helps bind the kofte

Butter makes the gravy extra creamy and thick when it is added towards the end
Try tamatar  kaju paneer gravy and rajma masala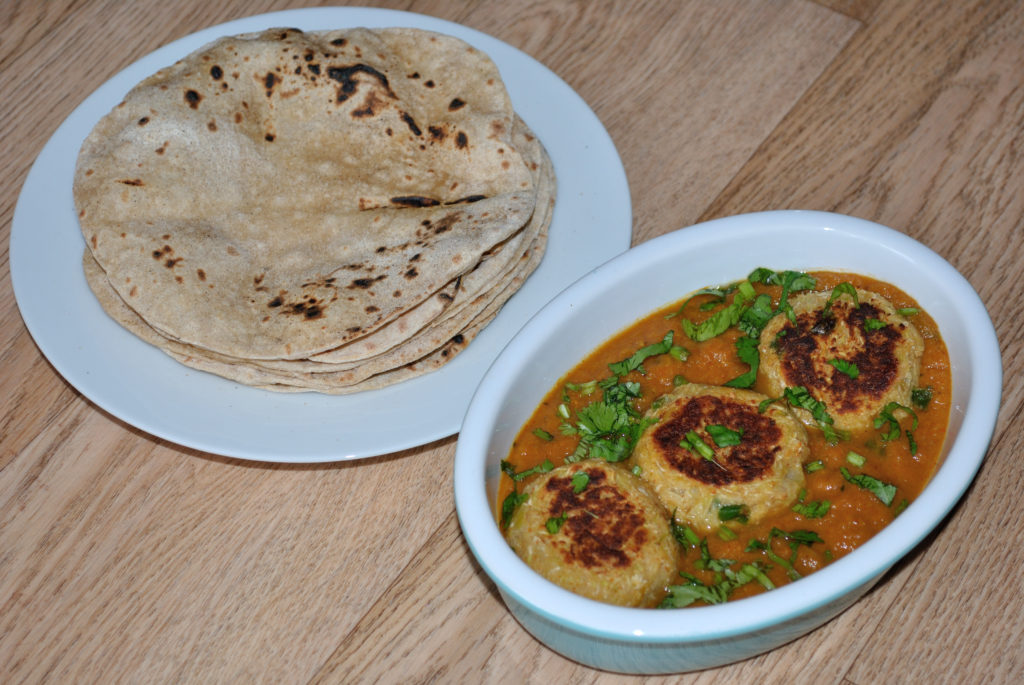 Stepwise:
Dry roast besan in a pan till it turns fragrant. It should not change colour
 

Boil the potato till soft. Peel the potato, add into a bowl. Using a masher or fork mash them completely
    

Peel and grate lauki. Squeeze out most of the water from the grated lauki. (Do NOT discard this water, this is needed to adjust consistency of gravy later on)
   

To the mashed potatoes, add chopped green chilli, grated garlic and salt, baking powder
 
 
Add red chilli powder, amchur powder, garam masala
   

Now add in the grated lauki which is squeezed off its water
   

Combine all ingredients with your hands lightly


Tip in the roasted besan and mix well


Ensure all kofta ingredients are combined and can be shaped


To make koftas heat 1-2 Tbsp oil in a pan. Take a small ball pinched off from the kofta mixture


Roll into a round and lightly flatten it. Make the rest of the koftas in the same way
 

Shallow fry them on the pan till golden and crisp on the outside. Keep them warm on a paper towel
    

Next to make gravy, add chopped onion, green chilli, ginger and garlic into a mixer grinder
  

Add diced tomatoes. Grind into a smooth paste with some water


Let's now make the gravy. Heat oil and add dalchini and laung


Pour in the ground tomato mixture and saute
 

When oil starts to separate out, add red chilli powder, haldi, garam masala and amchur powder. Mix well
  

Add dhania powder and mix well till gravy combines with all masalas
 

Next pour the squeezed out water from the grated lauki we saved earlier. Add some more water if necessary to adjust consistency


Add salt and kasuri methi. Mix well
  

Add butter and mix. Garnish with chopped coriander
 

Gently put the warm kofta pieces into the gravy. Let them soak up a bit of the gravy. Turn off heat


Serve hot with phulkas/rotis