Chutneys make a meal really mouth-watering and tasty. But making and eating the same kind of chutney everytime is boring. We all need change especially when it comes to food, why compromise. With only a few ingredients you can make a different dish or in this case a different chutney. So we are back with another chutney recipe, kabul chana chutney or chick peas chutney.
Many times we have leftover chana after making chhole or chana masala. It's never easy to get the measurement right for chana. So in that case what would you do with the excess soaked chick peas. Well here's an idea, kabul chana chutney.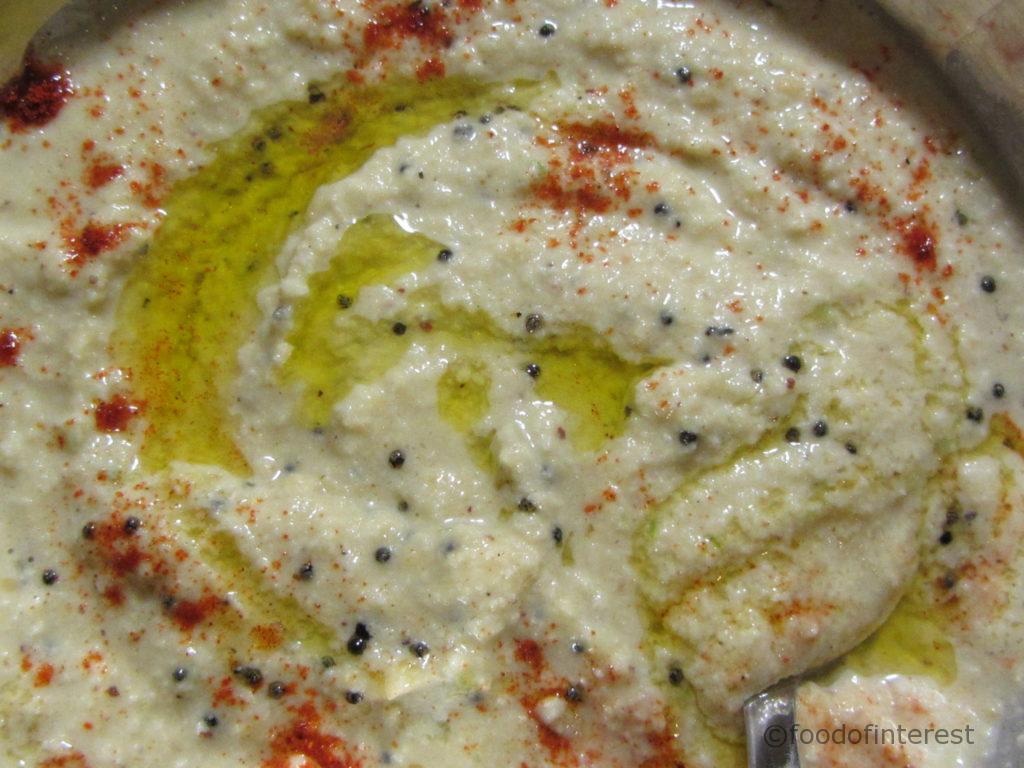 Usually we make chutney with coconut and roasted chana instead why not try making it with kabul chana. What you get in the end is really delicious, very creamy and full of texture and taste, kabul chana chutney. Hummus is such a fancy sounding condiment these days and it's the 'in' thing! Our kabul chana chutney gives even the best of hummus a run for its money.
Serve this kabul chana chutney as a side dish with idli or dosa! Try more chutneys from FOI, methi stalks chutney, raw mango chutney, nellikayi chutney, gorikayi chutney and of course hotel style chutney. And even more, sweet potato chutney, heerekayi sippe chutney, ginger chutney etc.
Kabul Chana Chutney | Chick Peas Chutney | Chutney Recipes
A delicious alternative to regular coconut chutney, creamy, spicy side dish, kabul chana chutney
Ingredients
¼ Cup soaked and boiled chickpeas
2 Tbsp grated fresh coconut
1 clove garlic
1 green chilli
Salt to taste
Juice of ½ lemon/lime

For Tadka:
1 Tsp oil
¼ Tsp mustard/saasuve
1 broken dry red chilli
Method
Wash, soak overnight and cook chickpeas for 6-8 whistles or till soft
In a mixer jar, add all ingredients to grind along with cooked and cooled chick peas
Grind into a chutney, make tadka and pour on top
Serve with dosa or idli as a side dish
Notes
Skip garlic if you want

You can also add dry red chilli instead of green chilli

Try not to skip lemon/lime, it brings the chutney together and the flavour is simply mouthwatering

Kabul Chana Chutney Stepwise:
Wash, soak overnight and cook chickpeas for 6-8 whistles or till soft

In a mixer jar, add all ingredients to grind along with cooked and cooled chick peas

Grind into a chutney, make tadka and pour on top

Serve with dosa or idli as a side dish