This recipe was one of the first ones I photoshot. Then, I photoshot it again. And again! But now finally after being in drafts for almost a year now, I am posting idli recipe. I know this is a basic recipe. Every food blog has a nice recipe for idli. So here you go, my version of idli using idli rava (actually my mom's)
These idlis turn out to very soft and is quite simple in terms of batter preparation. Idli using idli rava does require fermentation but it is worth the effort. Idli apparently is recognized as one of the healthiest food items by W.H.O. And why not? It has practically no oil, it has proteins  and carbohydrates. Idli is a wholesome dish, light for digestion and easy on the stomach.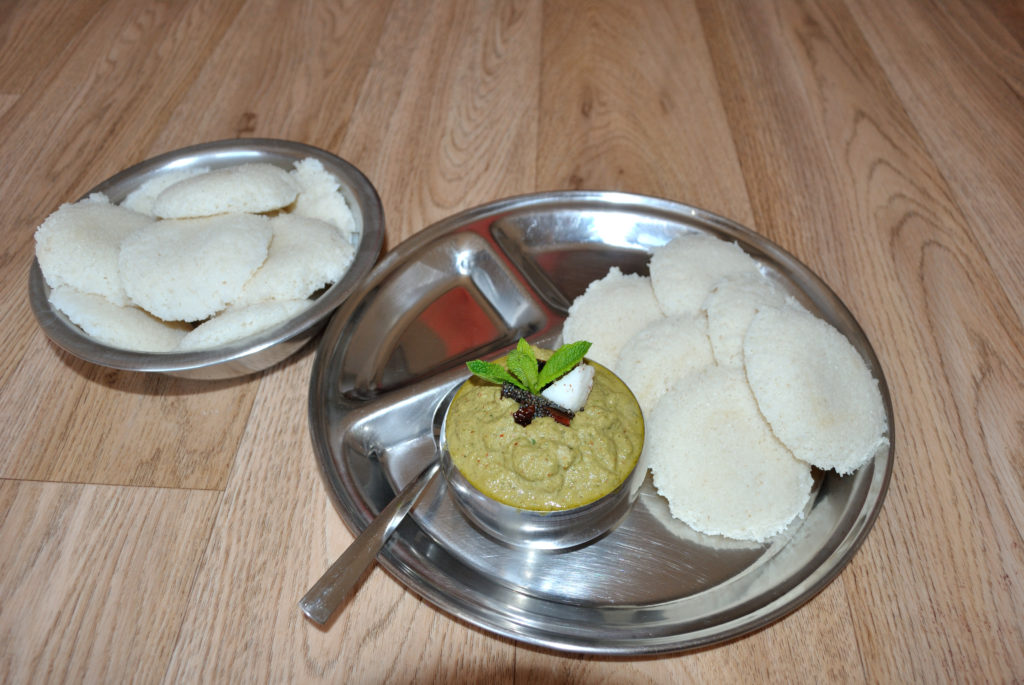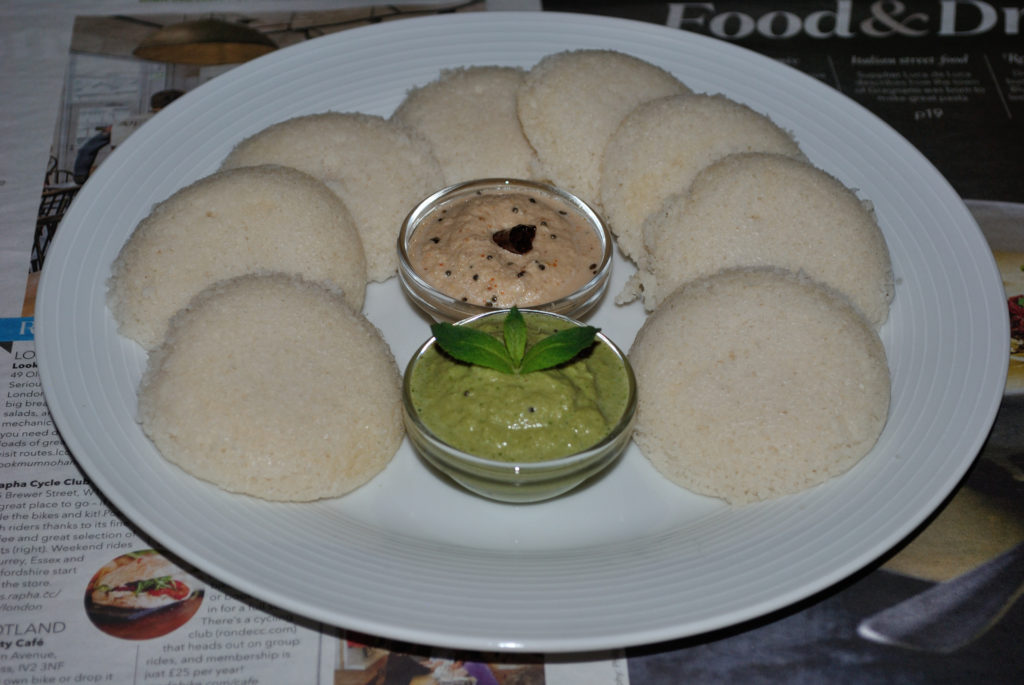 Idli using idli rava requires only urad dal and poha (avalakki) with little methi (menthya) that need to be soaked for 7-8 hours. Idli rava is something that you can buy in stores and is readily available. It is cream of rice and is like upma rava in texture, coarse but  whiter in appearance.
Try these soft idli using idli rava for breakfast. Make this a weekend affair and win accolades by serving with uddina vada. A super combo. Haal kesari is the sweet option which is served with idli. Ven Pongal is another super combo. Choices are endless.
Brahmins Coffee Bar and SLV in Bangalore serve the best idli in my opinion (may be a controversial statement)! Which one is your favourite?
Serve with chutney or any dosa idli side dishes.
Try different dosas for breakfast. Try rava idli and corn idli from idli category!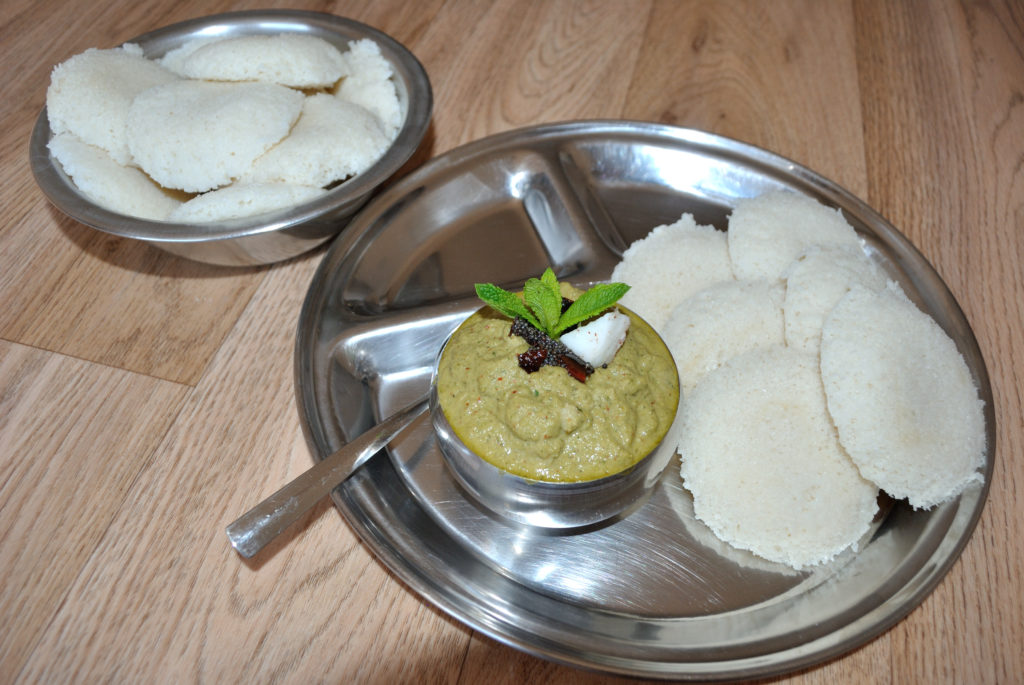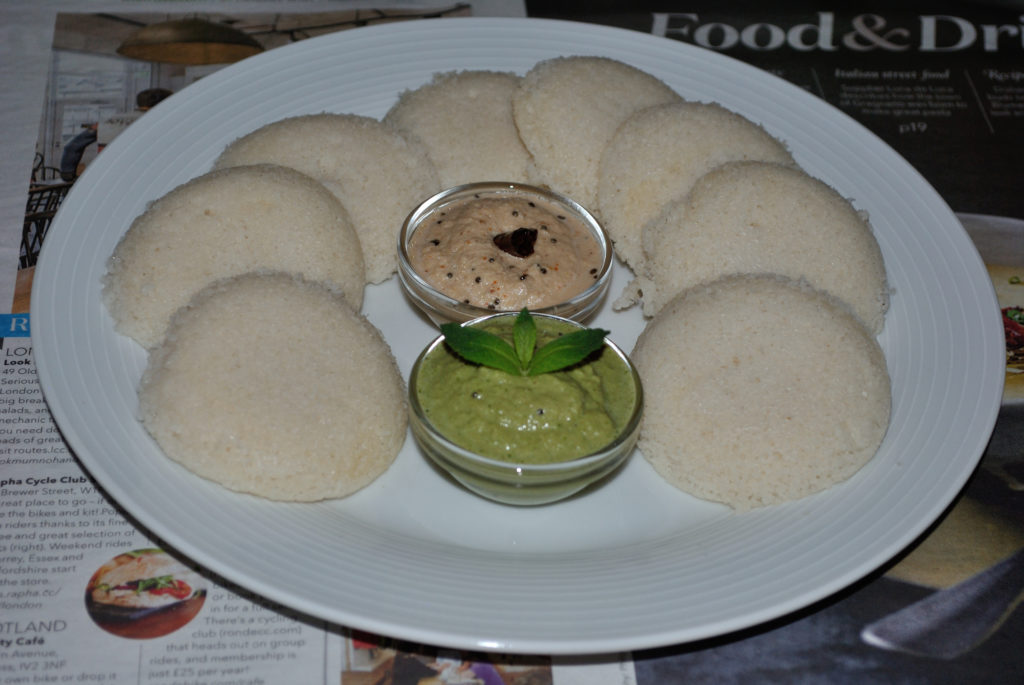 Idli Using Idli Rava | Idli Recipes | How to make soft idlis?
Super soft, healthy and very tasty, best ever breakfast - idli using idli rava
Serves:
35 idlis~ with std. Cup measure
Ingredients
1 Cup/Measure urad dal
1 Cup/Measure poha/avalakki
¼ Tsp methi seeds
3 Cup/Measure idli rava
Salt to taste (1½ Tsp~)
Water to grind
Method
Wash urad dal twice, add fresh water, add poha and methi and soak for 7-8 hours or overnight
To grind into a batter, drain off water from urad dal-poha mixture, add urad dal-poha mixture to mixer jar or grinder
Add salt (refer to notes for addition of salt)
With fresh water, add ½ cup to start with, adjust as required, make a thick and smooth batter
Pour this batter into a deep vessel/bowl
Next wash idli rava in water, either in strainer or soak in water and pour off excess. Make sure most of water is drained off
Squeeze excess water from rava and add to batter
Fold rava well into the batter
Batter is now ready. Keep aside for 12-15 hours for fermentation. Check notes
After batter has fermented well, you will notice batter has nice air bubbles and feels light
To make idlis, grease idli plates with oil or butter
Pour ladleful of batter into each idli mould, do not fill till the brim
Allow the idlis to steam for a good 10-12 minutes. Let it cool for 5 minutes
Demould idlis. Idlis are now ready
Serve with chutney, tiffin sambar or any side dish of your choice
Notes
Adding poha makes idlis light

If you live in a hot/humid place add salt before making idlis and not while making batter. Salt makes batter turn sour due to over-fermentation

Soaking and fermentation is very very important. Depending on temperature of your surroundings, fermentation will require anywhere between 10-20 hours. I sometimes keep batter for 22 hours to ferment in a warm and cosy place

Idli Using Idli Rava Stepwise:
Wash urad dal twice, add fresh water, add poha and methi and soak for 7-8 hours or overnight

To grind into a batter, drain off water from urad dal-poha mixture, add urad dal-poha mixture to mixer jar or grinder

Add salt (refer to notes for addition of salt)

With fresh water, add 1/2 cup to start with, adjust as required, make a thick and smooth batter

Pour this batter into a deep vessel/bowl

Next wash idli rava in water, either in strainer or soak in water and pour off excess. Make sure most of water is drained off

Squeeze excess water from rava and add to batter

Fold rava well into the batter

Batter is now ready. Keep aside for 12-15 hours for fermentation. Check notes

After batter has fermented well, you will notice batter has nice air bubbles and feels light

To make idlis, grease idli plates with oil or butter

Pour ladleful of batter into each idli mould, do not fill till the brim

Allow the idlis to steam for a good 10-12 minutes. Let it cool for 5 minutes

Demould idlis. Idlis are now ready

Serve with chutney, tiffin sambar or any side dish of your choice