Payasa or payasam is a traditional sweet dish made for festivals. They are usually very easy to make. For me hesaru bele payasa is a soul satisfying dish. For that matter, all payasa varieties are!
My mom makes this usually and it tastes so good. She quickly rustles this up for lunch. The main flavour comes from cooking hesaru bele or moong dal with grated coconut till smooth in consistency. Dal almost melts with coconut.
Hesaru bele payasa is quick to make as moong dal is a very soft dal and cooks quickly. You do not need a pressure cooker to cook this dal. It also takes only a few ingredients to make this delicious hesaru bele payasa.
I would say this is one of the easiest sweet dishes bachelors or beginners can make. You do not have to worry about consistency, if it dries up add little more water, if it is watery, boil for a little while and let it cool to absorb water. Tastes so good and heavenly!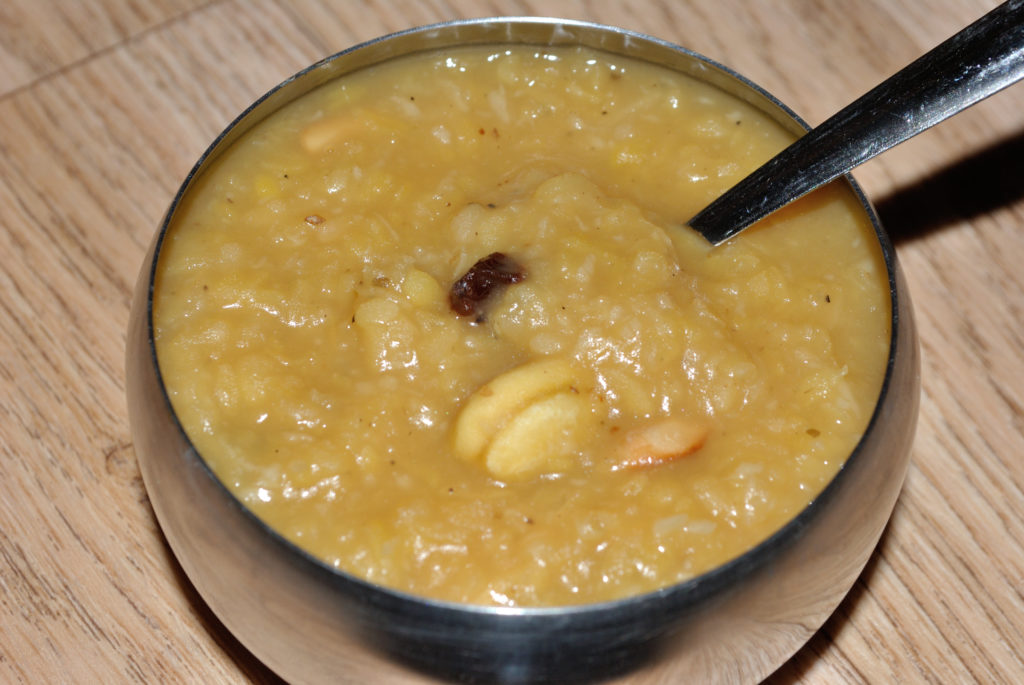 Pure desi ghee is a must to finish the payasa but cashews and raisins are optional although they make this hesaru bele payasa rich and extra tasty!
Try more moong dal dishes like ven pongal, khichuri or for snacks, roasted moong dal!
More payasa recipes like seviyaan kheer, gasa gase payasa and hayagreeva.
Also recipes for traditional recipes like kuchida kadubu, sajjige, haalbai, kayi holige, bele holige available on FOI…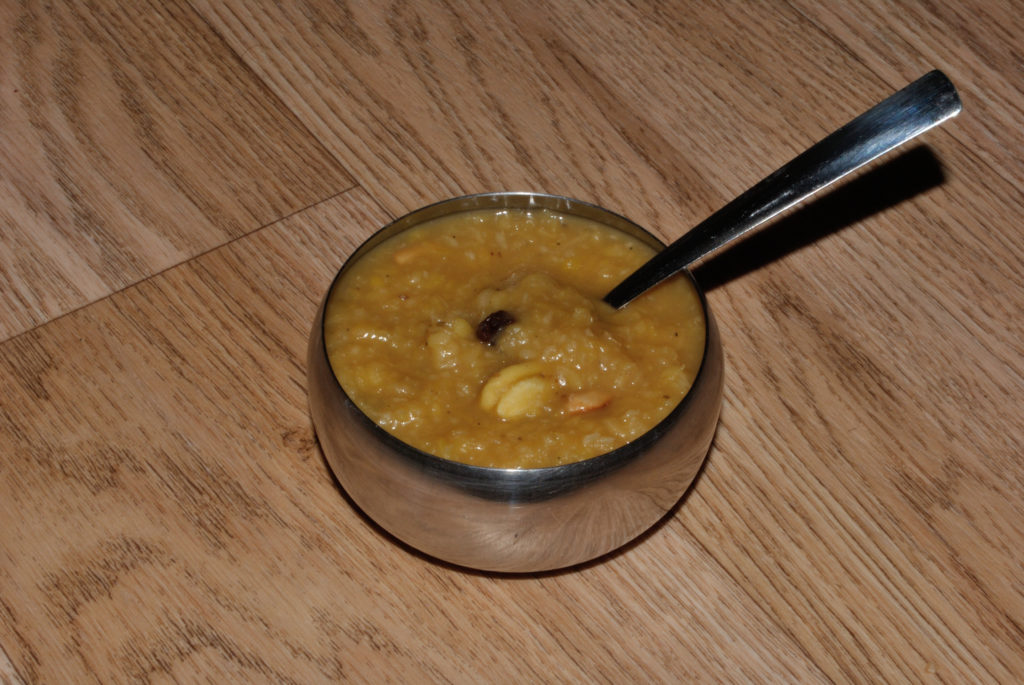 Hesaru Bele Payasa | Moong Dal Payasa | Payasa Recipes
Traditional Karnataka style hesaru bele payasa or moong dal payasa
Ingredients
¾ Cup hesaru bele/moong dal
¼ Cup grated coconut
1 Tbsp + 2 Tbsp desi ghee
⅔ Cup jaggery/bella/gur
2-3 powdered elaichi
Few cashews and raisins lightly roasted in ghee (Refer to step 6-7 in hayagreeva recipe if you want more details)
Method
Wash hesaru bele, add 2 cups water, add grated coconut and 1 Tbsp ghee. Cook till dal gets well cooked
Add grated or broken pieces of jaggery/bella/gur
Mix well till all jaggery/bella/gur gets melted into the dal mixture
Next add 2 Tbsp ghee and elaichi and mix well
Lastly add roasted cashews and raisins
Serve warm or at room temperature. Tastes better as it sits for a while
Notes
Try not to skip grated coconut, it adds to the taste

If it dries up add little more water, if it is watery boil for a little while and let it cool to absorb water

Cashews and raisins are optional
Hesaru Bele Payasa Stepwise:
Wash hesaru bele, add 2 cups water, add grated coconut and 1 Tbsp ghee. Cook till dal gets well cooked

Add grated or broken pieces of jaggery/bella/gur

Mix well till all jaggery/bella/gur gets melted into the dal mixture

Next add 2 Tbsp ghee and elaichi and mix well

Lastly add roasted cashews and raisins

Serve warm or at room temperature. Tastes better as it sits for a while