Simple everyday roti and sabzi with some dal is easy to make and easy to eat. Homemade food any day, is the best! Aloo, gobhi, matar, baingan and karela are very important vegetables in North India. They form the base of so many everyday sabzi. A good number of these combinations work really well together, aloo baingan, aloo matar palak. This time it is gobhi and matar's turn, to make a tasty gobhi matar sabzi.
While choosing cauliflower ensure it does not look yellow or does not have brown spots. It should be firm and white and make sure to check in between the stalks for any small worms or impurities. If gobhi is groown organically even better. Your gobhi matar sabzi will be fresh and tasty. This sabzi can be made for lunch box or for a simple weekend lunch. Blanching cauliflower florets in boiling water will also get rid of impurities. You can also choose to add a pinch of turmeric which leaves a golden hue on the florets making them extra attractive.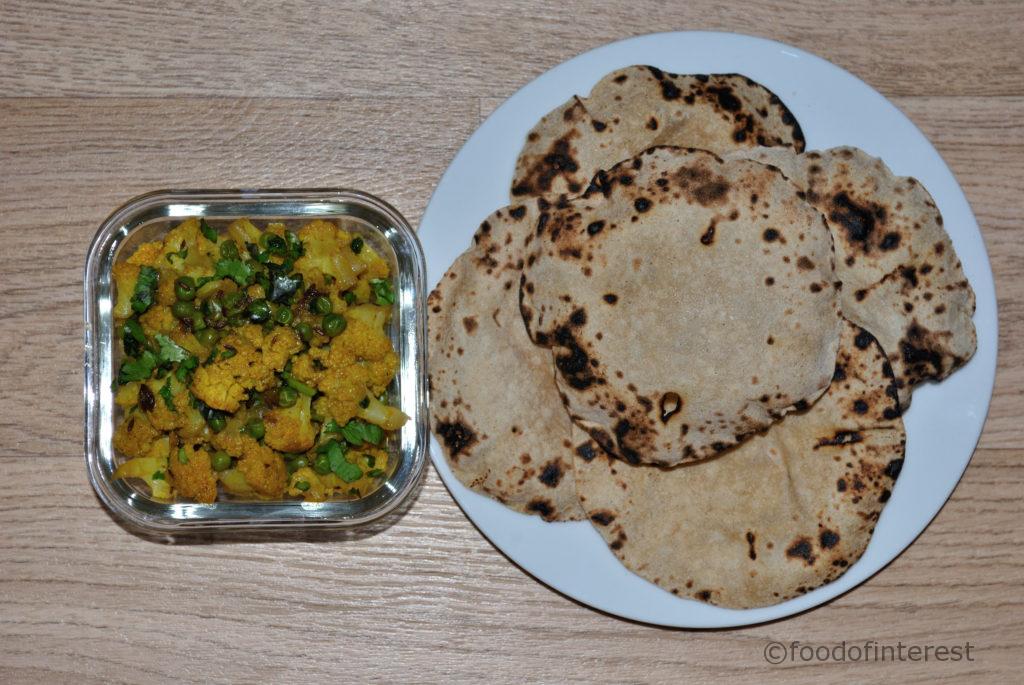 Gobhi is not a very disliked vegetable, kids get attracted by the shape of florets, for me gobhi is the peacock of the vegetable family. Nobody can really hate it! A badly made gobhi matar will kill all the fun though, so why not learn a quick and easy way to make gobhi matar. Also try more gobhi recipes from FOI, gobhi manchurian dry, gobhi paratha etc. Simple sabzi recipes from FOI.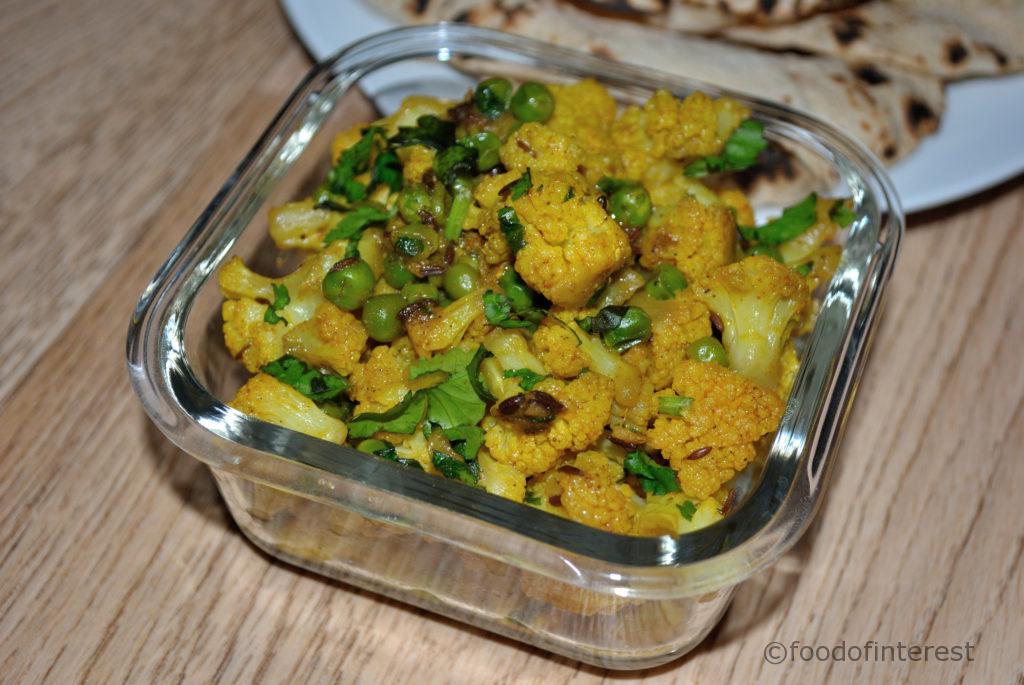 Gobhi Matar | Gobhi Matar Sabzi | Sabzi Recipes
An everyday staple from North India, tasty and simple sabzi, gobhi matar
Ingredients
Prepping Cauliflower:
2 Cups gobhi/cauliflower/hoovu kosu florets
Water as required to clean cauliflower
½ Tsp salt

For Tadka:
2 Tsp oil
½ Tsp jeera
1" chopped ginger
1 chopped clove of garlic
¼ Tsp turmeric
½ Tsp red chilli powder
¼ Cup fresh matar/peas/batani
Salt to taste
¼ Tsp sugar
½ Tsp garam masala
Chopped coriander to garnish
Method
To prep the cauliflower, bring water to a boil and sprinkle salt
Chop cauliflower into florets and keep them ready
Drop the florets in boiling water and turn off heat
After 2-3 minutes drain water from cauliflower, pour some cold water to prevent further cooking
Now to make the sabzi, heat oil in a pan and add jeera
Add chopped ginger and garlic and saute for a few seconds
Sprinkle turmeric and red chilli powder
Tip in the cauliflower and mix
Fresh peas can go in next, mix well
Season with salt and sugar, cover and cook for 2-3 minutes
Lastly add some garam masala and mix well
Serve hot with phulka or roti with some raitha on the side
Notes
Cooking cauliflower in boiling water serves 2 purposes, it removes any impurities and blanches the florets. This reduces cooking time

You can also season with some amchur powder for a khatta taste

Try a Bengali version by adding some panch phoran, yum!


Gobhi Matar Stepwise:
To prep the cauliflower, bring water to a boil and sprinkle salt

Chop cauliflower into florets and keep them ready
  
Drop the florets in boiling water and turn off heat

After 2-3 minutes drain water from cauliflower, pour some cold water to prevent further cooking

Now to make the sabzi, heat oil in a pan and add jeera

Add chopped ginger and garlic and saute for a few seconds

Sprinkle turmeric and red chilli powder

Tip in the cauliflower and mix

Fresh peas can go in next, mix well

Season with salt and sugar, cover and cook for 2-3 minutes

Lastly add some garam masala and mix well

Serve hot with phulka or roti with some raitha on the side