A bowl of cut fruits seems boring and tasteless. But fresh fruits are good for you, they are rich in fibre and nutrients. But once in a while how about enriching your bowl of fruits by adding some sweetened cream. Especially when guests are over and you want to make something quickly but still special. Fruits and cream is the answer 🙂
You can use any kind of fresh ripe fruits to make your own version of fruits and cream. Infact the best way to serve this and make it look fancy is by presenting a fruits and cream buffet. Assorted bowls of fruits cut up or sliced. Then beside it lay out a big bowl of beaten, thickened luscious sweetened cream to pour on top.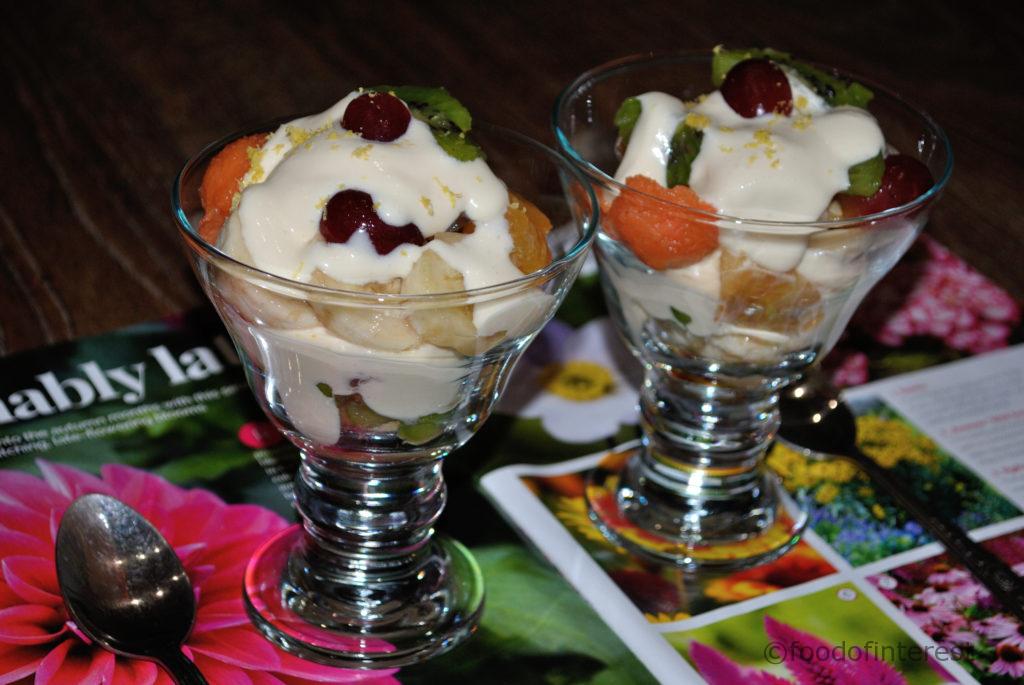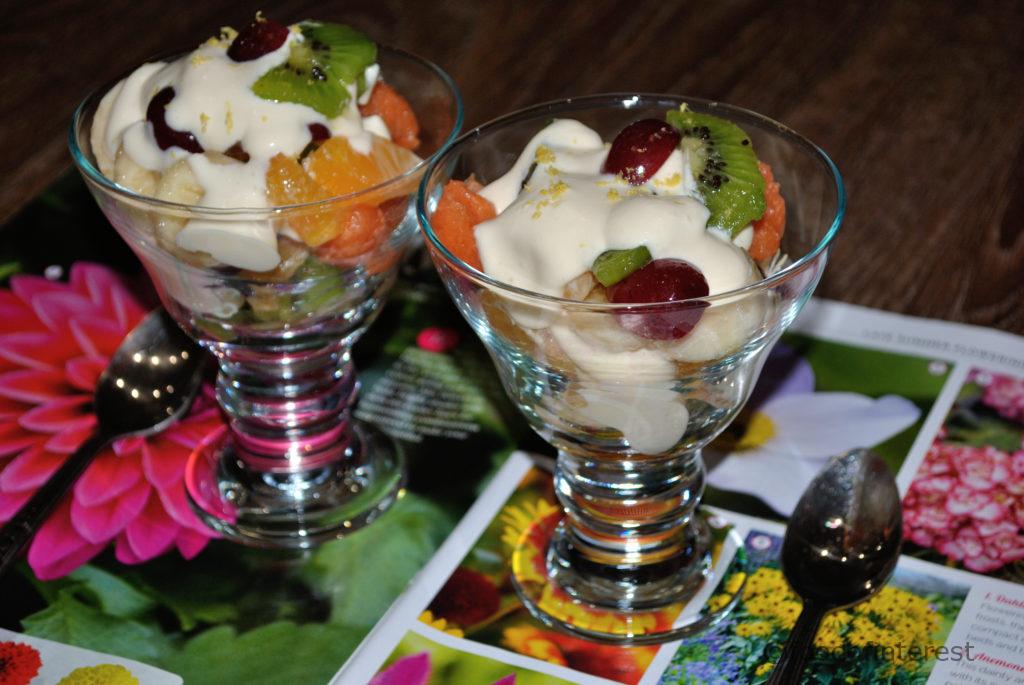 Most people would go for this beautiful creamy, dreamy fruits and cream concoction. But few will reach out only for the fruits, bless them with health 🙂 Then there are people like me, who finish the fruits even before they are completely cut up only so I can eat the cream by the spoonful. It is exactly the reason why I do not make this fruits and cream very often.
Here I have used cream and cream cheese to add extra punch and flavour. It has flavours of good orange extract, zested lemon and a few spoons of vanilla custard powder. Use any flavours you like, zested orange also goes well and so does zested lime. Also try, other fruit recipes from FOI like orange muffins, banana bread, mango kesari, musk melon milkshake etc.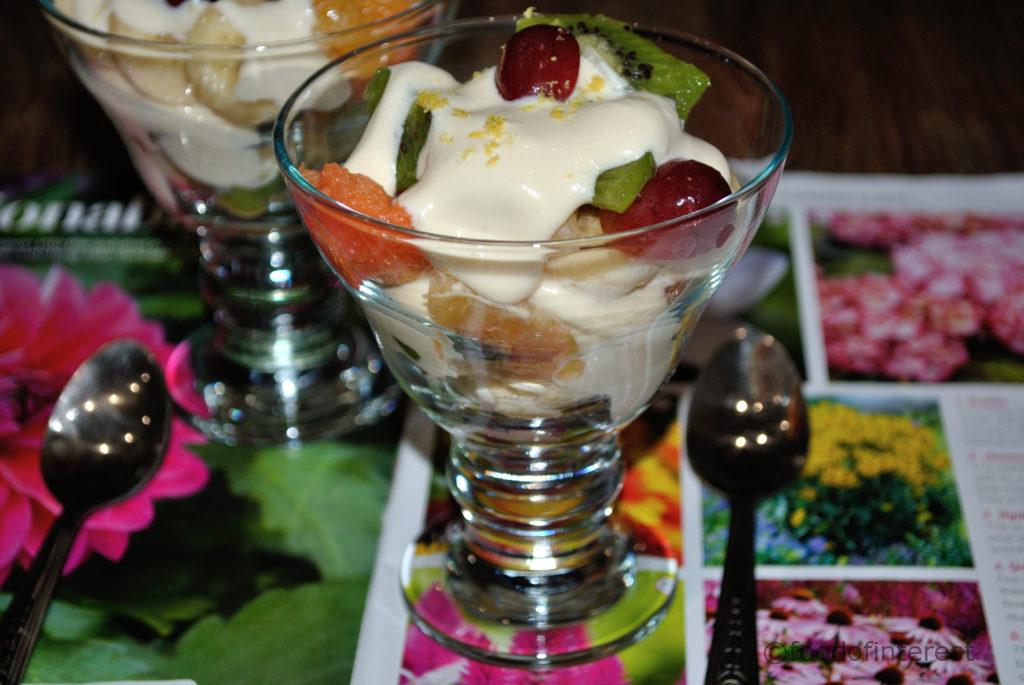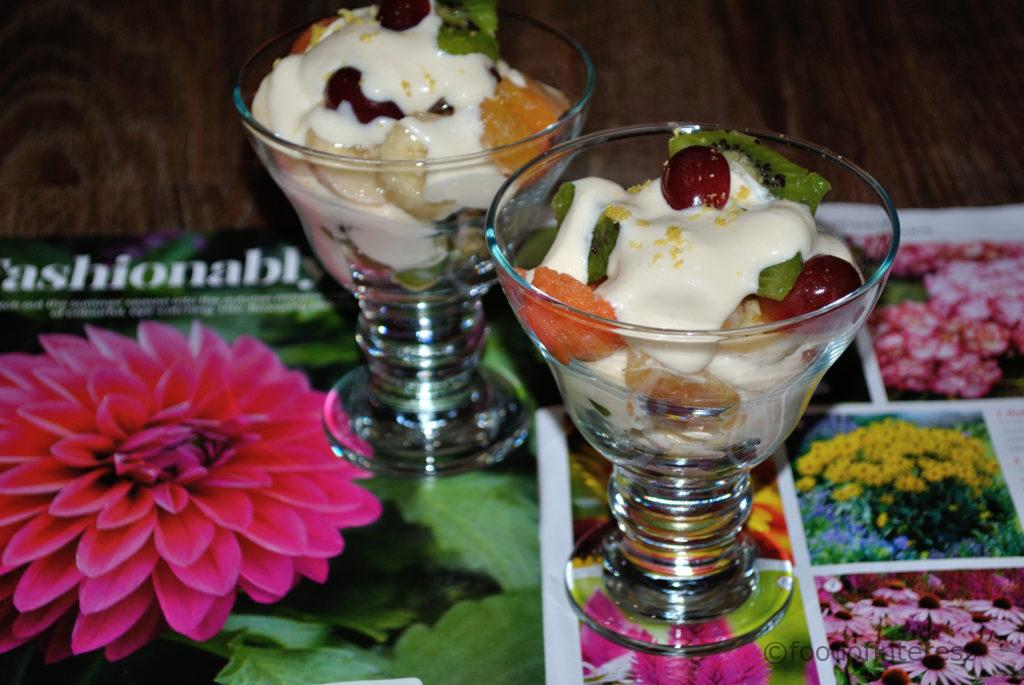 Fruits and Cream | Creamy fruit salad | Dessert Recipes
Creamy, dreamy and oozing with flavour of variety of fruits - fruits and cream
Ingredients
For Cream:
⅔ Cup cream
⅓ Cup cream cheese,
¼ Cup Whole milk
2 Tbsp custard powder
1 Tsp lemon zest
½ Tsp orange extract
Fruits (any of your choice):
2 bananas
2 kiwis
1 Cup halved red grapes
1 Cup scooped out musk melon balls
2 oranges
Halved glace cherries to garnish
Method
Keep all ingredients ready
Peel bananas, kiwis and slice them. Halve grapes, scoop out ripe jusk melon balls, and deseed oranges and halve them
Zest the yellow part of an unwaxed lemon and keep it aside
To start making the cream, take chilled fresh cream and add cream cheese to it
Using a beater (hand or handheld electrical) beat the cream till it thickens and forms soft peaks
To this add custard powder and fold it into the cream and mix well
Tip in zested lemon and the orange extract, mix well
To assemble the creamy custard, add fruits to the bottom of serving bowl
Spoon over some thick sweetened cream
Add some more fruits on top and some more cream
Garnish with halved glace cherry and some lemon zest
Serve chilled
Notes
Use any flavours you like, lime zest, orange zest, lemon zest, they all taste great

Use some honey and add it the fruits for extra sweetness and glaze

Use any kind of fruits you like, pineapple, apples, berries etc.

Fruits and Cream Stepwise:
Keep all ingredients ready

Peel bananas, kiwis and slice them. Halve grapes, scoop out ripe jusk melon balls, and deseed oranges and halve them

Zest the yellow part of an unwaxed lemon and keep it aside

To start making the cream, take chilled fresh cream and add cream cheese to it

Using a beater (hand or handheld electrical) beat the cream till it thickens and forms soft peaks

To this add custard powder and fold it into the cream and mix well

Tip in zested lemon and the orange extract, mix well

To assemble the creamy custard, add fruits to the bottom of serving bowl

Spoon over some thick sweetened cream

Add some more fruits on top and some more cream

Garnish with halved glace cherry and some lemon zest

Serve chilled