Breakfast can be both simple and fancy, but how? do you ask? Use simple ingredients and investing in a couple of simple things like a 3-in-1 sandwich, waffle maker (not sponsored) is always useful. You can make wonderful breakfasts like these eggless whole wheat waffles.
For these eggless whole wheat waffles, make a batter with whole wheat flour, some simple ingredients and milk. While the waffles are cooking, cut the fruits and get them ready. To serve up, just load the eggless whole wheat waffles on a plate and top with the fruits.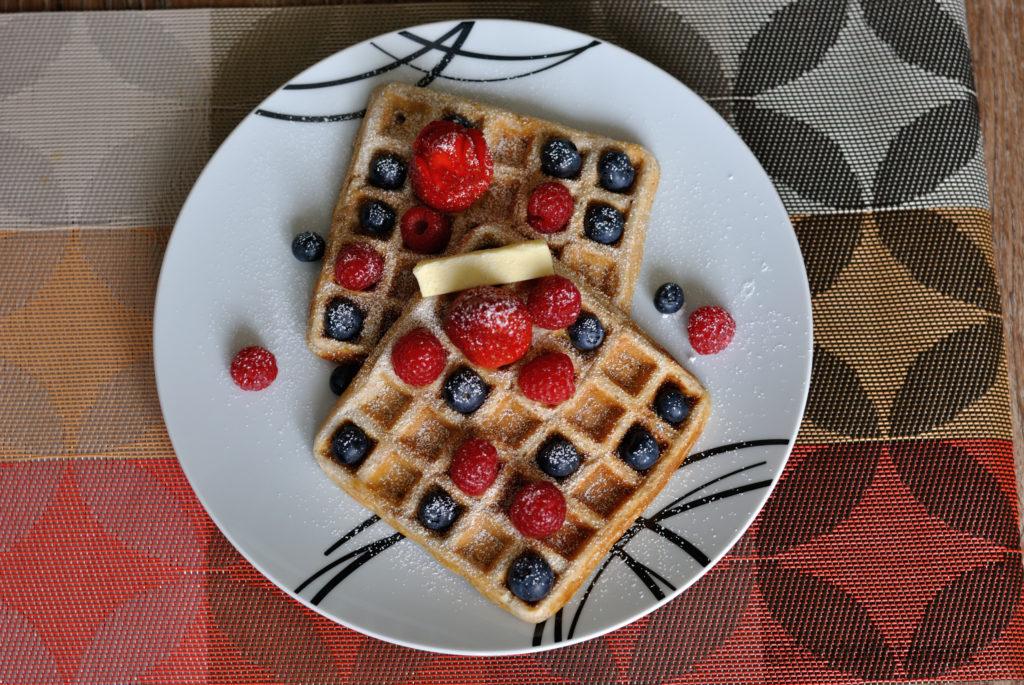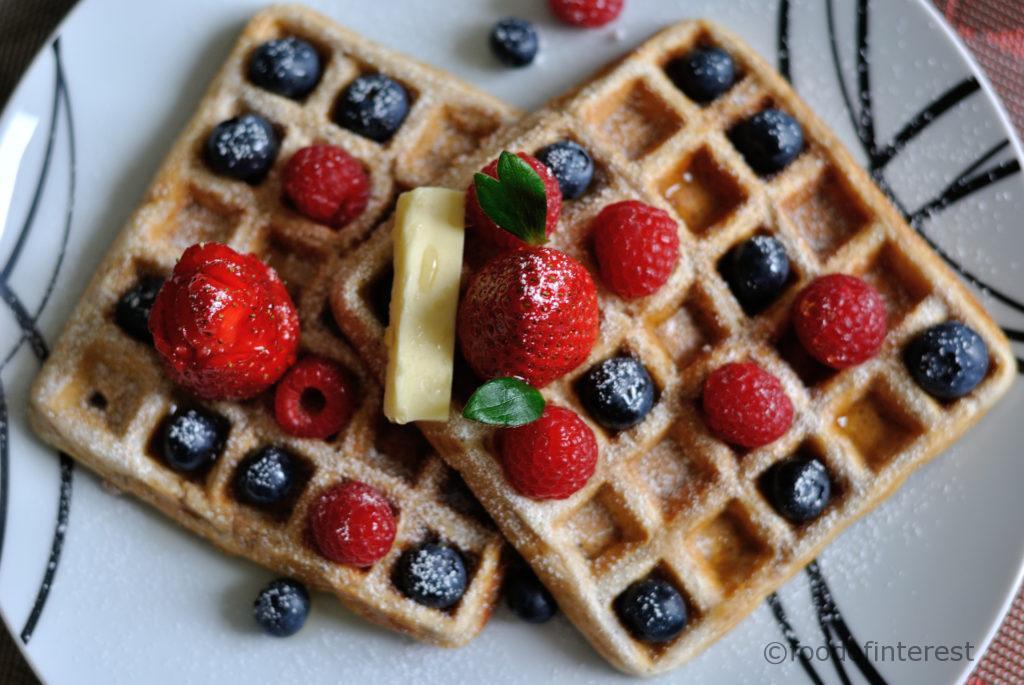 Here I have used Maple syrup (if possible use good quality original Canadian maple syrup – a syrup obtained from the sap of the maple tree). But feel free to use honey to serve which tastes really good too! Try more fancy yet simple breakfast recipes, see my eggless pancakes collection:
Whole wheat pancakes with bananas and choco chips
Applesauce pancakes
Chocolate pancakes
Eggless strawberry banana crepes etc.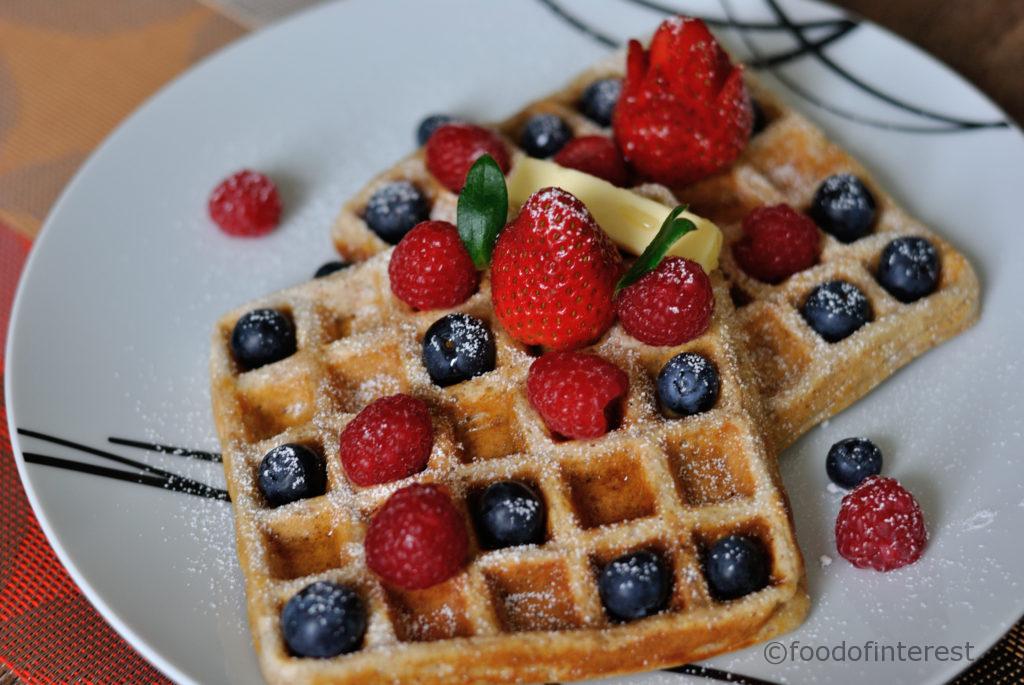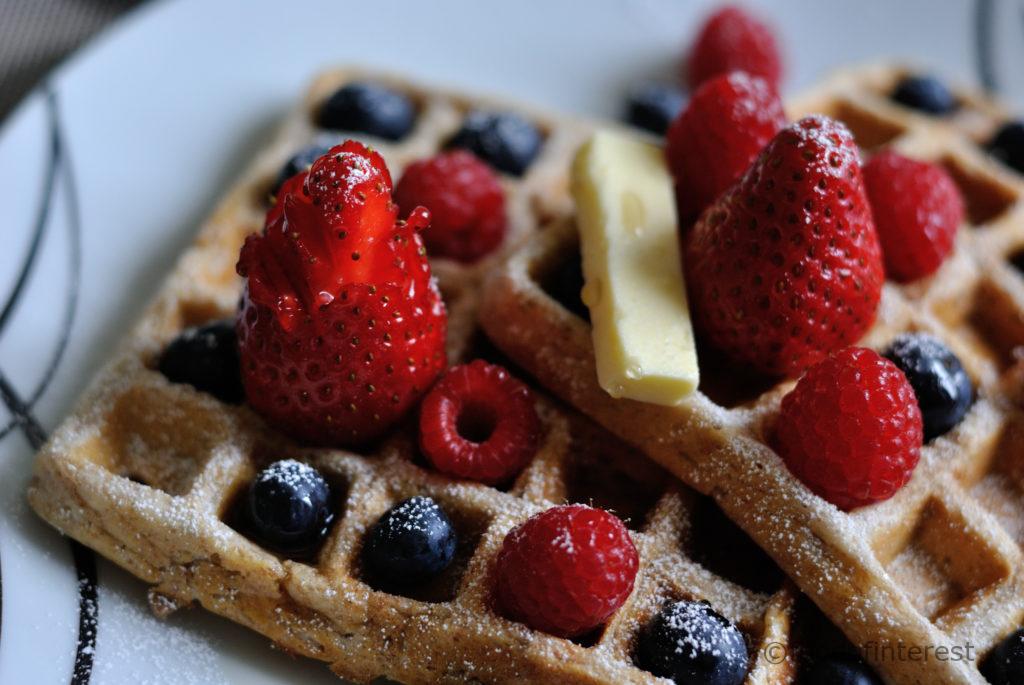 Eggless Whole Wheat Waffles | Waffles Recipe
Loaded with juicy berries and sweet maple syrup, eggless whole wheat waffles
Serves:
4 big waffles (5")
Ingredients
1 Cup wholemeal flour/whole wheat atta
¾ Tsp baking powder
½ Tsp baking soda
1 small pinch salt
2 Tbsp sugar
2 Tbsp melted butter
1¼ Cup milk
1 Tsp vanilla
1 Tbsp yogurt

To Serve:
Maple syrup or honey
Butter
Berries like strawberries, blueberries
Icing sugar to dust
Method
In a bowl, take the whole wheat flour/atta
Sprinkle a small pinch of salt
Add in the sugar
Next add baking powder and soda, mix well
Slowly pour milk and fold into the dry ingredients
It should be a thick pourable batter
Next add melted butter and mix well
Add good vanilla for taste
Lastly add a Tbsp of yogurt and fold well
Pre-heat the waffle iron for 3-4 minutes or according to your machine instructions, brush with butter
Take a ladleful of batter and pour on the heated waffle iron to fill all holes
Cover and cook
Check after 4-5 minutes
Cook for further 4 minutes or until it is cooked and golden
To serve, keep hot waffles on a serving plate, top with berries, drizzle maple syrup and lastly give a dusting of icing sugar. Serve immediately
Notes
Do not overbeat the batter

You can also serve with bananas, just slice them and serve

After mixing make the waffles immediately, do not keep it for a long time

Adjust sugar as per your taste or skip it


Eggless Whole Wheat Waffles Stepwise:
In a bowl, take the whole wheat flour/atta

Sprinkle a small pinch of salt

Add in the sugar

Next add baking powder and soda, mix well

Slowly pour milk and fold into the dry ingredients

It should be a thick pourable batter

Next add melted butter and mix well

Add good vanilla for taste

Lastly add a Tbsp of yogurt and fold well

Pre-heat the waffle iron for 3-4 minutes or according to your machine instructions, brush with butter

Take a ladleful of batter and pour on the heated waffle iron to fill all holes

Cover and cook

Check after 4-5 minutes

Cook for further 4 minutes or until it is cooked and golden

To serve, keep hot waffles on a serving plate, top with berries, drizzle maple syrup and lastly give a dusting of icing sugar. Serve immediately