Super creamy ice cream ready at home in a few hours, would wouldn't like that? So I am back with one more ice cream recipe on FOI, this time it is eggless tutti frutti ice cream. With homemade tutti frutti pieces adorning a creamy smooth ice cream it will definitely leave you drooling for more!
Eggless tutti frutti ice cream can be flavoured with any flavour you like, I like orange notes in my favourite eggless tutti frutti ice cream. So I have added a few drops of orange extract and the ice cream is to die-for! This is a no churn ice cream. It has thick cream of course and sweetened condensed milk. Ooooh…the combination is truly heaven on earth.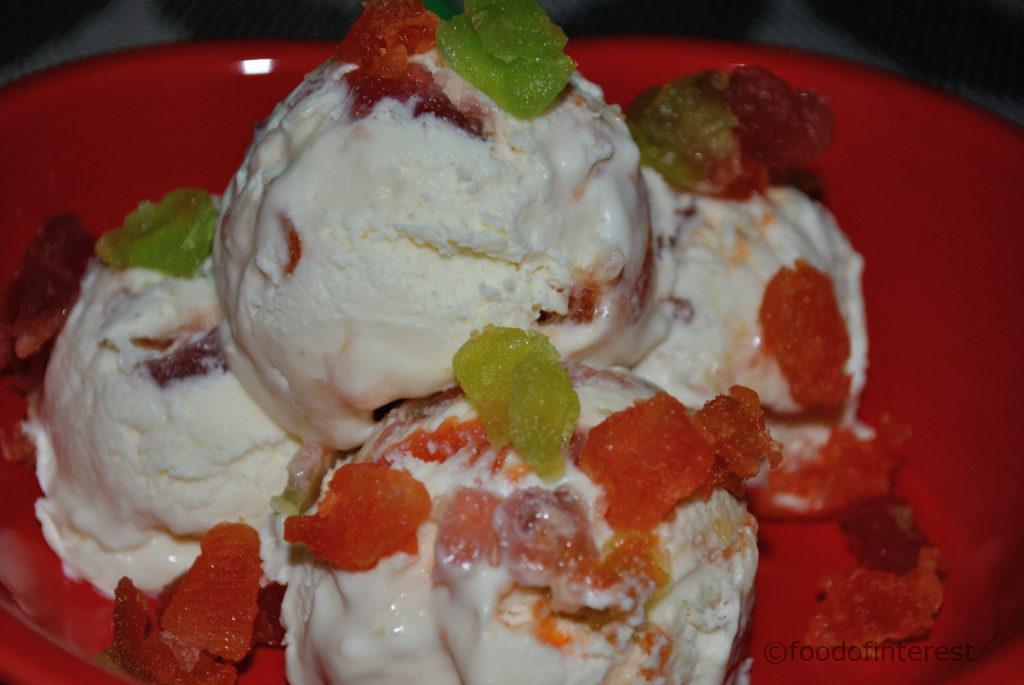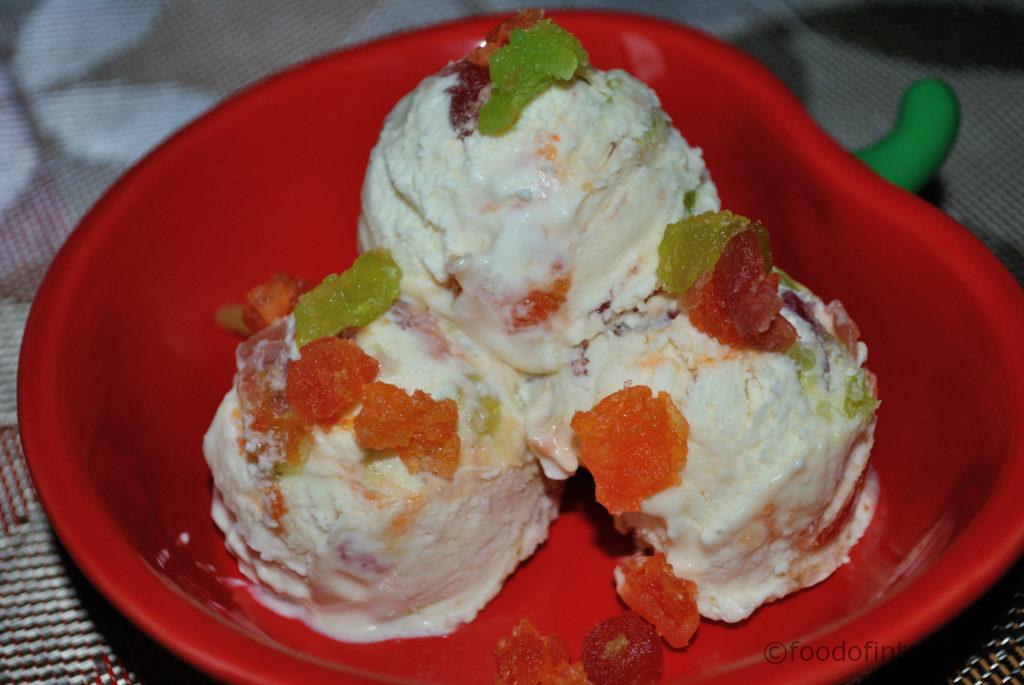 Just ensure all your ingredients are chilled and ready before making ice cream. It is good to invest in a electric hand beater to beat the cream or you will tired hands by the time you beat cream. Nevertheless it's not much effort to make this ice cream and can be done in a matter of minutes. It's now only to wait for it to set.
I have also churned the ice cream for a bit in my ice cream churner. It's entirely optional though. You will still get creamy ice cream. Try more eggless ice creams from FOI: vanilla ice cream, strawberry ice cream. More eggless dessert recipes from FOI.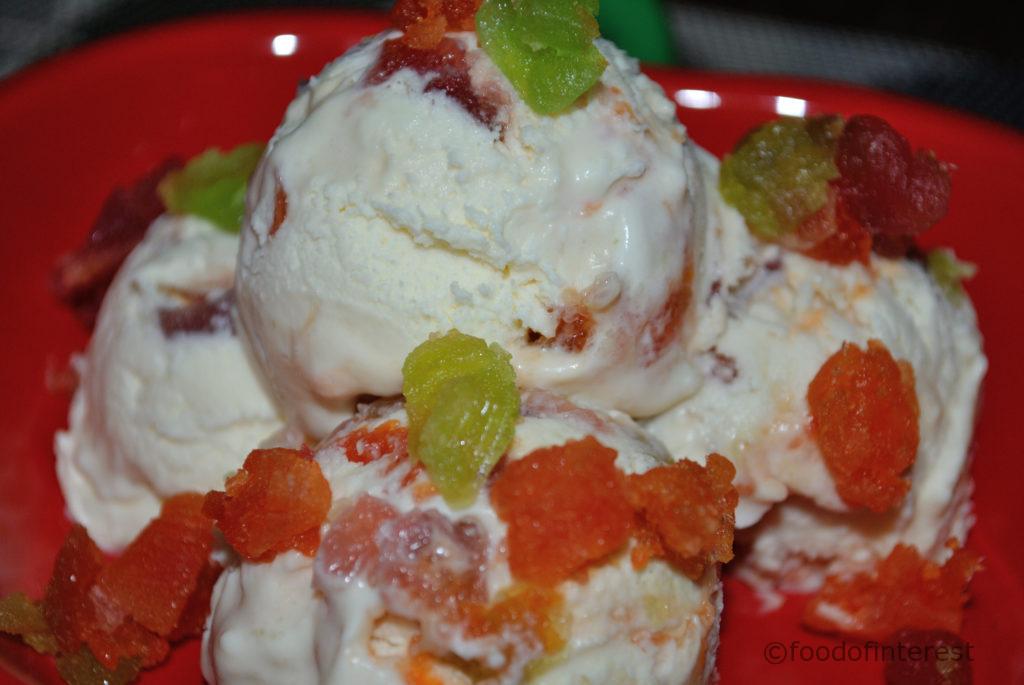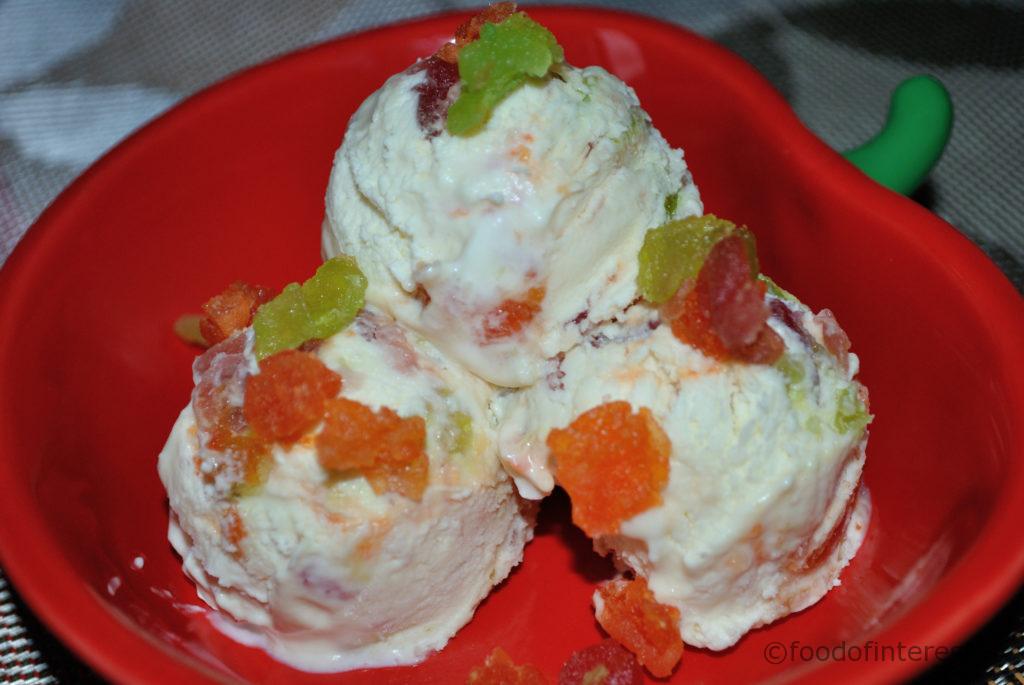 Eggless Tutti Frutti Ice Cream | Icecream Recipes
Creamy, dreamy with colourful and fun tutti frutti, homemade eggless tutti frutti ice cream
Serves:
½ litre or 8-10 scoops
Ingredients
300 ml or 1¼~ Cups of double/whipping cream
¾ Cup condensed milk
1 Tsp good vanilla
1-2 drops of orange extract
½ Cup tutti frutti
Method
Gather all ingredients together
In a bowl, pour the cream
Using an electric hand beater, whip the cream on medium speed till you see stiff peaks
Next, pour condensed milk and blend it well with the cream
Add vanilla and a few drops of orange extract
Fold everything well using a spatula. At this point, you can add tutti frutti pieces, fold well. Pour this mixture into a freezer-safe container and frozen till ice cream sets
Optionally, you can churn ice cream mixture in an ice cream machine till it churns into a smooth and slightly set mixture
Add tutti frutti pieces and fold well into the ice cream
Carefully pour the ice cream mixture into a freezer-safe container and allow it to set for 6-8 hours or till set
Fun to eat, tutti frutti ice cream is now ready
Scoop out the ice cream and enjoy
Notes
Extra sugar is not needed as we are adding sweetened condensed milk

Ensure all ingredients are chilled before making ice cream

Freezing times differ in different refrigerators. Some might require up to 12 hours for setting the ice cream

Do not be tempted to open the freezer door when the ice cream is being set


Eggless Tutti Frutti Ice Cream Stepwise:
Gather all ingredients together

In a bowl, pour the cream

Using an electric hand beater, whip the cream on medium speed till you see stiff peaks

Next, pour condensed milk and blend it well with the cream

Add vanilla and a few drops of orange extract

Fold everything well using a spatula. At this point, you can add tutti frutti pieces, fold well. Pour this mixture into a freezer-safe container and freeze till ice cream sets

Optionally, you can churn ice cream mixture in an ice cream machine till it churns into a smooth and slightly set mixture

Add tutti frutti pieces and fold well into the ice cream

Carefully pour the ice cream mixture into a freezer-safe container and allow it to set for 6-8 hours or till set

Fun to eat, tutti frutti ice cream is now ready

Scoop out the ice cream and enjoy

Enjoy your scoopful :)