Many of us would have made resolutions for the new year and most of them are connected to eating and fitness. A nutritious dry nuts ladoo could be the answer. This is rich both in taste and texture but equally nutritious if not more. You can pretty much add any kind of dry fruits or nuts you prefer like dried figs, apricots, dry cherries, candied fruits apart from the ones mentioned in this recipe.
Jaggery is rich in minerals and also provides calcium. But for me the favourite part of this ladoo dry nuts ladoo is neither nuts nor jaggery. Uh-huh! Anyone can imply that from the name, dry nuts and ladoo saying it has something sweet.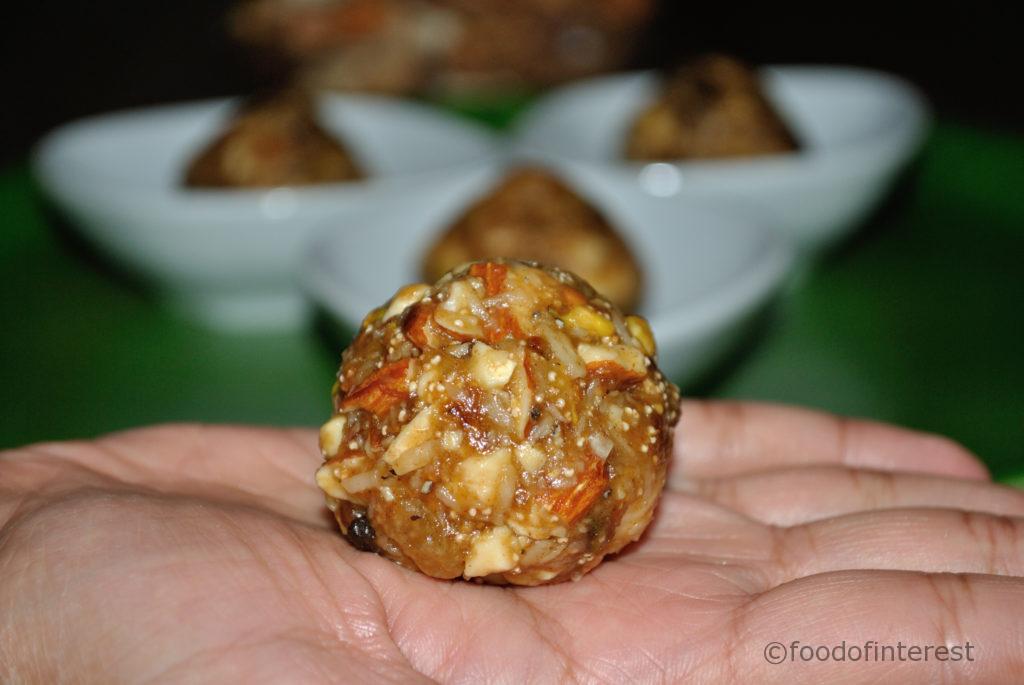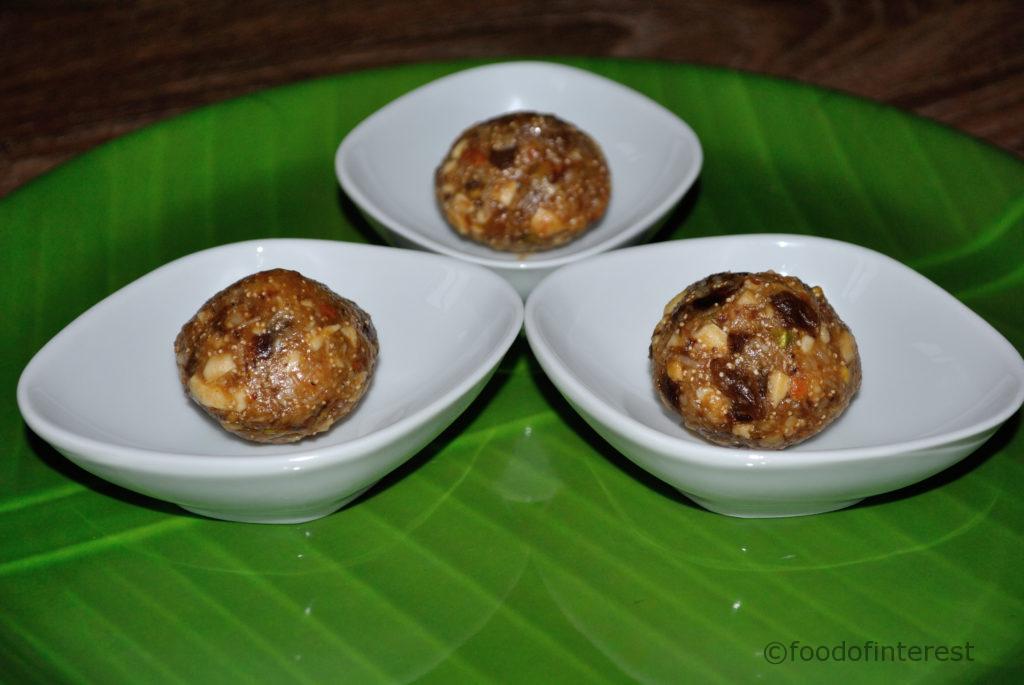 But once you take a bite into one of these dry nuts ladoo, the mild notes of spices will make your palate sing with joy! The fragrance of elaichi, the sharp taste of ginger powder and cloves/laung, the light pungency of nutmeg and mace, all balanced by the mellowing texture of gasa-gase/khus-khus/poppy seeds.
These ladoo can be made very quickly and can be served just as an energy bite for a snack or for any festival. Why not try this dry nuts ladoo this Sankranti! Also try dry nuts holige/obbattu and get all the goodness. More ladoo recipes, rava unde/ladoo, besan ladoo, coconut ladoo and more.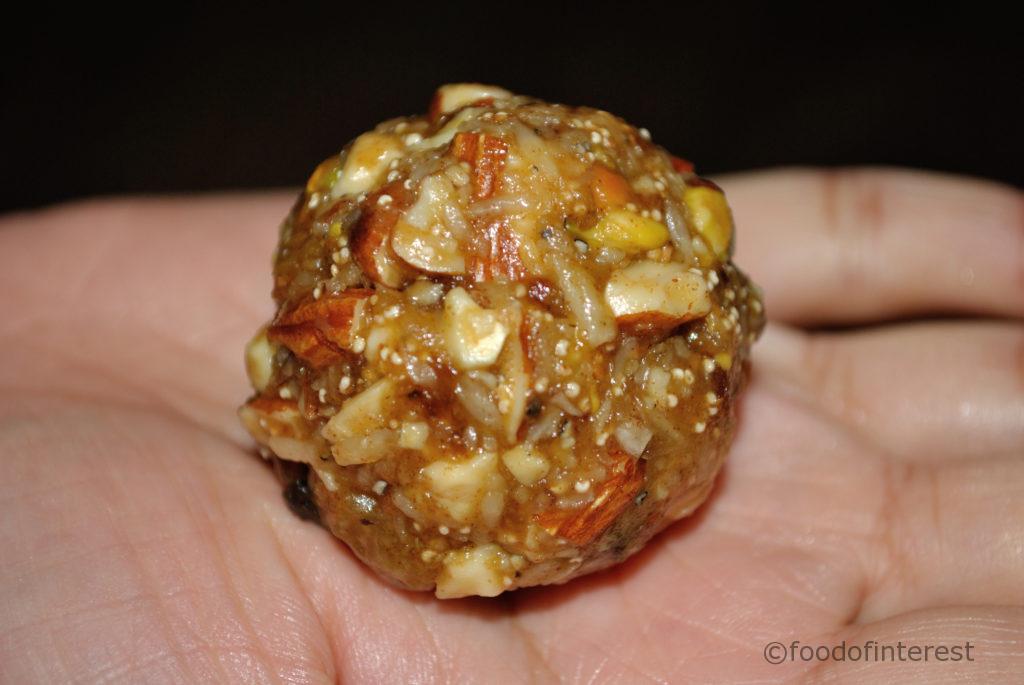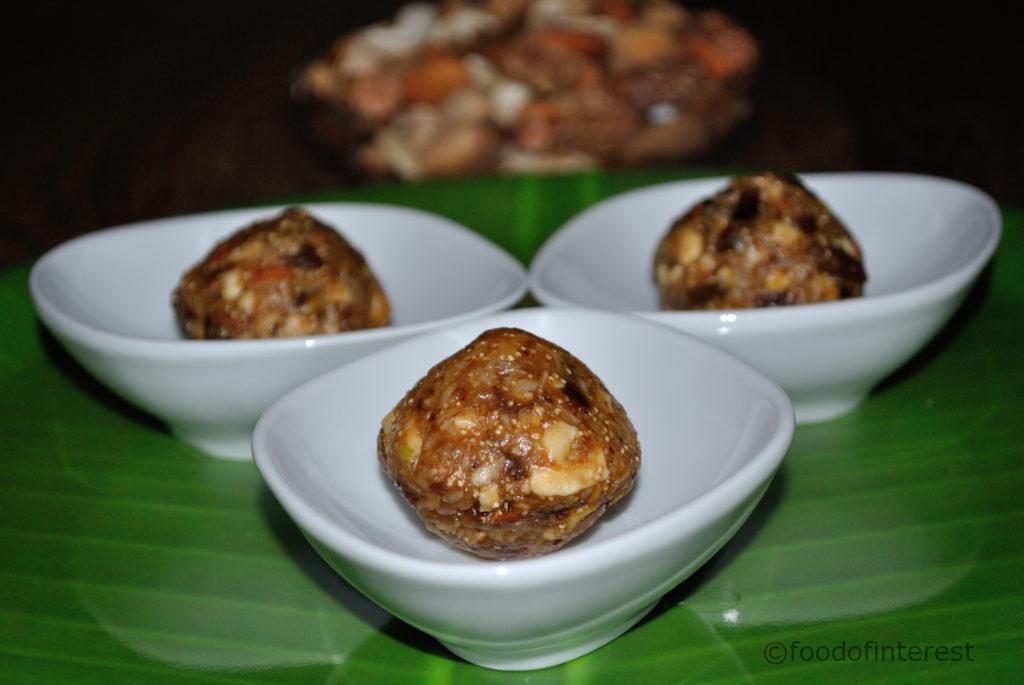 Dry Nuts Ladoo | Dry Fruits Ladoo | Ladoo Recipes
Loaded with dry nuts & fruits, laced with fragrant spices, a special sweet for the new year, dry nuts ladoo
Ingredients
Dry Nuts/Fruits:
¼ cup pista
¼ Cup cashews/godambi
¼ Cup almonds/badam
8-10 seedless dates/hasi kharjura
5-6 dry dates/vana kharjura
¼ Cup raisins/vana drakshi

Spices:
6-8 elaichi
1 laung
1-2 shreds of mace
1 small pinch nutmeg
¼ Tsp dry ginger powder/sonth/shunthi pudi
1 Tbsp gasa-gase/khus-khus/poppy seeds

For Jaggery Syrup:
¾ Cup jaggery
2 Tbsp water
Other Ingredients:
½ Cup desiccated coconut

3 Tbsp ghee
Method
Keep all dry nuts and fruits together
Chop up the cashews, pista and almonds/badam
Also chop up both kinds of dates
In a pan, lightly toast mace, elaichi and laung
In a mortar, pound the elaichi seeds, mace and laung
Lightly toast gasa-gase/khus-khus/poppy seeds
Take the chopped nuts in a bowl
Next add dates and raisins
Add toasted gasa-gase/khus-khus/poppy seeds
Desiccated coconut can go in next
Sprinkle the pounded spices
Also add a pinch of nutmeg, dry ginger powder
Mix all the ingredients very well, set aside
In a pan, add powdered jaggery
Add 2 Tbsp water to start melting the jaggery, bring it to heat
Jaggery starts melting
When it completely melts, it will start to thicken slightly
Once you can see single-thread consistency, jaggery syrup is ready
Pour this syrup carefully over the mixture
Next add ghee to bring everything together and to enrich the ladoo
Let it cool slightly
When you can handle the mixture, mix everything
With greased hands (with little ghee) make ladoo or unde
Enjoy as a snack for a quick energy bite or make them for a festival
Notes
You can add any dry nuts/fruits you have on hand, base usually is almonds, cashews, dates and raisins

Make sure the jaggery is clean or strain the syrup after making the syrup

Do not overboil the syrup, you will end up with hard ladoos

Pulse the dry nuts in mixie or your processor if you do not want to chop the nuts by hand


Dry Nuts Ladoo Stepwise:
Keep all dry nuts and fruits together

Chop up the cashews, pista and almonds/badam

Also chop up both kinds of dates

In a pan, lightly toast mace, elaichi and laung

In a mortar, pound the elaichi seeds, mace and laung

Lightly toast gasa-gase/khus-khus/poppy seeds

Take the chopped nuts in a bowl

Next add dates and raisins

Add toasted gasa-gase/khus-khus/poppy seeds

Desiccated coconut can go in next

Sprinkle the pounded spices

Also add a pinch of nutmeg, dry ginger powder

Mix all the ingredients very well, set aside

In a pan, add powdered jaggery

Add 2 Tbsp water to start melting the jaggery, bring it to heat

Jaggery starts melting

When it completely melts, it will start to thicken slightly

Once you can see single-thread consistency, jaggery syrup is ready

Pour this syrup carefully over the mixture

Next add ghee to bring everything together and to enrich the ladoo

Let it cool slightly

When you can handle the mixture, mix everything

With greased hands (with little ghee) make ladoo or unde

Enjoy as a snack for a quick energy bite or make them for a festival