Coriander leaves or dhania patta or kottambri soppu is the main ingredient for garnishing. How about we just make it the main ingredient! So here we are back with another simple lunch box recipe, coriander rice or coriander bhaat. All this needs is just few simple whole garam masala and some fresh coriander.
Some cashews adorn this flavourful coriander rice along with some pop-in-the-mouth green peas. Coriander rice gets ready in quick time and you do not even have to prepare the rice beforehand. Although sometimes that method is also quite fast.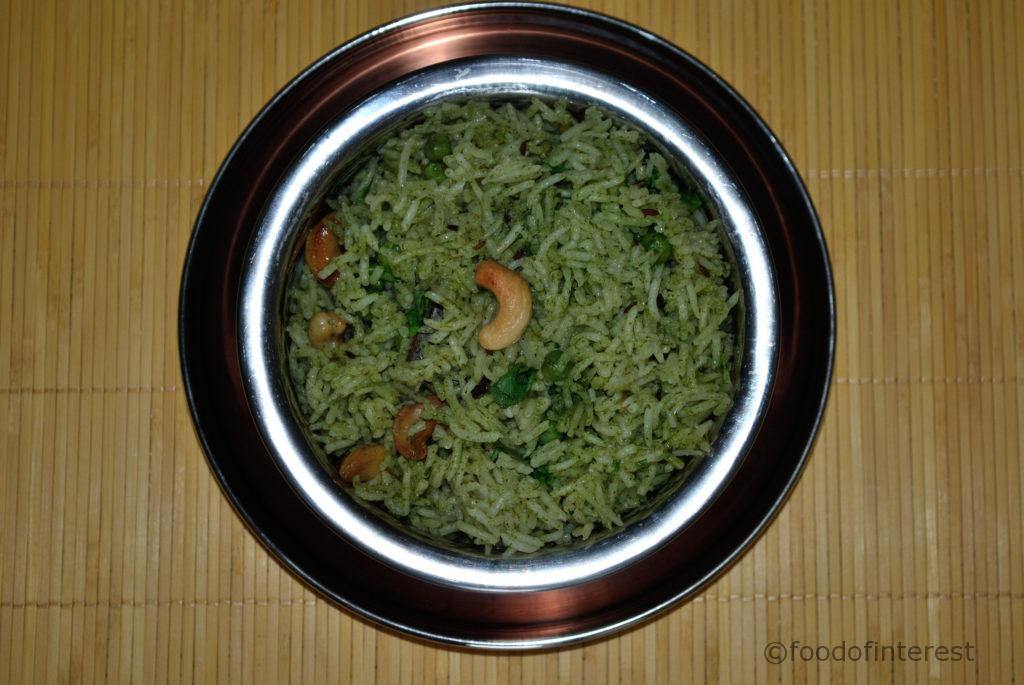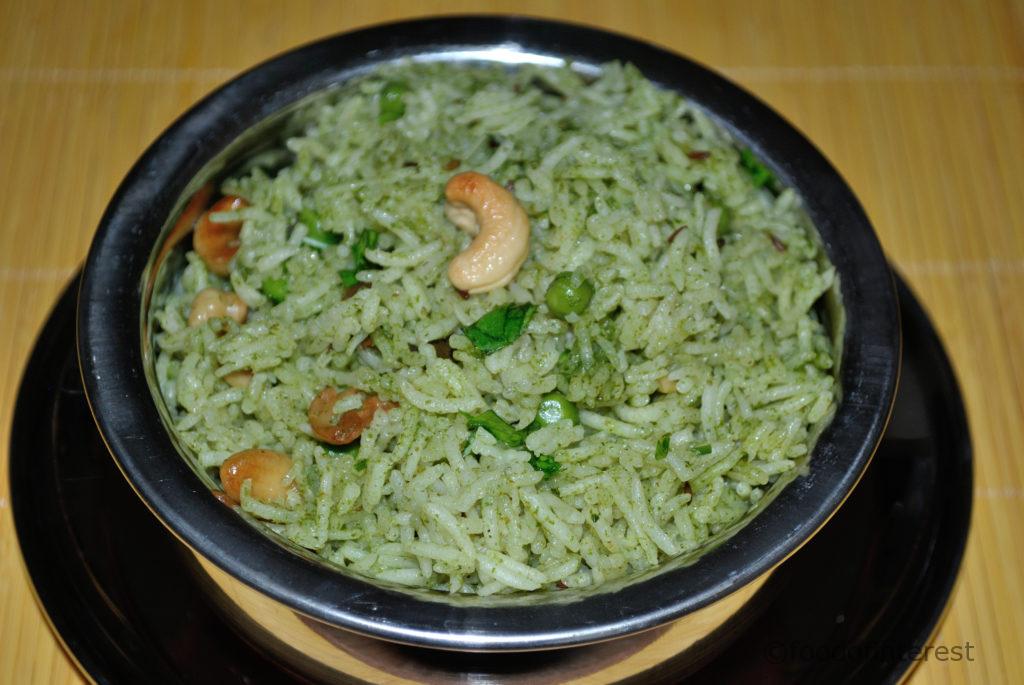 You can add thin coconut milk to cook coriander rice too for a creamier texture of rice grains and it also adds to the sweetness. See the notes in the recipe below for proportions. Do not make it very spicy if serving kids and remove the whole garam masala before packing it away in their lunch boxes. Serve with any kind of raitha, mixed veg raitha is my favourite.
Try more pulao/bhaat recipes from FOI:
Gorikayi Bhaat
Tomato Bhaat
Uddina Bhaat
Tengu Anna
Lemon Rice/Chitranna
Pudina Veg Pulao etc.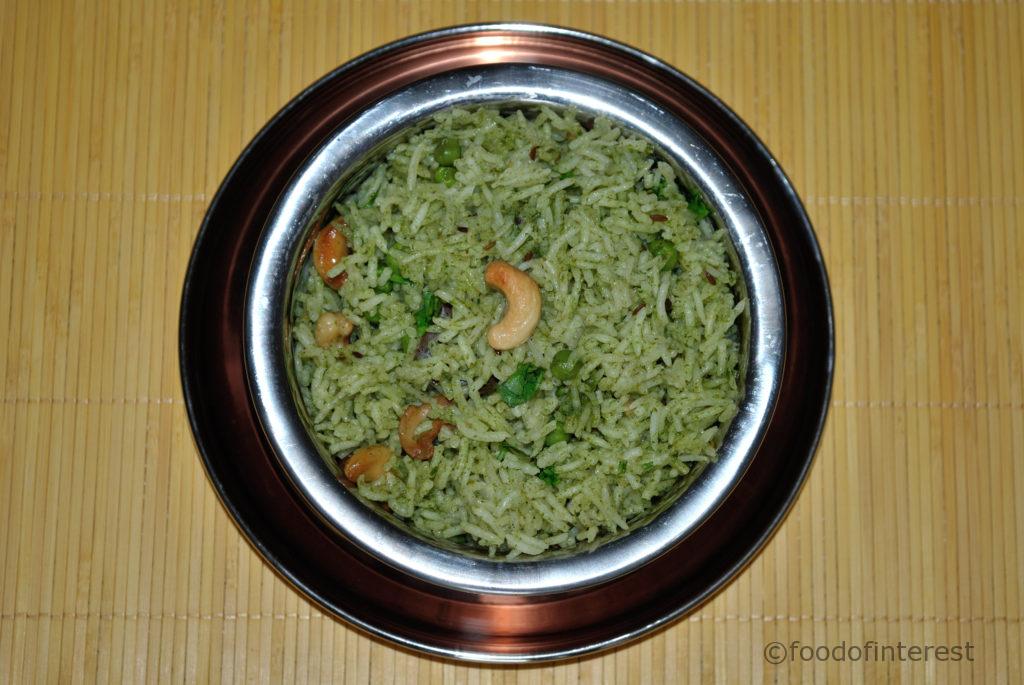 Coriander Rice | Coriander Bhaat | Bhaat Recipes
Quick and easy rice dish for your lunch box, delicious and tasty coriander rice
Ingredients
1 Cup fresh coriander leaves
1-2 fresh green chilli
1 Tsp coconut oil
1 Tsp ghee
½ + 1 Tsp jeera
4-5 whole black peppercorns
1-2 bay leaf/leaves
1" cinnamon/dalchini
1 pinch hing
10-12 cashews
½ Cup fresh/frozen green peas
1 Cup basmati/sona masuri rice
Salt to taste
2 Cups water
Method
Wash rice 2-3 times and keep aside
Take fresh coriander, remove roots, pick and clean, wash 2-3 times
In a mixer jar, add coriander, green chilli, 1 Tsp jeera, hing
With little water, grind into a paste, keep aside
In a pan, heat oil and ghee
Keep whole garam masala ready
Fry jeera, cinnamon and black pepper till they release aroma
Next add bay leaf and fry for a few seconds
Tip in whole cashews and fry till they turn golden
Next pour ground coriander masala paste and start sauteing
Once the mixture gets cooked, add green peas and mix well
Add washed rice and salt to taste
Mix well and pour 2 Cups water
Cover and cook till all liquid gets absorbed
Let it rest for 10 mins, fluff up the rice
Serve hot with palak raitha or mixed veg raitha
Notes
You can substitute ½ the water with thin coconut milk i.e. for 1 measure rice add 1 measure water and 1 measure thin coconut milk

Rice can also be cooked beforehand and mixed with masala after the rice has cooled down. Ensure masala is not watery

Use only ghee or only oil, I added both because both flavours are amazing!

Coriander Rice Stepwise:
Wash rice 2-3 times and keep aside

Take fresh coriander, remove roots, pick and clean, wash 2-3 times

In a mixer jar, add coriander, green chilli, 1 Tsp jeera, hing

With little water, grind into a paste, keep aside

In a pan, heat oil and ghee

Keep whole garam masala ready

Fry jeera, cinnamon and black pepper till they release aroma

Next add bay leaf and fry for a few seconds

Tip in whole cashews and fry till they turn golden

Next pour ground coriander masala paste and start sauteing

Once the mixture gets cooked, add green peas and mix well

Add washed rice and salt to taste

Mix well and pour 2 Cups water

Cover and cook till all liquid gets absorbed

Let it rest for 10 mins, fluff up the rice

Serve hot with palak raitha or mixed veg raitha