Planning a breakfast everyday is a daunting task. When I plan the menu for a full work week I always try to include wholesome breakfasts. Almost every other week I try to make Karnataka special soft akki rotis. Akki rotis are made with rice flour mixed with some simple spices, green chillis, chopped coriander and grated coconut. Along with that any vegetables are added, like grated carrots, chopped onions, grated cucumber, grated lauki. Here I have explained step by step recipe for carrot akki roti.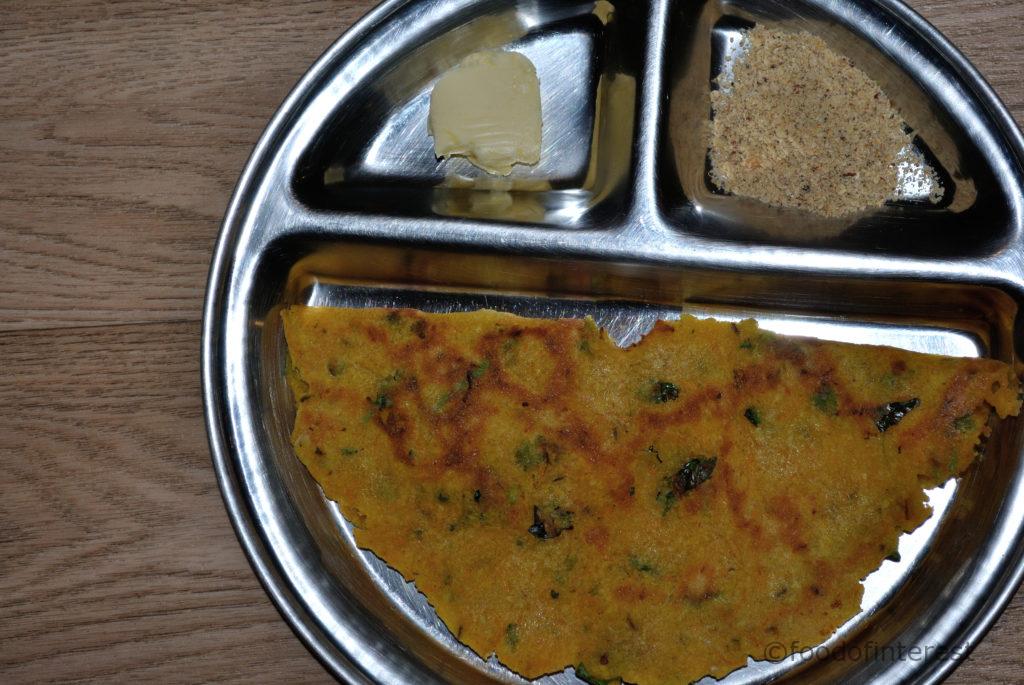 Rice flour rotis are made in a different way compared to whole wheat flour rotis. They are lighter and are also gluten free (skip hing/asafoetida). It is a welcome change from regular rotis. Carrot akki roti turn out really tasty, soft with correct balance of spices and carrots impart sweet notes.
The trick to make soft akki rotis is to pour some boiling water to activate the flour. Grated coconut also is an essential ingredient for making soft akki roti. Also try steamed akki roti, baalekayi akki roti from FOI. Carrot akki roti tastes best with shenga chutney pudi or chutneys.
Carrot Akki Roti | Akki Roti Recipes | Breakfast Recipes
Soft, delicious, gluten free, breakfast recipe, carrot akki roti
Ingredients
1 Cup rice flour
½ Tsp sesame seeds
½ Tsp red chilli powder
¼ Tsp turmeric
Salt to taste
A pinch of hing (skip for gluten free rotis )
½ Cup boiling water
½ Cup grated coconut
1 grated medium carrot
Chopped coriander
1 chopped green chilli
Few chopped curry leaves
Water to make dough
Oil to make rotis
Method
Take rice flour in a bowl, to this add sesame seeds, hing, red chilli powder, turmeric and salt to taste
Mix well and make a well in the centre, pour ½ Cup boiling water, cover and set aside
Get the other things ready, grated carrot and coconut, chopped coriander, chilli and curry leaves
Add these to the flour mixture, add little by little water, make asoft dough
Apply oil and keep aside
To make rotis, pinch a small ball and start patting on a well oiled tawa/skillet
Pat into a thin roti (not too thin), make a small hole in the centre
Drizzle some oil, cover and roast
When golden, remove from tawa/skillet
Serve hot, enjoy for breakfast
Notes
Add chopped onions if you wish to

Try not to skip coconut, it renders softness to the akki roti

Carrot can be substituted with cucumber, lauki etc, just add water accordingly

Carrot can be substituted with cucumber, lauki etc, just add water accordingly

Carrot Akki Roti Stepwise:
Take rice flour in a bowl, to this add sesame seeds, hing, red chilli powder, turmeric and salt to taste

Mix well and make a well in the centre, pour 1/2 Cup boiling water, cover and set aside

Get the other things ready, grated carrot and coconut, chopped coriander, chilli and curry leaves

Add these to the flour mixture, add little by little water, make a soft dough

Apply oil and keep aside

To make rotis, pinch a small ball and start patting on a well oiled tawa/skillet

Pat into a thin roti (not too thin), make a small hole in the centre

Drizzle some oil, cover and roast

When golden, remove from tawa/skillet

Serve hot, enjoy for breakfast