A comforting porridge to kick-start your day in any weather, sounds good and I am all for it. Porridges usually come in the form of something with a sweet tinge more often than not. Oats porridge with dry nuts for instance. But I try to make savoury porridges like ukad from Maharashtra or ragi ganji from Karnataka. Here I have made Italian special savoury breakfast polenta.
Polenta is essentially cornmeal made into a porridge with Italian origins. Polenta is made in many ways and here I tried a savoury breakfast polenta. It is gluten-free and is light on the stomach making it a perfect dish for breakfast.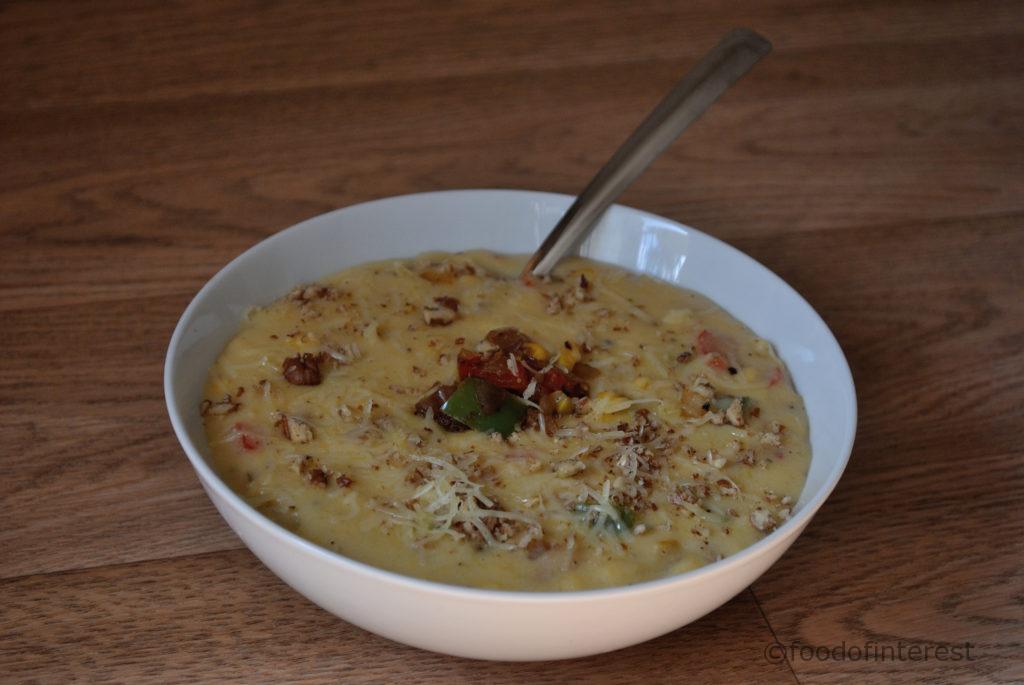 Savoury breakfast polenta is not just plain old porridge but it has some pan sauteed vegetables like bell pepper/green capsicum. Black pepper and some cheese to finish of the porridge makes it rich and tasty. It has the right balance of protein, carbs, fibre, calcium and fat! Try more breakfast recipes from FOI, dosas, idlis and porridges. More Italian recipes like Spinach Peas Risotto, panzanella, spinach pasta florentine also from FOI.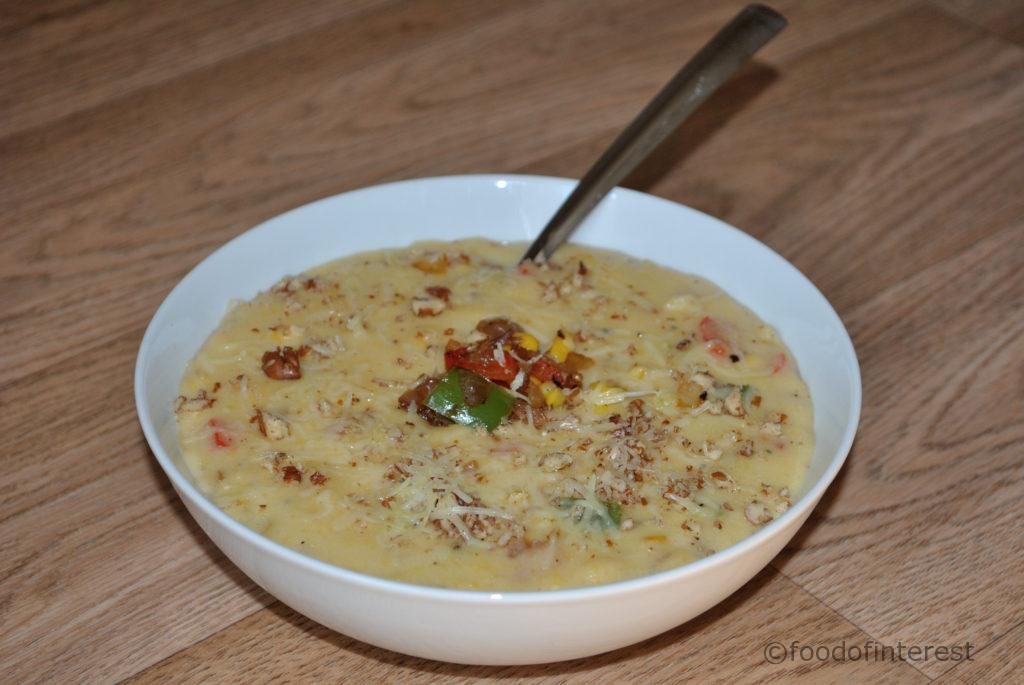 Breakfast Polenta | Polenta Porridge | Porridge Recipes
Cheesy, creamy and delicious, savoury breakfast polenta
Ingredients
½ Cup polenta
2¼ Cups water
1 chopped onion
1 piece each of green and red bell pepper
1-2 clove garlic chopped
½ Tbsp butter
¼ Cup milk
⅓ Tsp powdered black pepper
¼ Cup sweet corn
Salt to taste
¼ Cup grated cheddar
½ Tbsp olive oil
Method
In a pan heat oil, saute onions, let them turn translucent
Add garlic and bell pepper, let them turn soft
Add corn saute
Sprinkle pepper and salt to taste, saute and keep aside
In same pan, add boiling 2½ cups water
Add salt for polenta
Slowly pour polenta in a stream and whisk till no lumps are there
Add butter and milk
Add grated cheese, mix till creamy
Lastly add sauteed veggies, mix
Serve hot as savoury porridge with cheese on top
Notes
Polenta is cornmeal which you can get easily in grocery stores

You can also choose to keep this porridge plain without adding any veggies

Add a little red chilli powder if you prefer
Breakfast Polenta Stepwise:
In a pan heat oil, saute onions, let them turn translucent

Add garlic and bell pepper, let them turn soft

Add corn saute

Sprinkle pepper and salt to taste, saute and keep aside

In same pan, add boiling 2 1/2 cups water

Add salt for polenta

Slowly pour polenta in a stream and whisk till no lumps are there

Add butter and milk

Add grated cheese, mix till creamy

Lastly add sauteed veggies, mix

Serve hot as savoury porridge with cheese on top