Gojjus hold a special place in South Indian cuisine. Different regions and states have their own special and unique way of making gojjus. This bendekayi gojju from South Karnataka (Mysore style) is one such tangy and delicious gojju. The combination of flavours sweet, sour and spicy makes a very disliked vegetable like bendekayi/lady's finger/okra look really good.
Bendekayi gojju can be eaten with chapathis or steamed rice. It is so delicious that it will leave you licking your fingers after eating a meal involving this gojju. As always with bendekayi/okra ensure they are not wet and damp. Wash them overnight, spread them on a kitchen towel and let them air dry.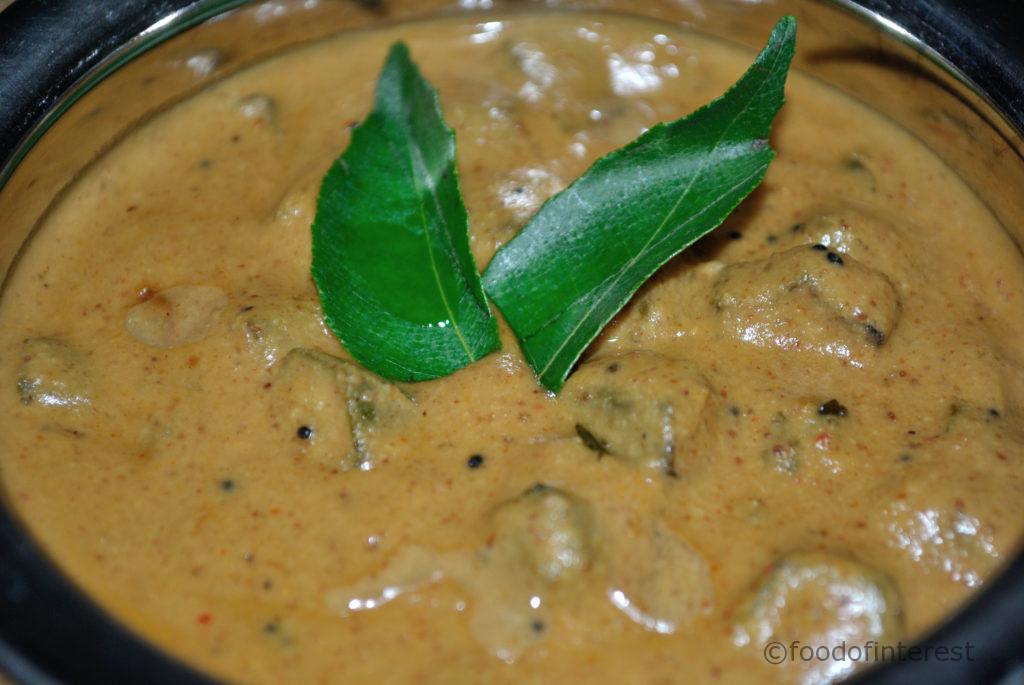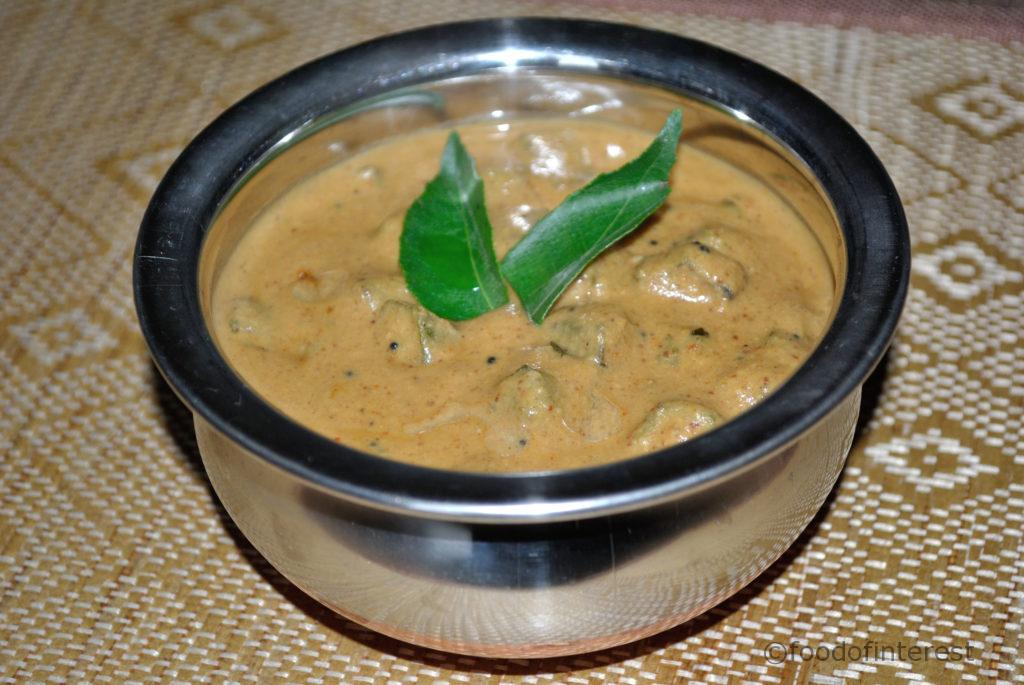 A gojju always turns out well only when the balance of flavours is right. Sourness from tamarind and sweetness from jaggery is an absolute must. Fresh masala (all ingredients found in my masala box) is roasted, ground and then mixed with the fried bendekayi/okra. It is then simmered into a flavourful curry, just yum! Try more gojjus from FOI, apple gojju, pineapple gojju, haagalkayi gojju, orange peel gojju etc. More chapathi/roti side dishes from FOI.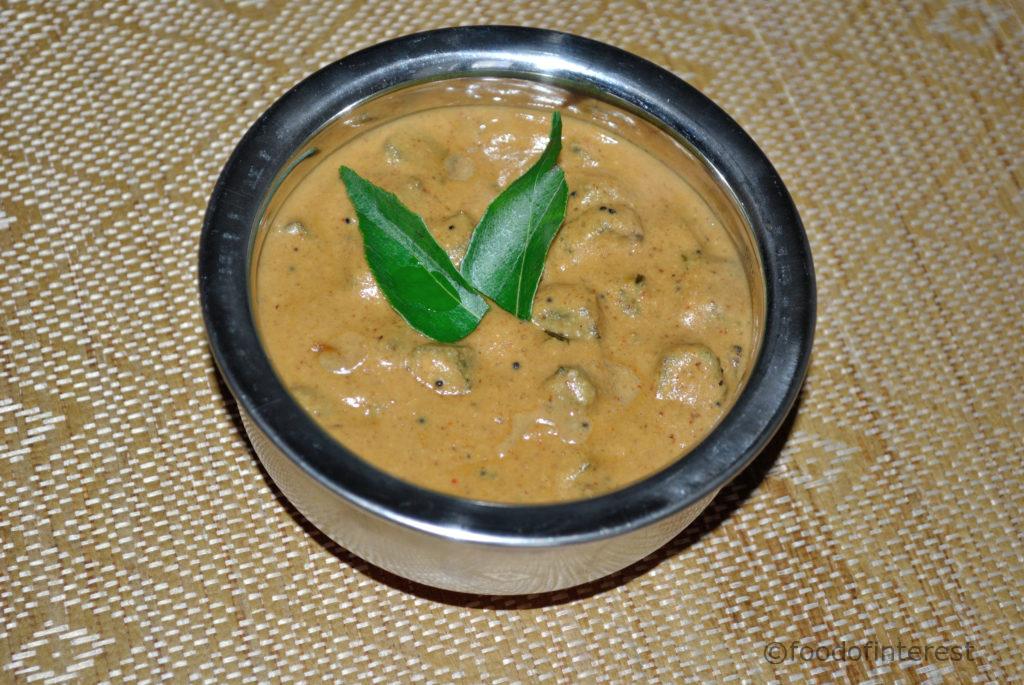 Bendekayi Gojju | Okra Gojju | Gojju Recipes
Delicious and special gojju, Karnataka style bendekayi gojju
Ingredients
200 Gm bendekayi/lady's finger/okra
2 Tsp coconut/cooking oil
¼ Cup tamarind extract or 1 Tbsp tamarind paste
1 piece jaggery
¼ Tsp turmeric
¼ Tsp red chilli powder
Salt to taste
Chopped coriander to garnish
For Masala:
½ Tsp menthya/methi seeds
1 Tsp sesame seeds
2 dry red chillies
1 Tbsp urad dal
½ Tbsp chana dal
7-8 black pepper
2 Tbsp roasted groundnuts/peanuts/shenga/kadalebeeja (optional)
¼ Cup desiccated coconut

For Tadka:
2 Tsp coconut oil
Few curry leaves
1 Tsp mustard
A pinch of hing
Method
Keep all the masala ingredients together
In a small pan, dry roast the dals till golden, add sesame and menthya/methi seeds
In a mixer jar, add red chillies, roasted ingredients, black pepper
Next add desiccated coconut and roasted peanuts/shenga/kadalebeeja
Grind into a paste, keep aside
Slice washed and dried bendekayi/lady's finger/okra and add them into a pan with oil
Fry them till they change colour and shrink in size a bit
Add ground paste
Pour ¼ Cup water and mix well and simmer, it starts to thicken
Next add turmeric, tamarind paste/extract, jaggery
Sprinkle red chilli powder and salt. Simmer
Garnish with chopped coriander on top, make tadka with oil, mustard, curry leaves and hing and pour on top (I forgot to click a picture of this step)
Serve hot with chapathi or rice
Notes
Adjust spiciness, add 1-2 more chillies if you want more heat

Adding roasted groundnuts/peanuts/shenga/kadalebeeja is optional but it gives a nice taste and texture and also thickens the gojju

As mentioned, ensure bendekayi/okra are dry before chopping them
Bendekayi Gojju Stepwise:
Keep all the masala ingredients together

In a small pan, dry roast the dals till golden, add sesame and menthya/methi seeds

In a mixer jar, add red chillies, roasted ingredients, black pepper

Next add desiccated coconut and roasted peanuts/shenga/kadalebeeja

Grind into a paste, keep aside

Slice washed and dried bendekayi/lady's finger/okra and add them into a pan with oil

Fry them till they change colour and shrink in size a bit

Add ground paste

Pour 1/4 Cup water and mix well and simmer, it starts to thicken

Next add turmeric, tamarind paste/extract, jaggery

Sprinkle red chilli powder and salt. Simmer

Garnish with chopped coriander on top, make tadka with oil, mustard, curry leaves and hing and pour on top (I forgot to click a picture of this step)

Serve hot with chapathi or rice