During winter I feel like digging into humble potatoes in the form of baked jacket potatoes. These wonderful spuds have a warm, homey feel to them and is the ultimate comfort food. These baked jacket potatoes have fun fillings in them like baked beans, some sauteed veggies, cheese and a little butter for some richness.
Baked jacket potatoes are a staple English lunch or snack item. Big baked jacket potatoes are served up with all kinds of fillings with a simple side salad. It is definitely fun to dig into these baked jacket potatoes. As a matter of fact, potatoes are nutritious in many ways, they are low in calories, now who knew that? Anything in moderation is good.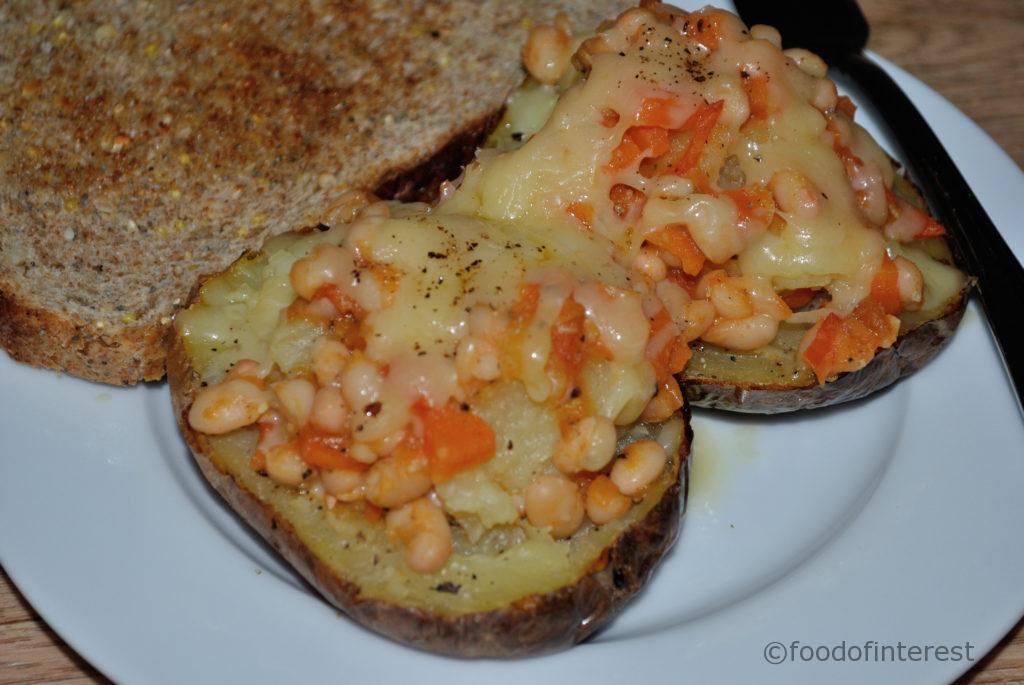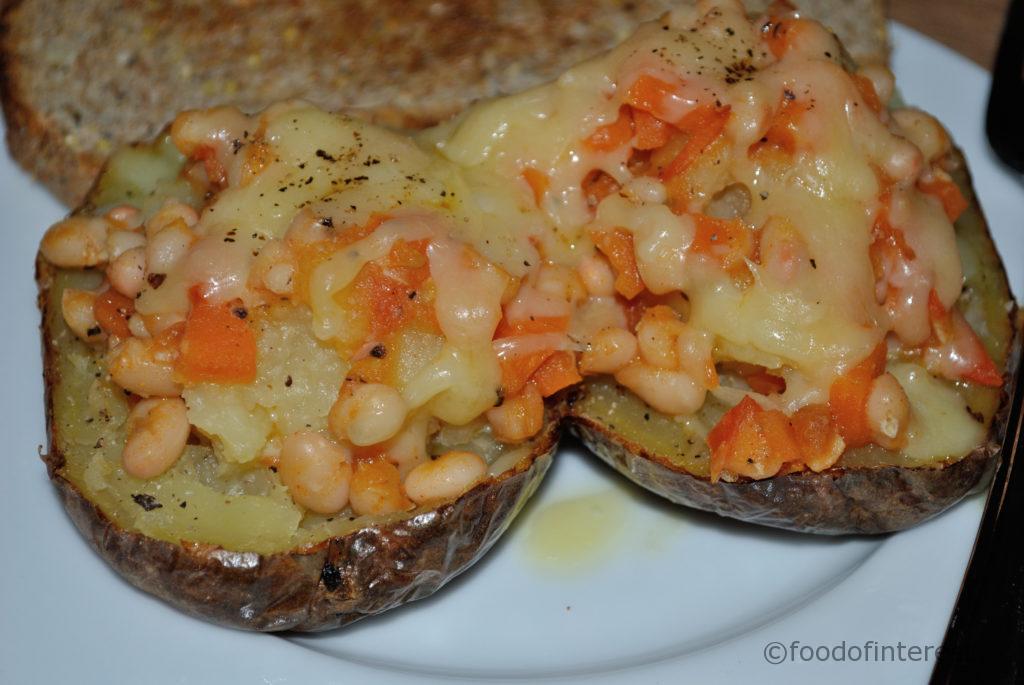 Baked jacket potatoes are a complete meal, carbs, proteins in the form of beans, fat from cheese and butter (use moderately), fibre from the veggies. These are a complete package. They will keep you full and can be prepared ahead of time, just wrap in foil or pack away for lunch and heat up when required.
Try other baked recipes from FOI. Comfort food being the USP of this recipe try some comfort food recipes from FOI like hot and sour soup, potato corn chowder. More potato based recipes, aloo raitha, aloo paratha etc.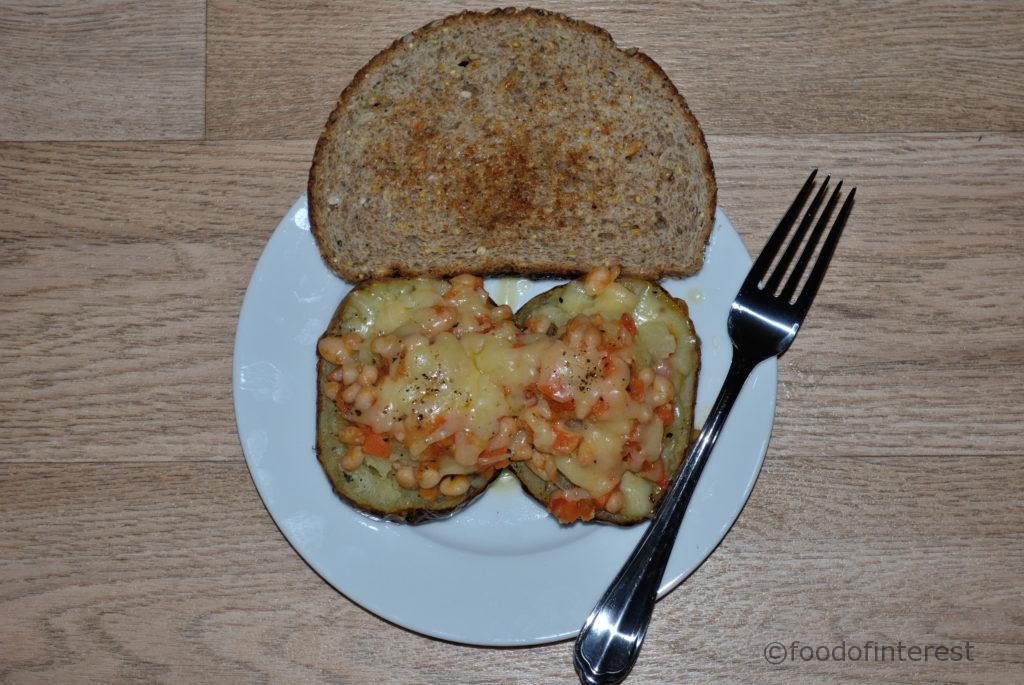 Baked Jacket Potatoes | Comfort Food Recipes
Perfect for a snack or for lunch baked jacket potatoes with fun fillings
Ingredients
For Filling:
1 Cup White beans/haricot beans from a tin or soaked overnight and cooked in plenty of water
1 minced clove of garlic
¼ Cup diced carrot
1 small diced tomato
¼ Tsp chilli powder
1 pinch pounded black pepper
Salt to taste
Water to adjust consistency
1 Tsp butter
1 Tsp olive oil

For Baked Potatoes:
2 baking potatoes
Little butter
Black pepper for seasoning
Salt to taste
Few jarred jalapenos
Grated cheese to top on
Method
Wash and scrub the potatoes, put them on a baking sheet or tray
Poke holes all over to let the steam escape
Bake the potatoes at 200 Deg C for 30-40 minutes till the inside of the potatoes is soft (check with a fork)
Soak haricot beans overnight, add fresh water and boil them till soft
Add olive oil and garlic in a pan
Add diced carrots and saute
Next add chopped tomatoes and saute again
Throw in the baked beans and mix well
Sprinkle red chilli powder, season with salt and pepper
Adjust consistency by adding a little water
Add a small blob of butter to finish the bean filling sauce
Once the potatoes are cooked and slightly cooled, cut them into half
Scoop out potato from the centre to create a jacket, reserve the scooped out potato
Smear butter on both sides of potato
Season with salt, pepper and place a few pieces of jalapenos
Spoon the filling inside the jackets
Top up with some cheese and reserved potato
Add little more filling on top
Finish with little cheese. Broil/Bake at 200 Deg till cheese melts and turns golden on top (takes about 2-3 minutes)
Serve with a toasted slice of bread
Notes
Use canned haricot beans (try to use organic and without any seasoning or sauce)

This can be done with sweet potatoes too

Adjust seasoning as per your taste

Make sure to leave the skin on the potatoes

Baked Jacket Potatoes Stepwise:
Wash and scrub the potatoes, put them on a baking sheet or tray

Poke holes all over to let the steam escape

Bake the potatoes at 200 Deg C for 30-40 minutes till the inside of the potatoes is soft (check with a fork)

Soak haricot beans overnight, add fresh water and boil them till soft

Add olive oil and garlic in a pan

Add diced carrots and saute 

Next add chopped tomatoes and saute again

Throw in the baked beans and mix well

Sprinkle red chilli powder, season with salt and pepper

Adjust consistency by adding a little water

Add a small blob of butter to finish the bean filling sauce

Once the potatoes are cooked and slightly cooled, cut them into half

Scoop out potato from the centre to create a jacket, reserve the scooped out potato

Smear butter on both sides of potato

Season with salt, pepper and place a few pieces of jalapenos

Spoon the filling inside the jackets

Top up with some cheese and reserved potato

Add little more filling on top

Finish with little cheese. Broil/Bake at 200 Deg till cheese melts and turns 

golden on top (takes about 2-3 minutes)

Serve with a toasted slice of bread