Plain rotis are always nice to eat and usually the default choice in most households. Be it rice flour, wheat flour, plain flour, simple rotis are the best for your routine. Making whole wheat flour parathas or rotis with some kind of vegetable is not uncommon. Methi theplas, carrot parathas recipes available on FOI.
How about adding some vegetable to rice flour rotis. I have already posted steamed rice flour rotis an ideal dish for breakfast. Raw banana is a very underrated and unused vegetable but it adds a lots of texture and softness to dishes. So now try baalekayi akki roti.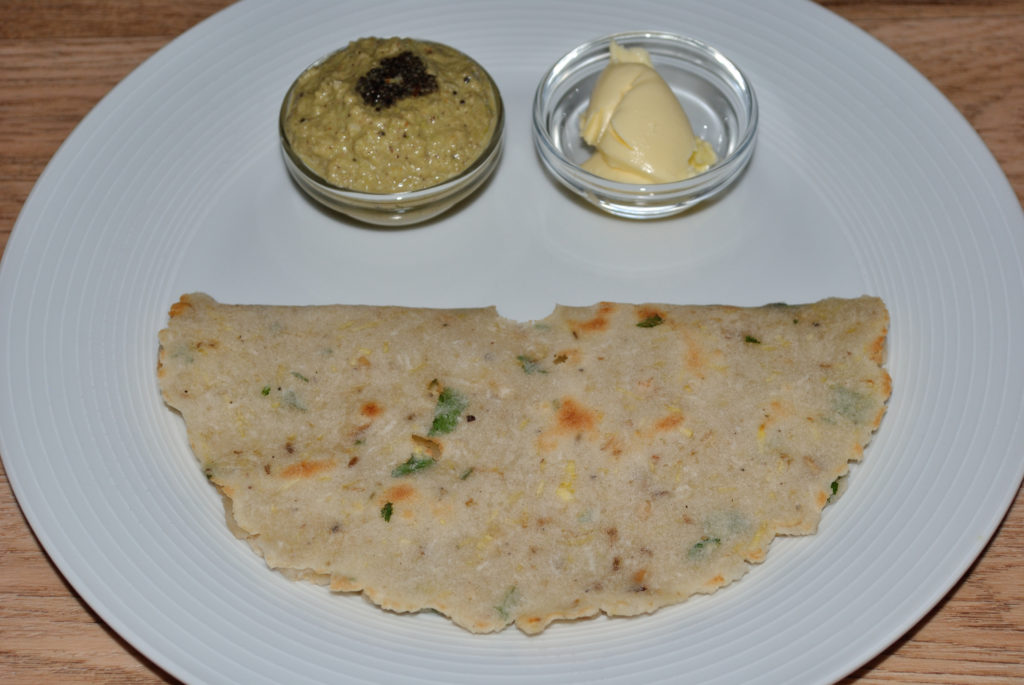 I have added peeled and grated raw banana to these flavourful soft rice flour rotis. Goes well with any kind of chutney, especially, seemebadanekayi chutney, groundnut chutney. I have served these rotis with methi stalks chutney (posting soon) and a knob of butter.
These rotis can be completely gluten free, just do not add hing/asafoetida. Also try thalipeeth, jowar flour rotis.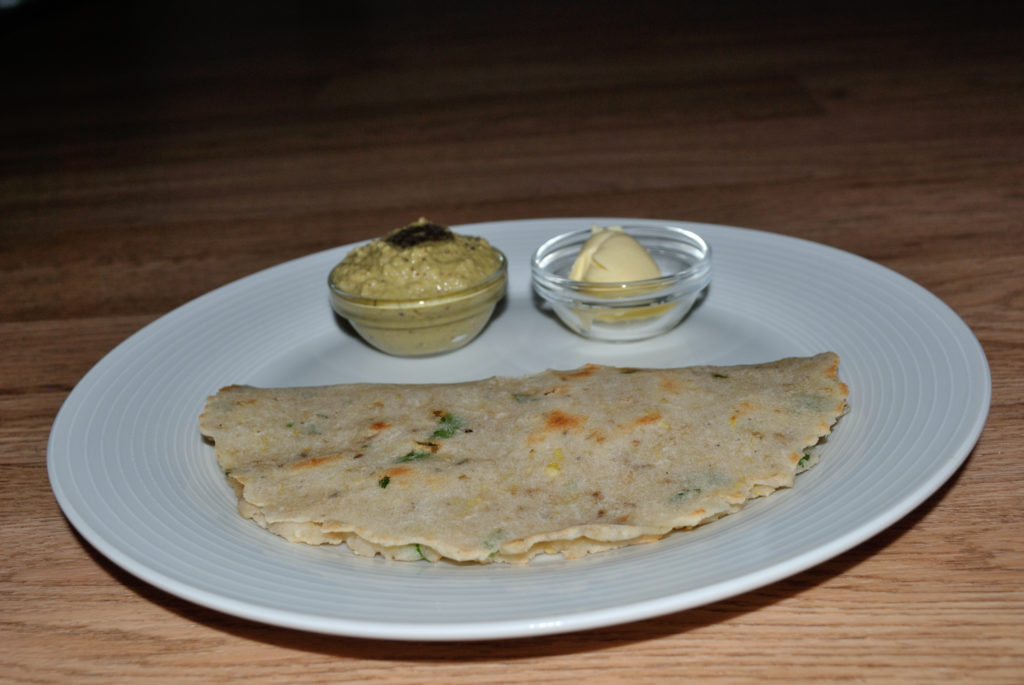 Baalekayi Akki Roti | Raw Banana Rice Flour Rotis
Soft raw banana, rice flour rotis for breakfast
Serves:
6 big sized rotis
Ingredients
1½ Cups rice flour
½ Tsp jeera
Salt to taste
½ Tsp sugar
½ Tsp freshly ground black pepper
2 Tbsp coarsely ground roasted groundnuts
1 raw banana/baalekayi grated
7-8 curry leaves
1 Tbsp finely chopped coriander
1 finely chopped green chilli
¼ Cup freshly grated coconut
¼ Cup boiling water
Extra water to knead to soft dough
Oil to roast rotis
Method
Add the rice flour into a bowl
Next add jeera. Mix
Add black pepper powder
Tip in the coarsely ground roasted groundnuts
Add hing and mix well
Add in salt and sugar. Mix well and make a well in the centre
Now pour boiling water
Push the flour mixture from sides onto the water such that it covers all of it. Let it cool for a while
Next, peel and grate raw banana
Add this grated banana into flour mixture
Tear in curry leaves into this flour mixture
Drop in chopped green chillies and chopped coriander
Once this is mixed well add in freshly grated coconut
Start mixing flour mixture with your hand by gathering the mixture
Pour little by little water till all of the dough comes together. Cover and let it rest for a while
To make rotis, grease a tawa/skillet
Pinch a medium tomato sized ball off from the dough
Press evenly with the tip of your fingers into a thin roti
Make a hole in the centre to drizzle some oil
Keep the pan on heat and cook till golden spots appear on one side. Roast the other side for 5-10 seconds. Remove from heat
Repeat for all rotis. Serve with chutney and butter
Notes
Adding boiling water to make dough makes the dough soft and pliable. It makes rice flour hold together because it does not have gluten

Skip groundnuts if you want

Instead of raw banana, grated carrot can also be added. Will soon post carrot akki roti, regular onion akki roti and more varieties

Double or triple this recipe if necessary

These rotis can be completely gluten free, just do not add hing/asafoetida

Baalekayi Akki Roti Stepwise:
Add the rice flour into a bowl


Next add jeera. Mix
 

Add black pepper powder


Tip in the coarsely ground roasted groundnuts


Add hing and mix well


Add in salt and sugar. Mix well and make a well in the centre
 

Now pour boiling water
  

Push the flour mixture from sides onto the water such that it covers all of it. Let it cool for a while


Next, peel and grate raw banana
  

Add this grated banana into flour mixture


Tear in curry leaves into this flour mixture


Drop in chopped green chillies and chopped coriander
 

Once this is mixed well add in freshly grated coconut
 

Start mixing flour mixture with your hand by gathering the mixture
  

Pour little by little water till all of the dough comes together. Cover and let it rest for a while
  

To make rotis, grease a tawa/skillet


Pinch a medium tomato sized ball off from the dough


Press evenly with the tip of your fingers into a thin roti


Make a hole in the centre to drizzle some oil


Keep the pan on heat and cook till golden spots appear on one side. Roast the other side for 5-10 seconds. Remove from heat


Repeat for all rotis. Serve with chutney and butter