Gojjus are side dishes to awaken your taste buds. They are spicy, tangy and sweet light gravies usually mixed with a small amount of hot rice or eaten as a side dish with chapathis/rotis. Gojjus can be made using different kinds of vegetables or even fruits. Bitter gourd, cucumber, pineapple, apple, capsicum, fenugreek seeds (methi), sesame seeds(til/yellu) various kinds can be used. Each of these render a special flavour to a gojju. Here's the recipe for apple gojju.
Unique tasting ingredients are roasted into a masala and then ground up with the spices to make the thick gravy. I have already posted pineapple gojju recipe and here's the apple gojju recipe. Apple gojju is quite rare but is definitely very tasty as apples have a very sweet unique taste with lot of body and texture.
Enjoy this flavourful apple gojju with some hot rice. I learnt this recipe years ago from a TV show and had it penned down in my book. Try other gojju recipes. More gravy and curry recipes to try!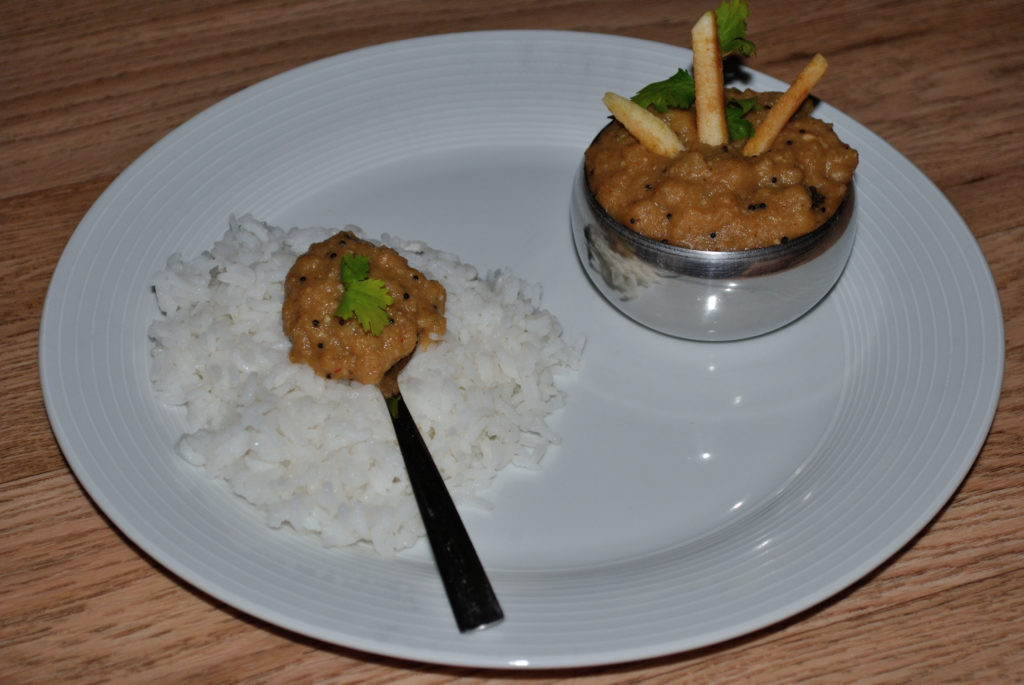 Apple Gojju | How to make apple gojju?
Rich aromatic flavourful, apple gojju/gotsu to awaken your taste buds
Ingredients
For Dry Masala:
1 Tbsp raw rice/sona masuri rice
2 Tsp sesame/yellu/til
2 Tsp urad dal
2 dry chillies

For Gojju:
5-6 cashews
2 Tbsp oil
½ Tsp mustard
A big pinch of hing
7-8 curry leaves
1 big cooking apple or regular apple
1 Tsp rasam powder
1 Tsp tamarind paste/extract
1 piece or ½ Tbsp jaggery
Salt to taste
Method
Soak the cashews in water for 15-20 minutes
Meanwhile get the masala ready. Keep urad dal, sesame seeds and raw rice in a plate
Heat a pan, add urad dal, sesame and raw rice and roast them till light golden
Add dry red chillies and roast till dal, rice and sesame all turn completely golden. Allow it to cool
Dry grind this masala
Wash the apple well and peel it. Do not discard the peel. Chop up the apple finely
Use the peels and them to ground masala and grind again. Keep aside
Add oil in a pan, add mustard and allo them to splutter. Add hing and fry for a few seconds
Drop in the curry leaves and saute
Tip in chopped apples and saute well in the tadka
Once apples start reducing and leave out water, add the ground masala and mix well
Add tamarind paste and jaggery
Sprinkle in rasam powder and mix well
Add salt and mix and let it reduce
Drain the cashews and grind into a paste with little water
Pour this paste into the gojju and mix well
Finish with coriander
Serve hot with rice or as a side dish with chapathis/rotis
Notes
Adjust red chillies as per your taste. Add an extra one if you prefer it spicy

Raw rice helps thicken the gojju along with cashews and makes it even

Use any kind of apple you want, make sure they are not very tart or sour. Adjust jaggery according to taste of the apples. Here I have used a green cooking apple (Granny Smith variety)

Add some lime/lemon juice to chopped apples to prevent discolouration from oxidation

Using the peels in the masala helps you retain the nutrients in the peels. Try not to discard them, they also add flavour

Roast the masala on low-medium flame to ensure goldenness of dal, rice and sesame

Stepwise:
Soak the cashews in water for 15-20 minutes
 

Meanwhile get the masala ready. Keep urad dal, sesame seeds and raw rice in a plate
  

Heat a pan, add urad dal, sesame and raw rice and roast them till light golden
 

Add dry red chillies and roast till dal, rice and sesame all turn completely golden. Allow it to cool
 

Dry grind this masala
 

Wash the apple well and peel it. Do not discard the peel. Chop up the apple finely


Use the peels and add them dry ground masala and grind again. Keep aside
 

Pour the oil in a pan, add mustard and allo them to splutter. Add hing and fry for a few seconds
  

Drop in the curry leaves and saute
 

Tip in chopped apples and saute well in the tadka
 

Once apples start reducing and leave out water, add the ground masala and mix well
 

Add tamarind paste and jaggery
 

Sprinkle in the rasam powder and mix well


Add salt and mix and let it reduce


Drain the cashews and grind into a paste with little water
 

Pour this paste into the gojju and mix well
 

Finish with coriander


Serve hot with rice or as a side dish with chapathis/rotis
 

Also try other gojju recipes like yellu gojju, pineapple gojju