Chutneys are the heartbeat of any kind of dosa or idli. They bring the whole dish alive and gets your taste buds going. Chutneys should have the correct balance neither too spicy nor too bland, just the right amount. That is the reason why chutneys hold a dish together. Mouth-watering, lip-smacking and finger-licking, those are the exact phrases you will remember after eating a good chutney. One such chutney is this allam chutney or ginger chutney.
Allam chutney is the perfect chutney to go with pesarettu, spicy and tasty. Pesarettu are mung beans dosas and they taste best with this chutney. It is infact a classic combination, tasty and delicious. Allam chutney has some simple spices like methi seeds and black pepper. Ginger itself has a strong and unique flavour it makes this allam chutney fresh and tasty.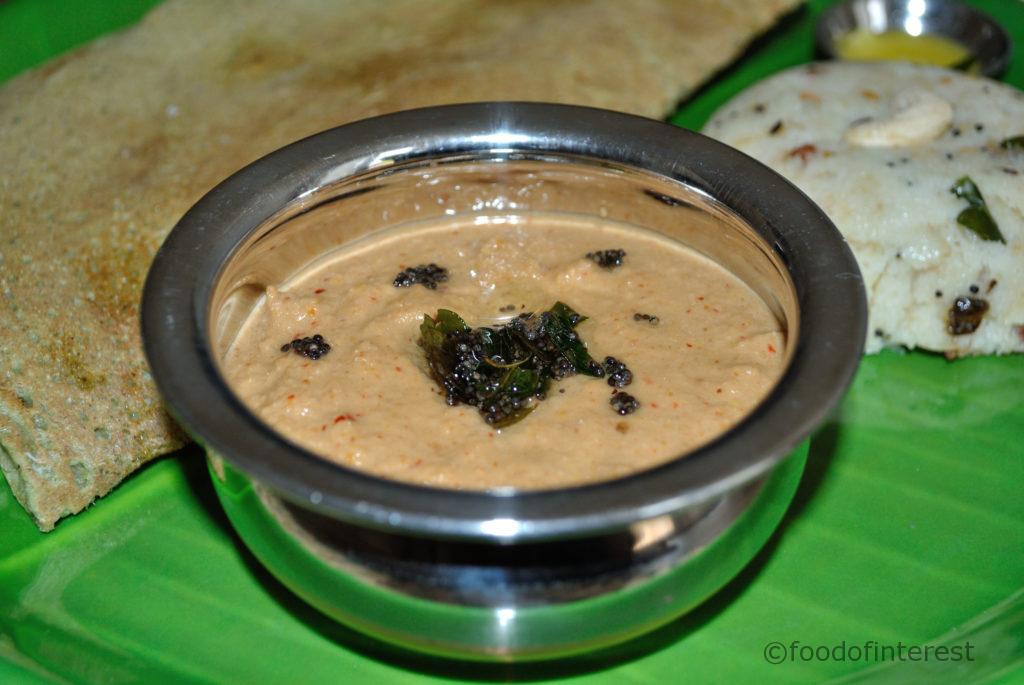 This allam chutney does not require a a lot of coconut all it needs is a little desiccated coconut or a little fresh coconut. Adjust the spiciness as per your taste but in my opinion it should not be very spicy. Try more chutneys from FOI, coconut chutney, gorikayi chutney, seemebadanekayi chutney, mango chutney etc. Try more dosa idli side dishes like mixed veg saagu, aloo masala, mixed veg kurma.
Allam Chutney | Ginger Chutney | Chutney Recipes
Spicy, tangy, a perfect accompaniment, allam chutney with pesarettu, mung beans dosa
Ingredients
½ Tbsp urad dal
½ Tbsp chana dal
1 big piece ginger
¼ Tsp methi seeds/menthya
2-3 red chilli
1 clove garlic
2 Tbsp desiccated coconut
½ lime sized tamarind
½ Tbsp jaggery
Salt to taste
Water as required to grind
1 Tsp oil
½ Tsp mustard
Few curry leaves
1 pinch hing
Method
In a pan, add urad and chana dals with ¼ Tsp oil and start frying
Add a small crystal of hing
Once the dals start turning golden, add ginger and saute
Drop in the red chillies and chopped garlic and fry till fragrant, let it cool
In a mixer jar, add the coconut, and cooled fried ingredients
Season with salt
Add jaggery and tamarind paste
Grind into a chutney, and add tadka on top
Serve with pesarettu dosas
Notes
Ginger can be added directly to make chutney, frying them slightly removes the strong potent pungency of the ginger

Dals give texture and body to the chutney, they can be skipped, but add more ginger and coconut

Fresh coconut also can be used in place of desiccated coconut
Allam Chutney Stepwise:
In a pan, add urad and chana dals with 1/4 Tsp oil and start frying

Add a small crystal of hing

Once the dals start turning golden, add ginger and saute

Drop in the red chillies and garlic and fry till fragrant, let it cool

In a mixer jar, add the coconut, and cooled fried ingredients

Season with salt

Add jaggery and tamarind paste

Grind into a chutney, and add tadka on top

Serve with pesarettu dosas