A staple sweet in Karnataka is varieties of payasa. Akki kadale bele payasa is a wholesome sweet dish and kids love it. It is a self contained dish on its own and works well in big feasts well. Soft rice and chana dal are cooked with ground coconut and elaichi. It is then mixed with melted jaggery.
Akki kadale bele payasa is adorned with crunchy cashews and soft raisins fried in ghee. Oh my word, the combination is delectable and tastes absolutely delicious. We love this dish at home very much and make it regularly for festivals or feasts.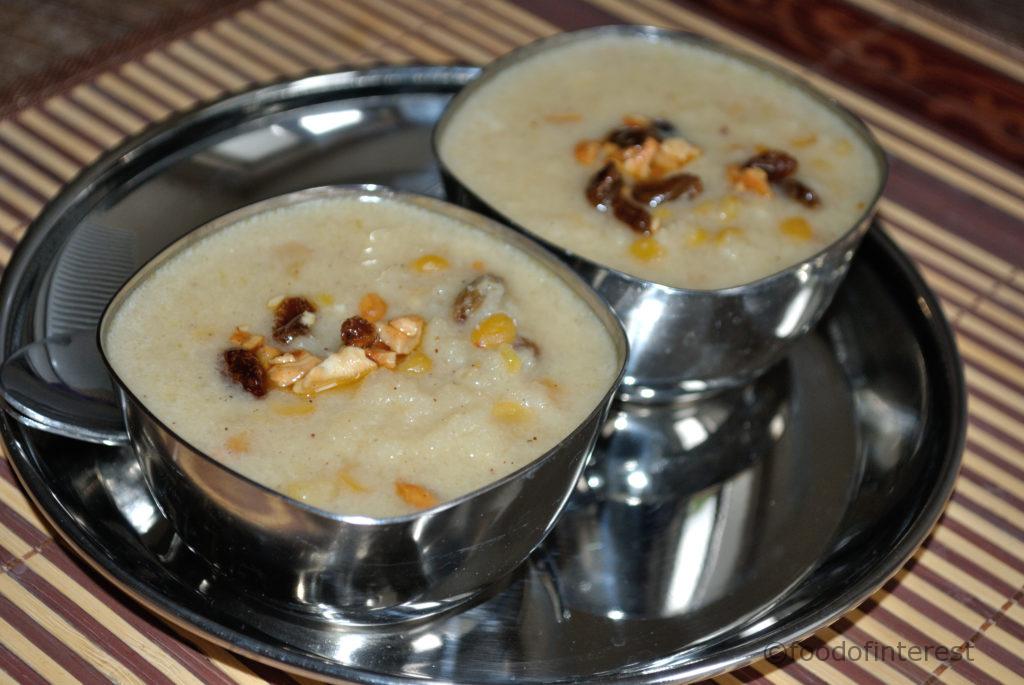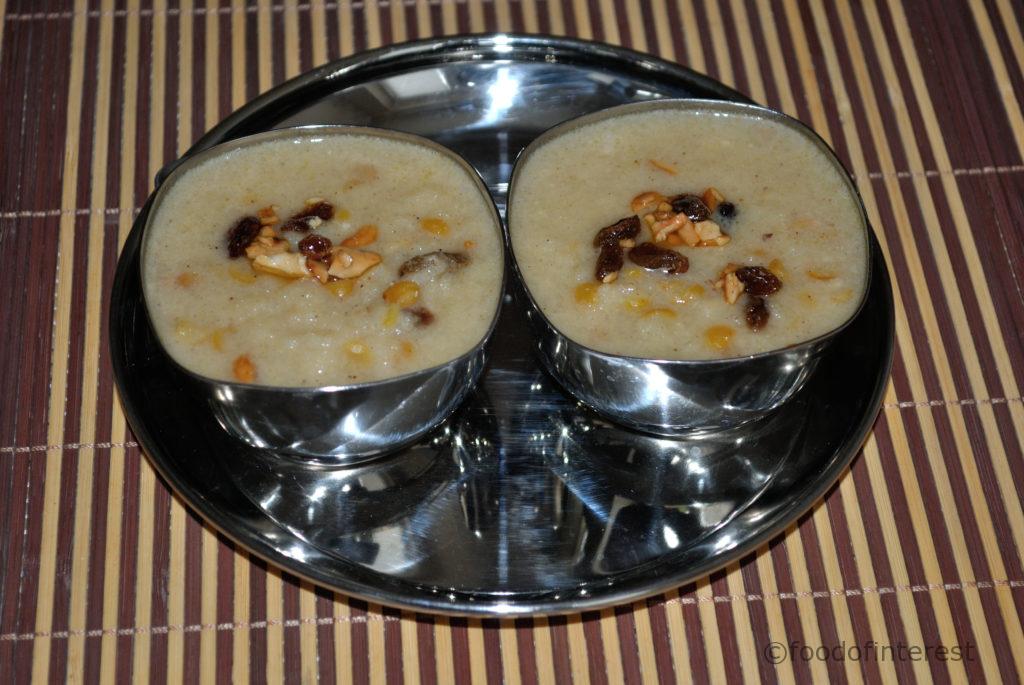 Akki kadale payasa is very easy to make and you cannot go wrong in making this dish. Simple spices like laung adds to the warmth of the dish and elaichi makes it fragrant. Try more payasa recipes from FOI, hayagreeva, seviyaan kheer, carrot payasa etc. Try more sweets from FOI, kaju katli, carrot halwa, beetroot halwa, kalakand etc from FOI.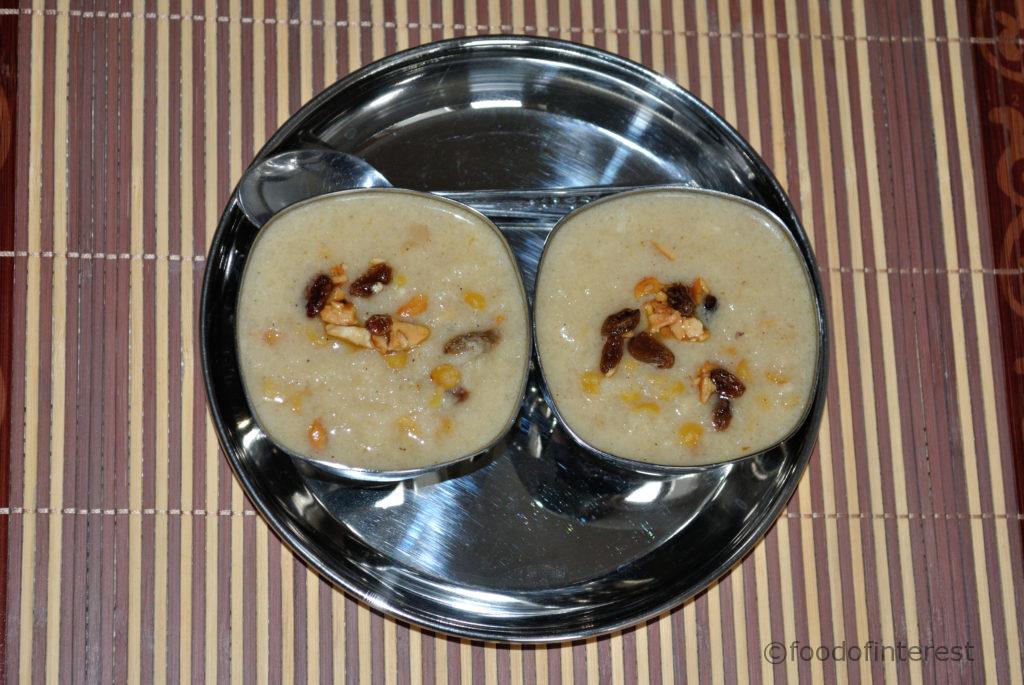 Akki Kadale Bele Payasa | Chawal Chana Dal Kheer | Payasa Recipes
Melt in the mouth jaggery based payasa, Karnataka special akki kadale bele payasa
Ingredients
½ Cup akki/rice/chawal
2 Tbsp kadale bele/chana dal
½ Cup jaggery
2 Tbsp raisins
8-10 cashews
2 Tbsp ghee
4-5 powdered elaichi
1-2 cloves/laung
½ Cup grated coconut
½ Cup milk
2 Cups + 1 Cup water
Method
Heat a pan, lightly roast chana dal on low flame till it lightly changes colour, keep aside
In the same pan, roast rice on low flame
Add rice to chana dal and give it a mix
Pour 2 Cups water and add a few drops of ghee
Pressure cook for 3 whistles
In another vessel, add jaggery and pour 1 Cup water
Heat on low flame till it melts
In a mixer jar, add coconut and elaichi
Grind into a paste with water
Pour this paste into melted jaggery water and start mixing
Let it come to a light simmer
Add cooked rice and dal to this coconut-jaggery mixture and mix well
Let it boil on low flame for 5 more minutes, mash the dal a bit
Next pour milk and mix very well
Heat ghee in a small pan, fry laung, cashews and raisins
Add this to the ready payasa
Akki kadale bele payasa is ready to savour
Notes
You can also soak chana dal for an hour before making payasa

Adjust consistency by adding little more milk if it becomes too thick

You can also use coconut milk instead of grinding coconut

Akki Kadale Bele Payasa Stepwise:
Heat a pan, lightly roast chana dal on low flame till it lightly changes colour, keep aside

In the same pan, roast rice on low flame

Add rice to chana dal and give it a mix

Pour 2 Cups water and add a few drops of ghee

Pressure cook for 3 whistles

In another vessel, add jaggery and pour 1 Cup water

Heat on low flame till it melts

In a mixer jar, add coconut and elaichi

Grind into a paste with water

Pour this paste into melted jaggery water and start mixing

Let it come to a light simmer

Add cooked rice and dal to this coconut-jaggery mixture and mix well

Let it boil on low flame for 5 more minutes, mash the dal a bit

Next pour milk and mix very well

Heat ghee in a small pan, fry laung, cashews and raisins

Add this to the ready payasa

Akki kadale bele payasa is ready to savour