How do I begin to describe this all time favourite barfi of mine. Years ago I tried this recipe and I have used the same recipe ever since making minor adjustments and changing the size of the 'Cup' used to make this 7 Cups barfi.
This 7 Cups barfi has 7 Cups of a combination of simple ingredients like besan, sugar, coconut, ghee, milk and big handful of cashews. The nuttiness imparted from cashews makes the 7 Cups barfi a sure shot favourite with kids. Making this does require patience but the fruits of labour are sweet and rewarding, you do get a very nice barfi to eat.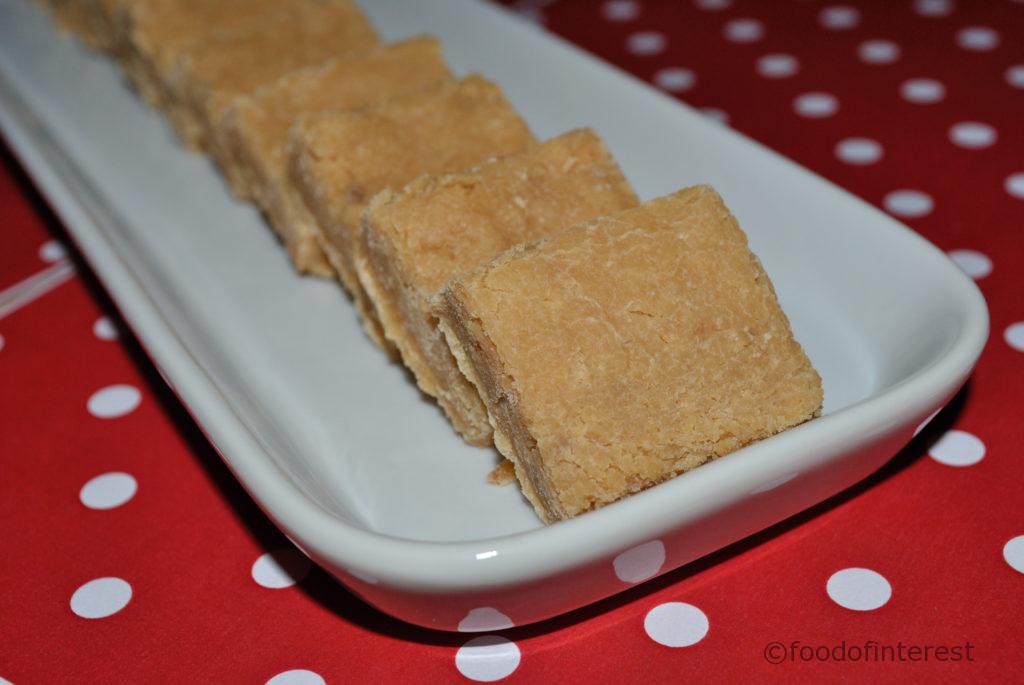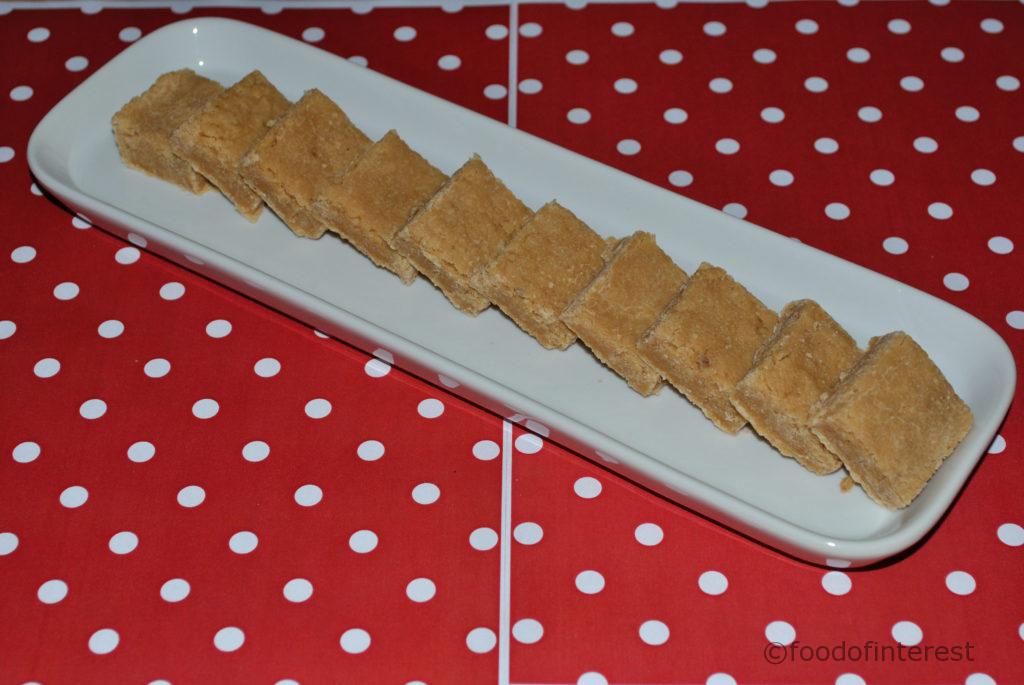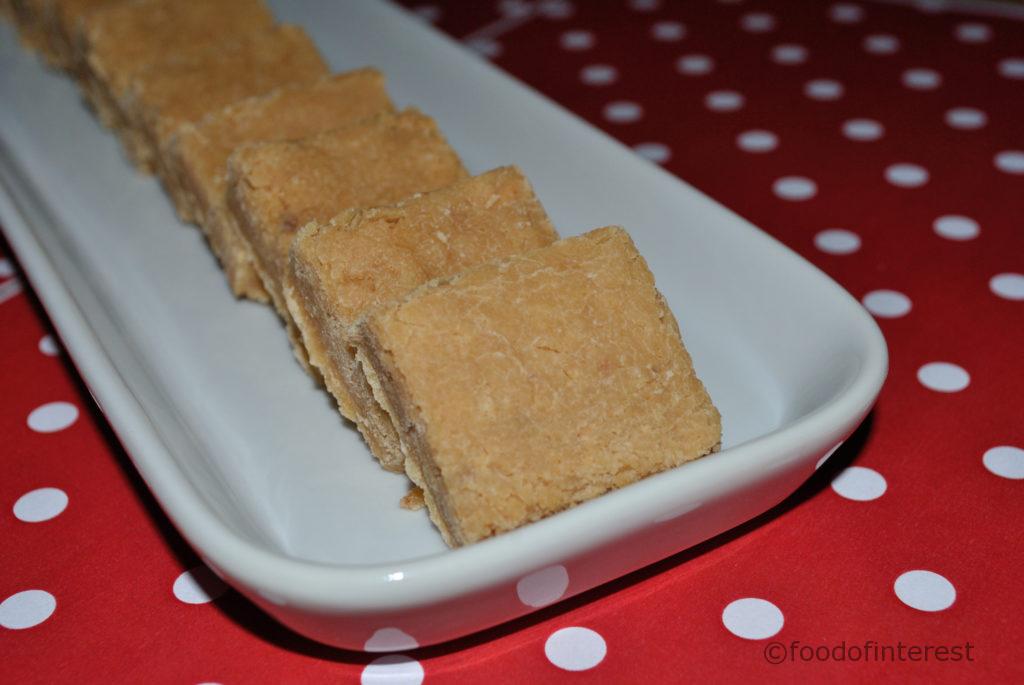 I make this barfi very regularly especially during Deepavalis. Everyone will surely like this barfi. I made a big batch for one of the Deepavali to distribute amongst friends nestled in cute little gift boxes. for savoury paired item, I made packets of wheat flakes chivda, crunchy! A few pictures below 🙂
Try more sweet recipes from FOI:
Kobbri Mithai
Shenga Barfi
Kaju Katli
Kaju Pista Roll
Doodh Pedha
Dharwad Pedha
Carrot Halwa
Lauki Halwa and many more…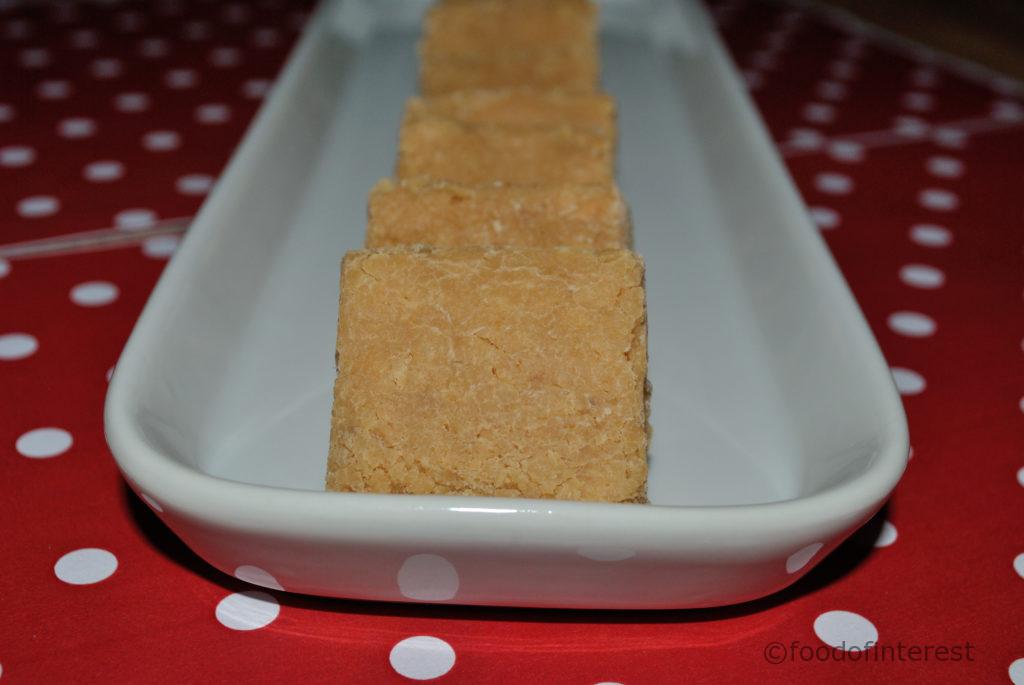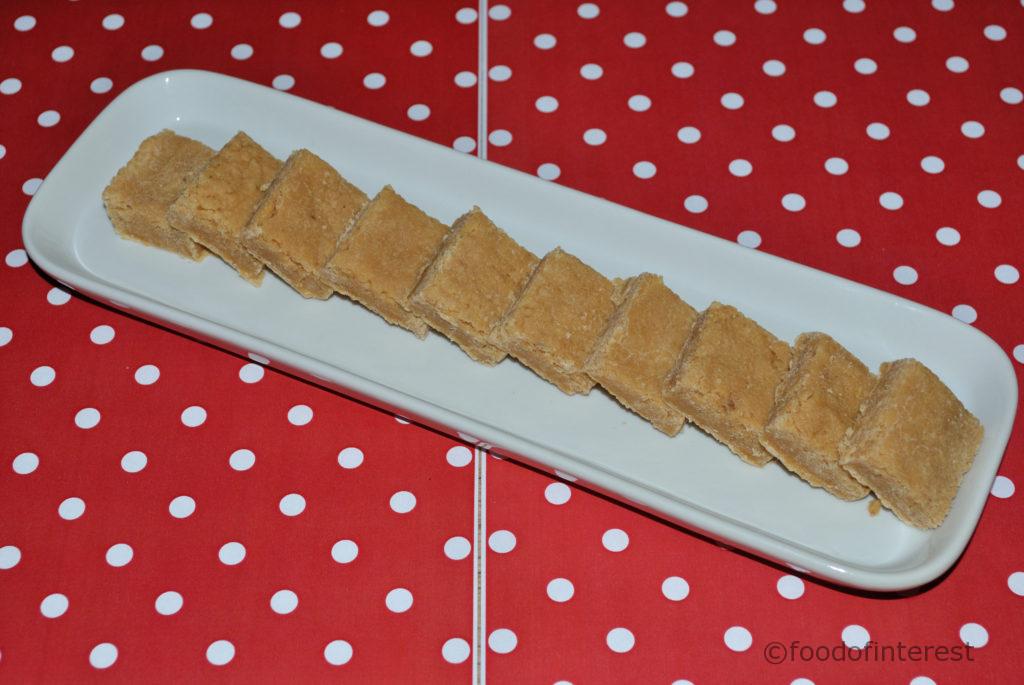 7 Cups Barfi | Seven Cups Recipe | Barfi Recipes | Sweet Recipes
Traditional and tasty, 7 Cups barfi with a nutty texture
Ingredients
1 Cup kadale hittu/besan
3 Cups sugar
1 Cup fresh grated coconut
1 Cup milk
1 Cup ghee
½ Cup cashews (1/4 Cup cashew powder)
Method
In a mortar-pestle, pound cashews into a coarse powder
Sift besan in a bowl and ensure there are no lumps
Dry roast besan till it gives a distinct aroma
Turn off heat, to this add sugar and mix
Pour milk slowly
Mix well till no lumps
Add grated coconut and pounded cashews and mix well
Add ½ the ghee and mix well
Turn on heat and start mixing
Keep mixing and ensure it does not stick to pan
When it froths up add rest of ghee
Stir till it starts to thicken
Keep mixing till it turns thick
Next it turns to soft ball consistency, it should harden when cooled. Check on a plate. Takes around 30 minutes in thick pan for this consistency in low-med heat
Pour to a greased pan
Flatten and make barfis in greased pan
Cut into barfis. Makes around 45 - 1" barfis.
Serve when it cools
Notes
Add 2½ Cups sugar if you prefer barfis a little less sweet

Use only white parts of coconut and ensure it is fresh

Do not let the mixture to harden completely, remove from heat when it has some moisture, it keeps hardening as it cools down

You can add some elaichi for some extra flavour I prefer it plain to bring out the aroma of besan

Be careful when handling the mixture, it will be hot!
7 Cups Barfi Stepwise:
In a mortar-pestle, pound cashews into a coarse powder

Sift besan in a bowl and ensure there are no lumps

Dry roast besan till it gives a distinct aroma

Turn off heat, to this add sugar and mix

Pour milk slowly

Mix well till no lumps

Add grated coconut and pounded cashews and mix well

Add 1/2 the ghee and mix well

Turn on heat and start mixing

Keep mixing and ensure it does not stick to pan

When it froths up add rest of ghee

Stir till it starts to thicken

Keep mixing till it turns thick

Next it turns to soft ball consistency, it should harden when cooled. Check on a plate. Takes around 30 minutes in thick pan for this consistency in low-med heat

Pour to a greased pan

Flatten and make barfis in greased pan

Cut into barfis. Makes around 45 - 1" barfis

Serve when it cools